Top 10 Reasons to Study in the UK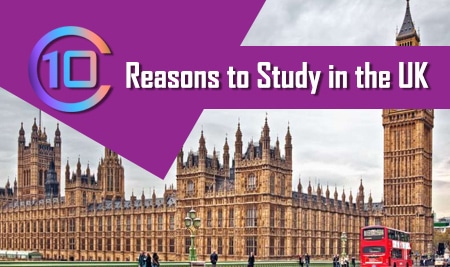 UK has been a top destination for international students to pursue their higher education for quite a long period of time.
The major reasons include the quality of education, affordability, lifestyle and culture, employability and many more.
In this article, we discuss the top 10 features that make UK a top study destination for international students.
Quality of Education
The UK has top ranked Universities that are recognised all around the world. It is home to the world's top University – University of Oxford. Moreover, UK represents 7 Universities in top 50 in the world, and 26 Universities in top 200 in the world (British Council, 2021).
Universities are also classified on the basis of Teaching Excellence Framework (TEF), where gold rated Universities are the best followed by silver, bronze and provisional TEFs.
Also, UK is ranked 2nd in the world for Science and Research (British Council, 2021).
The UK higher education providers are quality assured by the Government as well. There are 162 Universities in the UK that are held to strict standards set by the Government (British Council, 2021), which ensures high quality of education.
The education system of the UK is a combination of traditional lectures with a variety of teaching techniques that promotes independent thinking, problem solving skills and self-motivation.
Affordable Cost of Attendance
UK may seem to be as an expensive country to live in (and is as well), but most people are unaware of the short length of the courses compared to other study destinations.
Bachelor's Degree (or Undergraduate courses) usually lasts for 3 years and Master's Degree (or Postgraduate courses) usually lasts for a year.
Students save time and money in tuition fees and living costs due to the short length of the course.
Despite having short length of the courses, the UK degrees are recognised and demanded all over the world.
There are cities that are very affordable to live in (and are also home to some of the top universities in the country).
For instance, the TEF Gold rated University – Ulster University is located in Belfast, which is one of the cheapest cities to live in the UK.
International students do have to pay higher tuition fees compared to the domestic students – on an average, international students pay about £13,000 per year for their education, whereas most domestic fees are capped to £9,250 per year by the Government.
Scholarship Opportunities
International students are eligible for various scholarships in UK universities.
Some of the famous scholarships include GREAT Scholarships, Chevening Scholarships, International Ambassador Scholarships, Academic Excellence Scholarships, and so on.
GREAT Scholarships provide scholarships of up to £10,000 for Postgraduate Courses, which are provided in association with the British Council.
Nepali students are also eligible for these scholarships and needs to check in the British Council websites for additional details. Another famous scholarship in the UK is Chevening Scholarship which is for Taught Postgraduate Courses.
It covers the tuition fees and even return tickets; however, this scholarship is very competitive and requires strong academic background.
Some of the universities in the UK provide International Ambassador Scholarships which provide scholarships of up to £5,000.
Students are expected to be involved in events conducted by the university if they receive this scholarship – University of West London is one of the Universities that provides this scholarship.
UK can be a friendly option for students with excellent academic background as some universities provide merit and excellence-based scholarships.
The scholarships can be for up to £3,000 per year for undergraduate students, and up to £4,000 for Postgraduate students.
London Metropolitan University is one of the universities that provides this scholarship.
There are location-based scholarships as well in the UK. All you need to do is be the citizen of a particular country.
The value is £1,000 to £2,500. For instance, Coventry University provides £1,500 scholarships for Nepali students while University of Roehampton provides £2,500 scholarships for Nepali students.
Other scholarships include Early Bird Scholarships for which an offer has to be accepted before the deadline of the university, and sports scholarships for which students can be eligible if they have been indulged in sports defined by the British Universities and Colleges Sports (BUCS).
The values are worth £2,500 to £5,000. Oxford Brookes University provides Early Bird Scholarships, while Coventry University provides Sports Scholarships.
Experience for Job, and Job for Experience
This has to be one of the most complicated equations of the professional world – you don't get a job without experience, and more importantly, you need a job for experience.
Well, the UK education seems to have found a solution to that – Sandwich Courses. Sandwich Courses are courses where students can undertake an optional placement year during year 2 and 3 of their Undergraduate Studies.
This opportunity equips students with enhanced employability as they develop essential skills and networks, and work experience.
On top of that, most universities charge nothing to a very minimum fee (which is usually 10%-15% of the yearly tuition fees).
Placement years are also available to Postgraduate students where students undertake an optional year in the second year of their studies.
Pathway Options
UK education system has a provision of foundation courses (for Undergraduate Level), and pre-Master's Courses (for Postgraduate Level).
Pathway options are for students that have had low grades (may be due to various reasons), or have gaps in between studies, or are willing to switch their stream (because humans can make mistakes in the past).
Pathway courses prepare students for their Undergraduate or Postgraduate Courses, and more importantly, some of the top Universities such as University of Hertfordshire and Oxford Brookes University also provide these courses.
These courses can come with an Integrated Certificate of Acceptance of Studies (iCAS), which means that international students can have the visa for the whole length of the course, including their Undergraduate or Postgraduate Course.
Work while you Study
International students are entitled for 20 hours per week of work during term time in the UK. This not only contributes to the living expenses but also equips students with vital UK work experiences.
Also, international students are entitled for full time work during term breaks; term breaks usually last for 3 months in a year, which helps students accumulate financial resources to fulfil their expenses.
Post-Study Work
Students graduating from Summer 2020 are entitled for Post Study Work (PSW) Visa in the UK. Undergraduate and Postgraduate students are entitled for 2 years of work visa upon the completion of their course, while PhD graduates are entitled for 3 years of work visa.
During this period, graduates are eligible for any work all over the UK. This opportunity provides international students to gain vital experience and skills, and also financial resources before they return home.
There are provisions to switch to a Tier 2 visa (Work Visa) as well, which can be processed during this period.
Options for Dependents
Dependents of students can prove to be an important moral support to students who are experiencing a life in foreign land, which can be difficult in their initial stage.
However, dependents are eligible only for Postgraduate or Integrated Pre-Master's Courses.
Dependents are allowed full time work during the student's course period and can extend their visa during the student's PSW visa period.
The UK government has defined dependents as husband/wife or their children. This can help students focus more on their studies and worry less about their financial obligations.
Lasting Networks and Connections
UK Universities are generally equipped with course coordinators and tutors with industrial expert experience and knowledge. Students can engage and learn first-hand from these professionals.
These kinds of connections usually last for a long period of time, which can be beneficial to students for their career development.
Moreover, UK universities are also equipped with Employability and Career Service Centres, which focuses on helping students build their CV, equip them with skills and prepare them for interviews in some of the top companies in the country.
This service can be beneficial especially during the placement year or even during the PSW period.
Vibrant Lifestyle
UK is known for being the pioneer for industrial revolution and has some of the oldest cities and cultures in the world; there are a lot of things that can be learnt from this country.
It is home to some of the most unique accents, and each city has its own historical importance and uniqueness.
Public transportation is at the top level as train and bus services are available in all the major cities of the country.
Health services are provided free of cost from the famous National Health Services (NHS). It includes everything except for your teeth (dental issues are not covered by the NHS).
UK also hosts some of the largest events in the world such as Wimbledon, Premier League, F1, Moto GP, concerts, fashion shows and many more.