How To Write a Resume?
Posted by

Categories

Blog

Date

October 17, 2020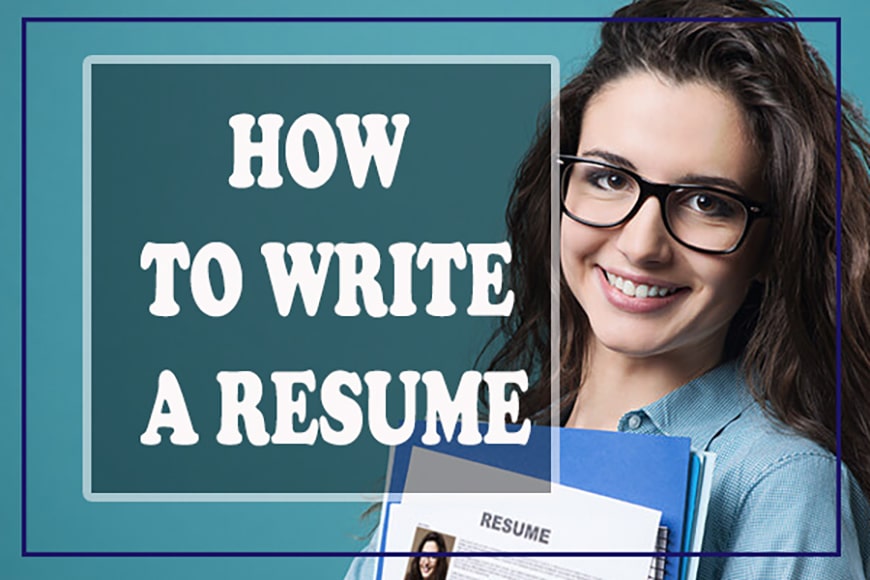 There is a saying that you eat with your eyes first, and this very concept is applicable with hiring managers/admissions officers. The resume is your first or in some cases your last chance to impress a recruiter.
A good resume can land you an interview whereas a poor one will land in the trash and this is exactly why focusing on writing a good resume is your first and most important step while wanting to apply for a job or admission to a good university.
Always remember these 3 things, a good position has in average 250 applicants, the officer takes in average 6 seconds to decide if you are getting an interview or not, and most importantly only 1 gets hired.
Let's discuss how to write an impressive resume.
There are few things that you need to consider and which if done properly will improve your chances of impressing the reader.
Before you even start writing anything for your resume you need to understand what your potential employer is looking for.
It is recommended you visit the official website of the organization you are interested in applying for and find the words, phrases and taglines that are "repeated" as they provide the hint to the philosophical approach of the organization.
Use those words in your resume to show that you share the philosophy of the organization and you are in the process making yourself more likable by your future employers.
There are two basic formats of Resume
I. Chronological
II. Functional.
A functional format is usually used by applicants who have gap or are planning to switch the industry they are involved in and some officers will be skeptical if you are trying to hide something. It is highly recommended to use the chronological format or blend it up by combining both formats.
Your name should be on the top of your resume in bold face but in regular caps. Follow it up with your address, contact information and online profile link, for example, LinkedIn, make sure you have written them in normal face and not bold.
Your resume should not be too long or too short. The ideal length of your resume should be in between 600 to 700 words. Resumes below 500 words have low chance of making it to the interview and the ones with above 700 is lower than the once with under 500 words.
However, if you have work experience over 10 years, you can go long. Remember,1-page resumes are the ideal resumes if you have experience of less than 10 years.
Many say that objectives are a must have but I think you can choose not to have it. I believe it's better to not have an objective than to have a very generic, vague or too long of an objective.
If you want to write an objective, then make sure it is less than 30 words and is not generic.
No matter what you are writing, it is important for you to understand that white space is vital. Make sure you have plenty of white space to draw the reader's attention, you want to make it attractive, not disturbing. The plenty of white space accompanied by bullet points, italic and bold fonts might do the job for you.
Do not forget to figure out the key points from the job descriptions. You do not have to limit yourself only to the description of the job you are applying for, but you can also look at other similar vacancies and figure out the key words in the job descriptions.
For example, Analyzing, Managing, Leading, and so on. As an application to the university, you can highlight your key job descriptions relating to the jobs you have had.
Do not forget to add technical skills and proficiency related to the position you are applying for. Adding skills that do not have anything to do with the position and the responsibilities you will need to oversee will only make your resume long but will add no value to it.
For example, if you are applying for a MS Finance and have completed a certificate course from Udemy or Course era related "Managing Risk in Financial Institutions", it can add value to your application.
It is highly recommended that you include any professional affiliation that you might have in the field. The position you are applying for may not require you to have such an affiliation but by adding it, you will simply be strengthening your case.
For example: If you are applying for Human Resource Management for your Master's and you have been working as an Assistant Human Resource Manager and have been a member of HR Society of Nepal then it adds some value to your resume.
Work Experience is the key to you while applying for any positions. With strong Work experience you surely will have high chances but remember to only add work experience related to the position you are applying for.
Avoid mentioning jobs that you did part time for pocket money or just because you did not want to stay idle. However, any volunteer work you have done which could be related to what you are applying for can be mentioned.
For example: If you are applying for a Research Assistant for Microbiology with focus on cancer cells then adding the experience of teaching Biology in Grade 11 may not add any value but if you have been a volunteer in the Cancer Research Center for just a week to help conduct a research could be beneficial.
Bullet points attract readers and save their time. Make sure to highlight the key points and avoid writing complete sentences and instead put them as bullet points.
Mostly it could be used under your experience as you can use the bullet points to highlight your achievements and responsibilities during your tenure in your previous organization. Don't write too many points, limit it to a maximum of 5 under each past experience.
Numbers are eye catching, use them whenever and wherever possible. We usually tend to write "Led three numerous projects as the President of Robotics Club while in College" but it would create a better impression if you write "Led 5 projects related to robotics in my final year as the President of Robotics Club and won 3 of them".
Always try to quantify your accomplishments so the audience/readers so that they will have a clear picture of what you have achieved.
Try to make sure you have kept the information about your education as short as possible. Just mention the name of the university, your program, and completion year.
If you are fresh out of college, it's okay to add few courses that you have studied in college but make sure that the courses you include are directly related to the position you are applying for or the degree/major you are applying for.
If you are experienced, then please avoid the courses and anything else. Moreover, do not mention anything regarding your high school or secondary school because regardless of how good or bad you were in high school it will make no difference as no one cares what you did in your early days unless you are under 20.
Please do not waste your or the reader's time by including your hobbies because if you are a Computer Science Graduate and want to be admitted to a school offering Machine Learning or Artificial Intelligence then there is no point in mentioning that your hobbies are to listen to music, travel and read books.
Please be sure, you do not have to tell the reader everything about you, just tell them what they want to hear not what you know.
Most resumes have the list of references or reads" Reference available upon request". However, what I have never understood is the point in listing your references because if the reader is actually interested in you and want to check the reference, they will ask you for it.
Avoid it and instead use that space to add something important that could boost your chance of landing an interview/admission or an assistantship position.
Remember the fact that resume is just the summary of your skills and work experience and education; the key is the word "summary" here. Write enough in your resume to make sure you get enough attention from the recruiter/officers to land yourself the interview and that is it.
Remember, longer the resume, poorer the impression.
More than 50% of the applicants do not customize their resumes as per the position they are applying for. By customizing the resume, you are getting ahead of more than half of your competition and on top of that you can add the specific keywords, skills, and use the language as per the need of the position you are applying for.
You need to keep in mind that there is no hard and fast rule of writing a resume, but the points mentioned above could make your resume better.
These are things that most hiring managers and admission officers/professors look for in a resume and if used properly will definitely increase your chances of getting selected.
You may also want to read: Affidavit of support for student visa