Study in USA
Our competent, well-trained and experienced consultants at Edwise Foundation have successfully assisted about 5,000 + students (as on Spring 2020) with their study plans and F-1 visas to the U.S. Higher Institutions.
Smart Assistance with F-1 Interview
Study in USA From Nepal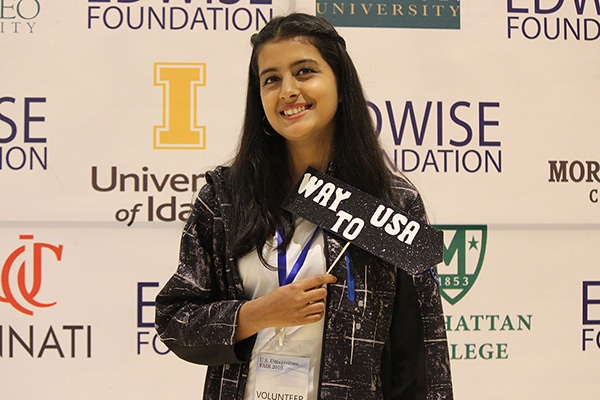 We don't teach you visa answers but offer practical insights into what the Visa Officers are looking for in you during the interview. We help you communicate the ideas organically, brush up your interpersonal skills and elevate your confidence level. The F-1 visa is indeed a reflection of how clear you are in terms of what you're going to be, how you are affording your education and what makes you depart to the U.S. The interview process seems to be touching upon everything you have accumulated so far, although students sometimes find it otherwise. Students need to take this simply as a conversation with the visa officer, not as a scholastic answer that they can give to their professors.
We advise students not to memorize or rehearse the answers but to talk to the officer originally. Attending the visa session at USEF can help you develop an understanding of how the process works.
We attend the education and immigration workshops in AIRC, NAFSA and in other platforms in the USA every year and go through the journals and other literature to better assist students with the visa process.
Key Consultants for U.S. Studies
Study in USA From Nepal
Mr. B.M. Khadka and Jeevan Ghimire serve as Senior Consultants/Advisors, who are well backed up by Ms. Sarojani Basnet. Mr. Khadka holds a Master's in English (Education) and has been consulting for nearly 18 years now. He has attended more than two dozens of workshops and training in the USA and presented papers in different forums. He is a NAFSA Individual Member. Mr. Ghimire started consulting nearly 6 years ago with his MBA from University of Arkansas Little Rock, USA. Ms. Basnet is a TU MBA Graduate and has been into consulting for more than 12 years. Our consulting team possesses professional qualifications like USATC, TITI and others.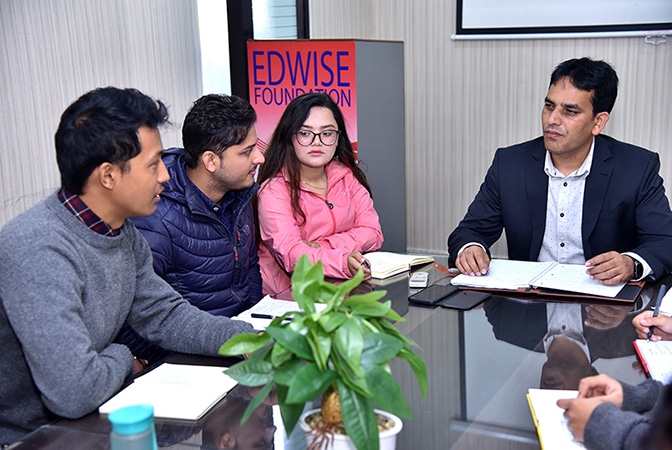 Consulting Expertise
We are well equipped with the expertise required to offer consulting services on US Higher Education.
Some of our expertise includes, but not limited to:
Suggestions to Nepalese Students
Suggestions to Nepalese Students seeking the U.S. Higher Education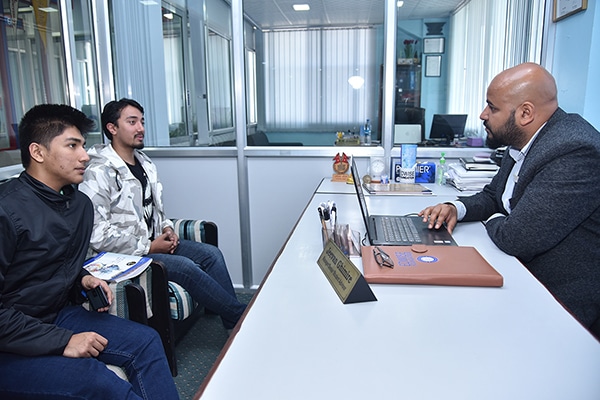 We would like our students to thoroughly research the universities in terms of their program strength, support activities and the costs. Please make sure you have concrete financial planning for the entire period of studies if you don't have significant financial support (Scholarships/Assistantship) from the universities. Off-campus jobs are illegal except for the ones endorsed by DSO after the 1st year.
GPA, SAT/ACT, and TOEFL/IELTS and Essay play a key role in admissions and scholarships at the undergraduate. We strongly advise you to apply early so that you can be considered for financial support from the U.S. universities.
Most of the top elite graduate programs require strong GRE/GMAT scores depending on the nature of the program, high IELTS/TOEFL score, Statement of Purpose, Letters of Recommendation and Resume. If you are looking for a research assistantship, we encourage you to apply early and find the Professor whose research interests align with yours.
During the application process, you can make a reference to social media, blogs, search engines, consultancies or any internet information, but it is crucial for you to make sure you're using the accurate source. You will need to thoroughly check the credentials of the consultancies, their success history, transparency of the service fees and the profiles of the consultants before you choose any. By law, Nepalese consultants don't need to have any professional credentials to offer consulting services.
Using EdUSA, the U.S. Government Agency is a great place for the ones who are smart enough to develop an understanding of the process using S abundant resources they house. We strongly advise students to use the EdUSA/USEF for transcript attestation, university information sessions, visa info sessions, and pre-departure sessions.
For a personalized consultation, you can consider working with Edwise Foundation where you get not the generic but the precise answers meeting your parameter. We have answers to WHERE, WHICH, WHAT, HOW, WHY assisting you with your decision-making process.
Our support with an F-1 interview is very unique. Based on what we have experienced over the past 15 years, we always try to help you talk to the Visa Officer persuasively, precisely and organically if you are truly intending to study, are prepared to afford the fees and are willing to return home.
If these sound like what you are looking for and wish to make your dream come true, please come talk to us for a 'free consultation'.
Giving your dreams a direction since 2005, the right way!
Features of U.S. Education
The USA, also known as the land of opportunity, is considered as the best destination for higher education by international students from all around the world. The States has the world's largest international student population which is more than a million. The diversity in schools shows proof of the welcoming nature of the USA for students from around the globe. The world-class universities, known for their best courses with various learning opportunities make this country tempting international students. Nepalese students are not an exception.
Excellent Academic Quality
The United States is known for having one of the world's most effective university systems with an outstanding number of programs in any given area. These programs are then quality monitored by various higher education accreditation bodies. At undergraduate and graduate level, students are provided with various learning opportunities including participation in research, internship, field visits, assistantships and more. Particularly, at the graduate level, students have various opportunities to work directly within their field of study. The quality of programs and career-oriented education systems make U.S. degrees well recognized throughout the world for their excellence.
Educational Opportunities
The United States is home to several thousands of colleges and universities, which means students, can choose what's best for them comparing cost, courses, quality, location and many more. It also means that U.S. has something for everyone. These higher education providers can sometimes offer better courses and curriculums in one particular field than others and it's all up to the students to understand what's best for them.
U.S. universities are known for being updated with technologies on their campuses. The universities provide latest technologies in classrooms, labs and other resources. Students in any field will have a taste of latest technologies in their related fields within the universities themselves.
Opportunities for Research, Teaching, and Training
International students are highly valued in the United States. This is one reason why students are given opportunities to work with their professors and department in researches, teaching, and training. Particularly in case of graduate students, they can get research assistantship, teaching assistantship or graduate assistantship where they will have great practical experiences handy for their career.
Although there are some requirements for completing courses, students have a wide variety of choices to meet such requirements. Most of the time, students can choose classes at their appropriate times and days as well. They have options to choose different professors for the same courses. A lot of courses required for graduation can have alternative options available as well.
Know the U.S. Education
Here are some reasons why we are the preferred institution among students seeking test preparation courses and consultation to study in U.S. and other top destinations.