WELCOME TO EDWISE FOUNDATION:
THE BEST EDUCATION CONSULTANCY IN NEPAL

Edwise Foundation is a specialized educational advising agency dedicated to offering an affordable, high quality test preparation and accurate advising services for students seeking to study in the United States, Canada, Australia and the United Kingdom.
WELCOME TO EDWISE FOUNDATION:
THE BEST EDUCATION CONSULTANCY IN NEPAL

Edwise Foundation is a specialized educational advising agency dedicated to offering an affordable, high quality test preparation and accurate advising services for students seeking to study in the United States, Canada, Australia and the United Kingdom.
Our Major International
Credentials
Get in touch with us to see how Edwise Foundation can help you reach your educational dreams.
Shaping Educational & Career Dreams of Nepalese Students in the United States since 2005
Four Little Things That Make Us Special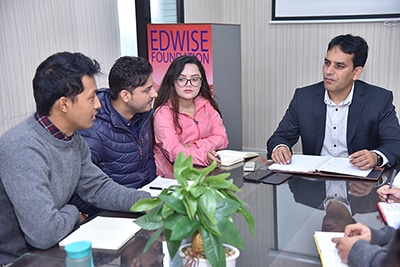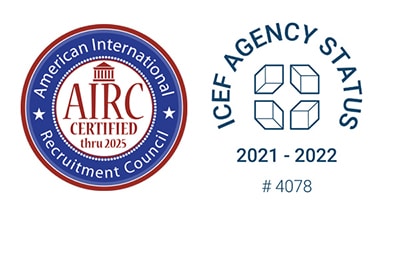 Internationally Accredited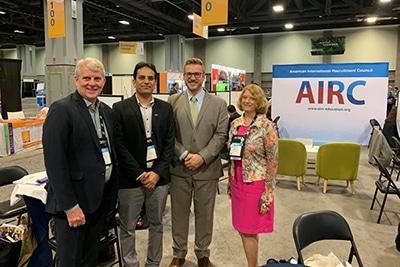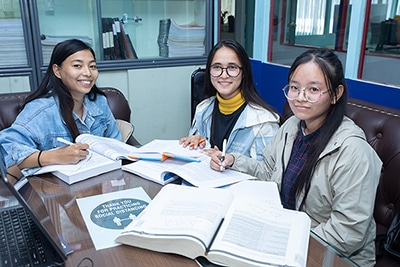 Result Oriented Test Preparation
Full-fledged Support for Studying in Canada, Australia, and the UK
Our Higher Education Blog
Read more helpful articles about test prep and higher education on our blog.
Test Preparation Courses by Elite Instructors
Our test preparation classes (TOEFL, IELTS, SAT, GRE and GMAT) are superior. Our instructors are highly experienced and are real test takers; they have expert knowledge that will help you achieve better test scores than others.
Success Stories
Hear what some of our students are saying about us.
Manjita Sharma
University of North Texas
"Working with Edwise for me overall was like an investment to self-growth and a rigid backbone for the university application process. I was always captivated by the working environment it possessed and the hospitality it embraced me with as I entered the door. Not only I got an opportunity to interact with the most genuine advisors who always gave their one hundred percent to bring out the best of what I could get through my application but also showed a long-term pathway which helped me carry out the application process effectively through various kinds of one on one advising and sessions. Also, I would like to shed light on the fact that Edwise had me interact with some of the coolest instructors for SAT and TOEFL(trust me, you never get bored in their classes), which opened me a door of opportunities, strengthening my capabilities in the form of internships while carrying out the processing fruitfully on the other end. It has indeed been a wonderful experience!"
Sujata Bista
MS Computer Science Southern Illinois University Edwardsville -- Graduate Assistant
"Thank you Edwise for your guidance and support from choosing university, getting scholarship and assistantship to visa interview process. I am happy that I made right decision to choose Edwise. I would specially like to thank B.M sir who worked hard for guiding and helping me to get right university, scholarship and preparing for interview."
Gunjita Dhakal
MBA, Bentley University, MA -- Graduate Assistant
"Coming across Edwise Foundation was the best and the most reassuring thing that could have happened to me as I was really looking for personalized support and guidance in this process. They were one of the most reliable sources of guidance for me in each step of my application process. Joining the MBA program at Bentley University with a 90% scholarship, was possible for me because I could turn to them in each step of my confusion and they were giving me their expert attention to every step of the process.I would like to wish you continuous and sustainable growth in your journey. Thank you for everything!"
Sharmila Pokhrel
University of Central Missouri
"When I had a very little idea on what to do next after my Bachelor's degree, Edwise provided me with every little details and advice on my next big step. From choosing a University to tackling the visa interview, I received every assistance possible. Joining Edwise and getting into UCM for my Master's is one among the best decisions that I have made. Thanks to the Edwise family for making my dream come true."
Sakar Karki
University of New Orleans, Mechanical Engineering
"I am in my Junior year at the University of New Orleans (UNO). In my current semester, I am taking 19 credit hours, doing research on High Entropy Alloys under the mentorship of Dr. Paul Schilling, Chair of Mechanical Department at UNO, and leading two on-campus organizations as the President. Recently, I accepted an internship offer at Intralox L.L.C. for the summer of 2019. In my second semester at UNO, I had won the Privateer Undergraduate Research and Scholarly UNO Experience (P.U.R.S.U.E.)award through which I had the opportunity to do research under the mentorship of Dr. Ting Wang, director of the Energy Conversion and Conservation Center at New Orleans. During the same time, I also represented College of Engineering as a Senator at the UNO Student Government. In my third semester, I was heavily involved in Robotics Club and our team won at the 2018 IEEE Region 5 Robotics Competition. I was also selected in my sophomore year to be the Student Ambassador of UNO. All of this has been possible with the full-ride scholarship that I received from UNO and am extremely thankful to Edwise Foundation for guiding me through the application process."
Adity Dhungana
MA International Relations/Research Assistant University of North Texas, TX
"I am very thankful to Edwise Foundation for helping me take the most important decision of my career. Well, study abroad was the best decision of my life or may be the second best, as the best would be to approach Edwise for career guidance. I got one-on-one counseling sessions from Mr. BM Khadka at Edwise Foundation. They understood my concerns about life & career and guided me accordingly. I troubled them with my never-ending list of questions, but they always got back with a smile on his face and addressed all my queries, with patience and kindness I am a proud student of the University of North Texas and I had the most amazing learning and living experience in United States. Today, I take the opportunity to thank Edwise Foundation for their constant advice and support. They have best team and are the best education consultants in Nepal."
Laxman Gupta
University of North Texas
"I had always dreamt of studying in the US. After A levels, it was time to decide about universities and major. I came to know about Edwise through my senior. To be honest, I believe I made a good decision by choosing Edwise. They offered me the best services that I could get in Kathmandu. The advisors were really into what they were doing and they were knowledgeable. They helped me in every step till I reached US and it has been a wonderful time knowing and working with them."
Sadikshya Pandey / MBA
Graduate Assistant, Old Dominion University
"Choosing Edwise as a bridge to come to US was a perfect decision for me. I was in real need for proper guidance and accurate advice regarding my will to study in US, and, Edwise was just right. From helping me find a right university, guiding me throughout the application process, to preparing me for the successful visa interview, Edwise was always there hanging onto me. I truly couldn't have asked for a better institute than this!"
Junwook Choi
University of Cincinnati OH
"Working with Edwise has been a wonderful experience for me. With highly qualified consultants, applying to study in the US has been a smooth process. In addition, Edwise also provided me a better insight for my visa interview which a lot of students happen to struggle with. Thanks to them, I'm able to study in the US which is renowned for having the best universities and education programs in the world."
Aman Agrawal
Tennessee Tech University, TN -- Currently pursuing PhD in Chemical Engineering at Virginia Polytechnic University
"The desire to study abroad comes with its own set of complications and moving forward can be very tedious. With Edwise Foundation, I was easily able to step forward as a high-school graduate with some much needed support. From the selection of the right college to my visa preparation, everything was so hassle-free. I thank the friendly personnel at Edwise for providing me the stepping-stone I needed to excel."
Abhaya Poudel
University of New Mexico, NM
"I had a best experience at Edwise. I had best tutors in town to learn with, during my process. The Advisors are really astounding. Edwise will make sure you get a right guidance along with the perfect university that matches you."
Kajal Puri
Southeast Missouri State University, MO
"Despite, my low score on SAT, the proper guidance from decade long experience counselors gave me some hopes to venture my journey for aboard studies. Their tireless effort ended up getting me in a good university with adequate amount of scholarship. Not only that, our US- graduated counselors' insights helped me to pave my way here in USA So, if you are wandering in the woods of consultancies for U.S. Studies, Edwise Foundation will be your light house."
Abhishek Kumar Jha
University of Bridgeport, CT -- Currently employed as a Data Analyst at FCHC East Hartford, CT
"I will never forget the summer of 2016, when on my friend recommendation I visited Edwise for my Career Advice. Entire team was so friendly so genuine and honest and helped me to be where I deserved. Edwise played a big role for my journey to American dreams and I always feel so proud that I went to the right door for my career advice. Thank you Edwise for everything."
Susmita Sharma & Saphal Shrestha
Graduate Assistants (PhD in Biomedical Engineering) University of Toledo, OH
" Edwise Foundation helps you find a university which is a perfect match for your profile. All of them are very friendly and they made me and my husband, Saphal Shrestha, practice till we were confident and perfect enough for our visa interview. They motivated us until we both found the full GA opportunity. And lastly, the price is very affordable and worth to pay. Finally, we both landed in our dreamland, USA, where we are enjoying the quality education and the beautiful weather."

Richa Bhurtel
Grand Valley State University, MBA -- Currently employed as IT & S Project Manager at Global Pharmaceutical Company, MI
"I feel fortunate to have found Edwise Foundation where the advisers took the time to evaluate my case well and were able to find the right fit for me – MBA in an accredited university with full financial assistance. Edwise helped me secure scholarship and visa by guiding me with admission essays, with visa interview preparations, and communication with universities. The advisers actually care about students and I could see it through the fact that they worked with each student to prepare them well for a good university that fits them, not just any random university on their list. I genuinely and fully recommend Edwise to anyone wanting to find the right fit for themselves to build a promising future through U.S. education."
Gaurab Pokharel
Computer Science and Mathematics (Oberlin College '21) -- Full-ride Recipient
"The kind of impeccable guidance and support that Edwise Foundation provided me with is very difficult to come by, anywhere. They supported me through the entire application process including college research, contacting admission officials, making sure my personal essay was top notch and through to the entire visa processing and acquisition. I am extremely grateful to them. 10/10 would recommend."
Bhawana Bhatta
Youngstown State University, OH
" Today I am pursuing a great degree at a very nice university in the US; I can proudly say that I am living my American dreams which would not have been as easy if the Edwise Foundation team was not with me. I could observe reliability in their information and dedication in their motive to guide a student correctly, independently and confidently. I am very glad that I was with the most professional and caring team of educationalist during the most crucial period of my life. I will always remain very grateful to the Edwise Foundation family and will keep on doing my best to make them proud. "
Why Choose Edwise Foundation?
Here are some reasons why we are the preferred institution among students seeking test preparation courses and consultation to study in U.S. and other top destinations.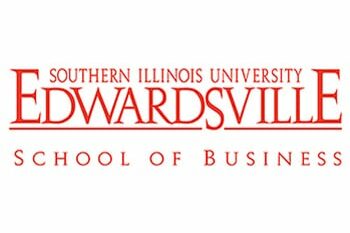 Southern Illinois University Edwardsville is a public university in Edwardsville, Illinois. SIUE was established in 1957 as an extension of Southern Illinois University Carbondale....