9 Things you Should Know before Applying to Universities in the United States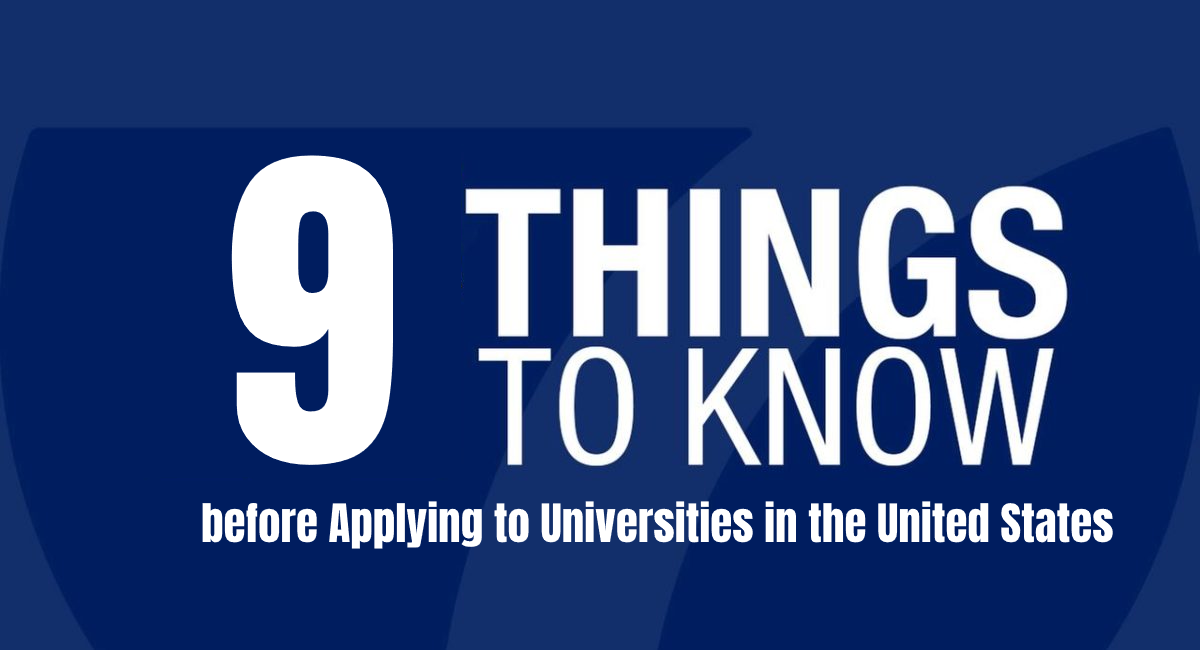 If you are thinking about studying in the United States for your higher studies, there are a lot of things that you need to consider, such as minimum academic entry requirements, English language requirements, intakes, general costs of tuition and cost of living, and so on.
In this article, we will be discussing 9 things that you wished you knew before applying to the universities in the United States.
Abbreviations
A lot of abbreviations are used throughout this article, and it would be better if you knew the meaning of those abbreviations (or at least their full form):
TOEFL: It stands for Test of English as a Foreign Language. It is the most common English Language proficiency tests used in the United States to consider your application. We will be discussing its requirements later in the "General Entry Criteria Section".
IELTS: It stands for International English Language Testing System. It is another test to prove your English language proficiency. It is also accepted in the United States.
PTE: It stands for Pearson Test of English. It is another English language proficiency test, which is also accepted in universities.
SAT – It stands for Scholastic Assessment Test. It is used by most of the colleges and universities to make admission decisions. It is a multiple choice paper and pencil test, which includes math, and evidence based reading and writing. It is for students planning to study their undergraduate courses.
GMAT– It stands for Graduate Management Admissions Test. It helps business schools make admission decisions. Students wishing to study especially MBA and other business degrees, are encouraged to take this test as it makes them stand out amongst other applicants.
GRE– It stands for Graduate Record Examinations. It is a standardized test for students planning to study at graduate level.
SEVIS – It stands for Student and Exchange Visa Information System. It is a program within US Immigrations and Customs Enforcement to manage foreign students and exchange visitors in the United States. Students needs to fill up this form to apply for an F-1 visa, and the fee is $350.
SEVP – It stands for Student and Exchange Visitor Program
Types of Program
In the US, there are 2-year and 4-year programs at the undergraduate level. 2-year programs are usually offered by community colleges whilst 4 years' programs are offered by colleges and universities (which can be public or private).
2-Year programs – Over 1000 colleges offer 2-year program; these colleges are known as junior or community colleges. They are operated by division of state Universities, or by local special districts. Students must earn 60 credits which routes to higher education study to earn an associate, which is also known as an intermediate. There are 2 types of associate degrees, namely, Associate of Arts degree, and Associate of Science degree. These degrees are designed for students to transfer to a 4-year University, where 60 credits can be transferred or waived.
4-Year programs – There are over 2,000 colleges and Universities in the US that offer 4-year programs at the undergraduate level. It comprises of 120 to 128 semester credit hours (out of which 60 semester credit hours can be transferred from an associate degree which can be gained from a community college). One of the most amazing things about undergraduate courses in the USA is that degrees such as law or medicine are not offered at undergraduate level, rather they are completed as a professional study after receiving a Bachelor's Degree.
As for Graduate Studies, the universities offer Master's and Doctorate. Master's Degrees usually last two years and Doctorate programs last 3 to 5 years.
Intakes
If you are planning to study in the USA from Nepal for your higher education, its better you feed yourself with information on intakes:
Fall Intake (September Intake): It's the prime intake in the USA. Universities commence their flagship and major programs in this intake only. Also there are greater opportunities for scholarships and financial aid in this intake. This intake is very competitive as there are huge number of applicants.
Spring Intake (January Intake): It is the secondary intake. There are not many courses offered in this intake compared to fall intake.
Summer Intake: This intake mostly offers language programs for non-English speaking students. There are very few universities and colleges that offer this intake. But on the bright side, there are greater chances of getting an offer as the number of applicants are low.
Pre-requisites to study in the USA
Academic transcripts alone are not enough to apply to the US colleges or Universities. There are a set of other documents that you need to submit.
Academic Transcripts
Passport
English Language Proficiency Tests (IELTS/PTE/TOEFL)
Letter of Recommendation X 2 (from teachers who taught you your highest qualification till date)
Letter of Recommendation from workplace (if available)
Resume/CV (for graduate students)
Statement of Purpose
Essays (if required by the university)
GMAT/GRE/SAT (Depending on the program/university)
Portfolio (usually required for courses such as Art and Design, and Architecture)
Proof of Funds
Others (such as Extracurricular Cctivities, Social Work and so on)
Common Application (widely known as common app)
It is a non-profit membership organization which represents 900 diverse institutions of higher education. It connects applicants and those who support them to a wide array of public and private colleges and universities across all 50 states of the U.S.
Students can apply to college, research financial aid and scholarships and connect to counselling resources. Common app focuses in pursuit of access, equity, and integrity in the college admission process.
CSS Profile
CSS profile stands for College Scholarship Service Profile which is an online application created and maintained by the United States based CollegeBoard. It allows students to apply for non-federal financial aid; CSS gives access to more than $9 billion for thousands of students of undergraduate and graduate level. The application fee is $25 to submit CSS profile to a single college or University, and $16 per each additional school or program.
General Cost of Tuition and Cost of Living
Not all universities have the same cost of tuition; it varies according to the universities and location. However, on average, international students can expect about $26 thousands per year in public universities, and about $36 thousands per year in private universities. Similarly, cost of living is different in different states, but on an average, you can expect about $10 thousands to $15 thousands per year. International students are allowed to work 20 hours per week on campus which can help them towards their living expenses. Dependents of students (on F2 Visa), however, do not have work permit.
Eligibility
Eligibility varies depending on the universities; however, we have mentioned general entry requirements for Nepalese students below:
Academic requirements – 65% and above, or 2.80 CGPA and above (this can change depending upon the program)
English language requirements – Overall 6.0 and above for undergraduate studies, and overall, 6.5 and above for graduate studies.
Portfolio – usually required for courses such as art and design, and architecture 
Weather
US is the third largest country in the world in terms of area, hence has varying climate and weather.
South West – This area covers cities such as Phoenix and Las Vegas, and has a hot desert like climate. The average temperature in summer is 25 degrees Celsius to 40 degrees Celsius, and in winter it can range in between 4 degrees Celsius to 18 degrees Celsius.
South East – This area covers cities such as Houston, New Orleans, Atlanta, and Charleston. The climate can be warm to hot, and humid. The average temperature in summer is 25 degrees Celsius to 35 degrees Celsius, and the average temperature in winter is 0 degree Celsius to 10 degrees Celsius.
Midwest – This area covers cities like Wisconsin, Michigan, and Ohio. The average temperature for summer is 15 degrees Celsius to 28 degrees Celsius, and for winter it is -9 degrees Celsius to 0 degree Celsius.
Atlantic coast – This area covers cities like Saint Louis, Cincinnati, and NYC. It has a temperate and humid climate with average temperature in summer ranging in between 18 degrees Celsius to 30 degrees Celsius, and in winter -3 degrees Celsius to 4 degrees Celsius.
Pacific Northwest – This area covers cities like Seattle and Portland. It has oceanic climate, and the average temperature in summer is 18 degrees Celsius to 30 degrees Celsius, and in winter -3 degrees Celsius to 4 degrees Celsius.