LoE/ SoP for Canada Study Permit
Posted by

Categories

Blog

Date

December 3, 2020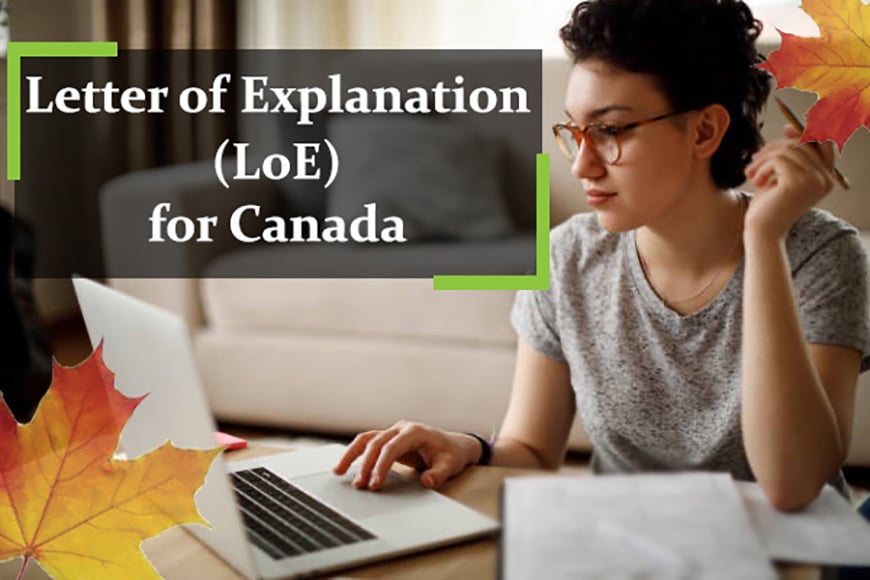 Statement of Purpose for Canadian Study Visa Application
You must be ready to traverse the application criteria to study in Canada successfully. The Letter of Explanation (LOE) commonly known as Statement of Purpose (SOP), which allows you to express your goals and highlight your achievement potential, is an important component of your study permit (student visa) application. 
Your SOP is an opportunity to discuss how your chosen program of study fits with your long-term objectives and how you are passionate about it. 
For students from Nepal applying to study in Canada, highlighting any relevant experiences that have prepared you for an international education and demonstrating your strong ties to your home country can be particularly compelling. 
An impactful SOP requires introspection and time. With the right approach and preparation, you can craft an SOP that brings your unique story and voice to life for the visa officer reviewing your application.
Sample: SoP for Canada
Letter of Explanation (LoE) often referred as Statement of Purpose (SoP) or Letter of Intent (LoI) is an important document while you apply for Study permit in Canada.
In general SoP is understood as the letter you send to school for admission stating who you are, what your interests are, what goals and further plans are, how and why you wish to study the certain program etc. whereas a letter for Canadian Study Permit is headed as Letter of Explanation or Letter of Intent.
We have a general practice of using these terms interchangeably terminologically.
LoE/LoI is generally used to express yourself to visa officer to convince why should you be given a visa. Unlike USA, students do not have to appear in face-to-face interview hence letter is the best way to explain yourself and your intentions.
Quality of Letter of Explanation has been one of the main reasons for visa denial. It has been found that in many cases of visa refusal, the LoE is copied from those sharing the similar profiles or fully written by consultancies.
The originality is the key to drafting the best LoE. The student himself is the best person who can understand and explain himself and all the related conditions around him including his interests, intentions, goals, as well as social and financial conditions.
However, it is equally important to follow a standard format while you are writing an LoE as you cannot ignore this all in the mind with originality. Moreover, it is recommended to take a guidance from experts if you think your LoE isn't competitive.
Again, do not contradict guidance from experts with originality. Get help from experts with their ideas, proof reading and polishing if you have to but write it yourself.
Drafting a convincing LOE has always been a problem for most of the students which results in ending up copying or assigning it to somebody else. Visa officers have an experience of reviewing these letters for years and are likely to identify the copied one.
Approaching a consultant for completely writing an LoE might be an idea in students's head but after drafting 100s of LoEs and SoPs, they will come with the same flavor, tone and specifications but just with your details and I believe it is not what a visa officer wants to see.
Most important thing to consider while writing an LoE yourself is what information you include and how you organize and present your information. Date, salutation and subject are mandatory. You can start with your brief introduction which includes who you are and what your academic background is.
The following paragraphs should be able to explain the reason to choose Canada and no other countries, reason to choose the particular subject and that particular school for it, your career plans, your financial plans to cover your expenses and your home ties to convince that you will come back after your studies.
You can conclude your letter by explaining how you follow your responsibilities as an international student while in Canada and kindly requesting for a study permit. These points are the basic guidelines, but you still got some job to work on the contents.
So far, students must have understood that Letter of Explanation or Statement of Purpose is also the way to communicate visa officers any information that is not in the documents, but you think is important for visa officer to know.
Despite trying numerous times, if you think your LOE is not up to the mark, choose the right consultant who can guide you to draft a better one. We strongly request students to avoid asking consultants write the LoE for you.
We believe that the right consultants are those who guide you, not the ones who write it for you. It is recommended to place an LoE in the beginning of the uploaded file.
How to Write a Strong SOP for a Canada Student Visa from Nepal?
To get your student visa for Canada approved from Nepal, you need to submit a strong Statement of Purpose (SOP). Here are some tips to write an effective SOP:
Your SOP should convey your passion for the program and university. Mention the program name and why that particular university interests you. Discuss your relevant interests, experiences, and goals to demonstrate your enthusiasm.
Explain your academic preparation and highlight relevant coursework, projects, or research experiences. Provide examples of your achievements and how they have prepared you for further study. Mention any scholarships or awards to showcase your abilities.
Discuss your short and long term goals. Explain how the program will help you achieve your goals and career ambitions. Mention specific courses or areas of study that will aid you in reaching your goals. The reviewer wants to see that you have a clear vision and direction.
Accentuate your strengths and key personal qualities. Discuss experiences where you demonstrated qualities like leadership, persistence, creativity, etc. But don't just list qualities, provide examples and stories to illustrate them.
Express why you want to study in Canada. Mention factors like high quality education, cultural diversity, safe environment, and opportunities for professional development. Explain how you will adapt to living in Canada on a student visa.
Key Points to Include in Your Canadian Student
1. Visa SOP
Your Statement of Purpose (SOP) for a Canadian student visa is your chance to show why you deserve to study in Canada. To make a compelling case, focus on these key points:
2. Relevant experience and skills
Highlight any experience, skills, or accomplishments that will help you succeed in your program of study. For example, discuss internships, volunteer work, or other activities that developed useful skills. Mention any awards or honors that demonstrate your abilities.
3. Clear study goals
Explain your specific goals for study in Canada, like gaining knowledge or experience for your career path. Discuss the program you want to pursue and why that program and school fit your goals. For example, mention particular courses or opportunities that interest you.
4. Intent to return home
Express your intention to return home after study to contribute to your country. For example, discuss how the knowledge and experience you gain can benefit your local community or country. 
Mention about the possible job opportunities you will get in your home country after your return and also mention family, social, or professional ties that will draw you back after study.
5. Finances
Briefly discuss how you plan to finance your study. For example, mention personal and family funds, government sponsorships, scholarships, student loans, or other sources of financial support. Total funds should cover tuition, living expenses, and travel.
Mistakes to Avoid When Writing Your Canada Student Visa SOP
When writing your SOP for a Canada student visa, there are a few mistakes you'll want to avoid:
1. Lack of Research
Ensure you understand the requirements and priorities of the universities and programs you're applying to. Research the schools' websites to determine what they value in candidates. If possible, speak to current students. Coming across as uninformed will hurt your chances. Do your homework!
2. Dishonesty
Do not lie or exaggerate on your SOP. The high commission will likely ask questions about your writing to confirm details. Getting caught lying is a surefire way to be denied. Focus on honestly representing your experience, skills, and goals.
3. Lack of Specifics
Avoid writing in generic terms. Provide concrete examples and specifics to strengthen your SOP. Discuss particular courses, professors, extracurricular activities, teaching or research experiences that have shaped your interests and path. The more details you can provide the better.
4. Lack of Clarity
Express yourself in a clear, logical manner. Have a central theme or narrative that ties your SOP together. 
Explain how your experiences, interests, and goals connect to build a compelling case for why you're a strong candidate. Be concise and avoid repetition. Get feedback from others to ensure your key points come across clearly.
5. Grammatical Errors
Double-check for any errors in spelling, grammar or punctuation before submitting. Even minor mistakes can reflect poorly on your application and suggest a lack of care or attention to detail. Ask a friend or family member to review and provide feedback or work with an editor to ensure your SOP is error-free.
SOP to Canada: A Closing Note
So there you have it—a step-by-step tutorial on how to write a compelling SOP for Nepalese student for getting study visa to Canada. Put forth the required time and effort and closely observe each step. 
Put all your heart into describing your experience and desire to study in Canada. If you follow those instructions, you'll have a strong SOP that increases your chances of accepting your student visa.
Remember to be authentic, highlight your strengths, and show how studying in Canada will help you achieve your goals. With some work and patience, you'll soon reach that coveted letter of acceptance and a life-changing opportunity to study abroad. 
Best of luck – you've got this! Now get to work and start crafting that winning SOP. Your future is waiting!
Also read; Best consultancy for Canada
You may also want to read: