Australian Student Visa Application Process – Step by Step Guide
Posted by

Categories

Australia

Date

February 17, 2021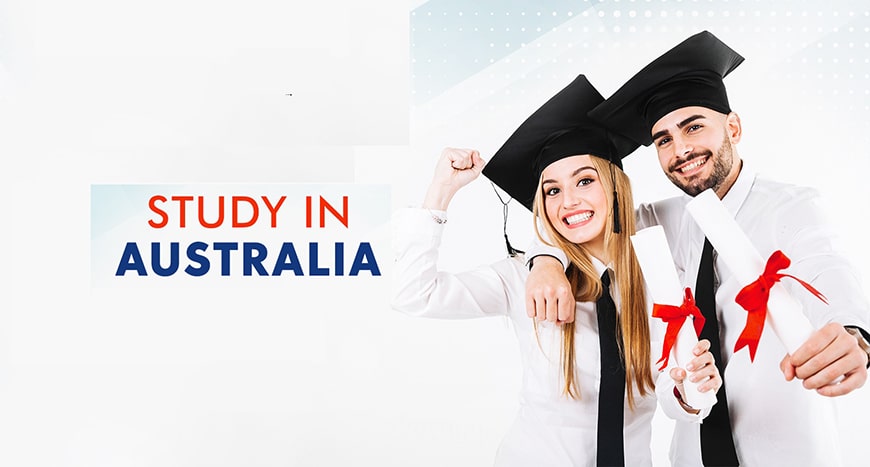 How to apply for Australia Student Visa?
Career Counseling/Consultation
The first step for applying for a student visa to Australia is getting detailed information about the country, visa process, English language requirements for your desired course, financial and academic requirements, etc.
Test Preparation
Start preparing for your English language proficiency test (IELTS/TOEFL/PTE) and sit for your test.
Documents required for Admission Offer Process
After you secure the required scores in your IELTS/TOEFL/PTE, start your application for an Offer Letter. Please make sure you know what courses you are going to study at which level and which university you are applying to.
Documents required for Australian student visa application:
Complete academic documents
Passport
IELTS/TOEFL/PTE score sheet.
Work experience (if any)
University/Colleges application form
Statement of Purpose
Marriage certificate (if married)
Time to receive offer letter is between 1 day to 4 weeks. Some universities/colleges may take interview via phone call, skype or zoom.
Also read; Property Valuation Certificate/Report
Receiving Offer Letter
After assessing your application and if you meet all the requirements, the university/college usually provides the conditional offer letter. 
A conditional offer letter means you should satisfy the mentioned conditions in your offer letter (usually financial documents, and sometimes may require some additional documents) for admission.
Also read; How to Write an SOP for Australia
Financial Documentation
For a student to apply student visa in Australia, they need the proof of financial documents that they are capable to pay the tuition fees, living expense and other expenses during their study in Australia.
Thus, you need to provide the proof of you being financially strong.
GTE Approval Request
You need to provide GTE (Genuine Temporary Entrant) documents to the university/college for verification. GTE documents include proof of fund and financial documents, SoP and other required documents mentioned in your conditional offer letter. Your university/college also may take interview.
Payment of Fees
After GTE approval what next?  After the university/college approves your GTE, you need to proceed for payment of tuition fees and other fees as mentioned in your offer letter. Also, you need to obtain No Objection Certificate (NOC) from Ministry of Education at this stage. NOC is required by banks in Nepal to transfer your fees to foreign universities.
Electronic Confirmation of Enrolment (eCOE)
After the payment is received by the university/college, you will be provided an eCOE (Electronic Confirmation of Enrolment). The eCOE is a letter issued by the university in support of your application for a student visa.
Visa Application Lodgment
The final stage of your application process is visa application. The visa application for Australia is lodged online.
Visa Interview Preparation
The Australian High Commission may take interview and ask questions regarding your documents, financials, reasons to study in Australia, future plans etc. We suggest you to prepare for interview after you lodge your visa application with the help of your consultancy or with experts.
Visa Decision
This is the moment you have been waiting for and always hope the result to be positive. There are always 2 outcomes of the visa:
Visa Granted: – Start celebrating and prepare for your journey to Australia.
Visa Refused: – You probably don't want to hear this. There may be various reasons for your visa refusal and you may want to review your application and asses where you went wrong.
Refund Process (if visa refused)
If your visa is refused you need to send an application to your university/college for refund of amount you deposited for your eCOE. It may take anywhere from 4 to 8 weeks to get your amount refunded.
On Arrival Support
We recommend you to arrive in Australia 2-3 days before your orientation so that you have enough time to make yourself comfortable in Aussie climate. 
Also, you should contact your university/college as soon as your visa is approved for arranging accommodation and contact at least a week prior for an airport pickup. Alternatively, you can also choose not to stay on campus accommodation and stay with your family/friends.
Also read; What to pack for study abroad?
Attending Orientation
You need to attend the orientation of your university/college where you get chances to meet other students, teachers and get clear idea of how to start your study journey. You will also be provided with information about the rules and regulations and services offered by the institution.
Now, you are all set to start your study in Australia and we wish you all the best for your future ahead!
Also read; Post Study Work Visa in Australia (PSW Visa)
Dreaming of Studying in Australia? Take the First Step with a FREE Consultation!