What is No Objection Letter (NOC) | Obtaining NOC from Nepal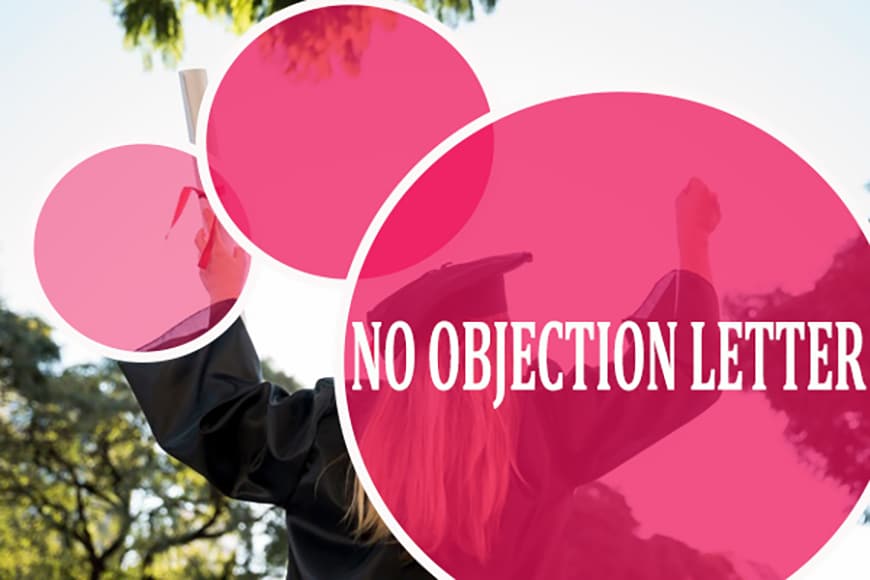 You must be familiar with the term NOC (No Objection Certificate) if you are planning to study abroad in the USA, Australia, Canada, UK and other countries.
If not, this blog will help you understand what NOC is and some frequently asked questions associated with it. An NOC is a consent or authorization document that is issued by Government of Nepal stating that they have no problems with your plan to study abroad.
It is also commonly known as No Objection Letter. It is solely issued by Ministry of Education (MoE). You can only study abroad once you get this letter from MoE.
Why do you need No Objection Letter?
Obtaining an NOC means you have a legal consent from Government of Nepal to study in foreign countries and can make a payment to the intended institutions abroad.
Students must submit NOC to bank while making any payment to the institution mentioned in NOC. You can only make a payment to the particular institution mentioned in the NOC.
If you want to pay for more than one institution or for more than one country, you need separate NOCs for each institution. NOC is also required while you want to exchange NPR to any other foreign currencies.
For example, if you plan to study in Canada and have already received an offer letter, you will be asked to pay the tuition in order to apply for a visa for which bank is the most common way. The bank requires a NOC to make a payment in foreign countries on your behalf.
Who can apply for NOC?
Anybody who wishes to study in foreign countries can apply for NOC. However, a student should have a valid offer from the school they intend to study.
Student's guardian can also apply for NOC on their behalf. Guardian of students includes parents, grandparents, elder brother or sister and spouse. If a guardian is applying for NOC on behalf of the student, they should include their citizenship along with other required documents.
What are the documents required to apply for NOC in Nepal?
Students should provide some documents while applying for NOC. They are as follows:
Passport (Original and Notarized Photocopy)
Citizenship (Original and Notarized Photocopy)
Academic Transcripts of the last Academic Degree (Original and Notarized Photocopy)
A valid Offer Letter or I-20 from the University/College
Eligibility and Registration Certificate from the Council if studying medical or nursing (Original and Notarized Photocopy)
Marriage Registration Certificate if your last name has been changed because of marriage
Can I apply online for NOC?
You can also apply for NOC online. The Government of Nepal has initiated online application of NOC since July 15, 2020.
Online application process for NOC
Go to 

http://noc.moest.gov.np

 and create your account. The first thing you need to do is sign up with your email address or phone number in order to start the application for NOC.
Fill the online application form following the instruction as well as upload the documents asked for. Make sure that all the documents uploaded are clear.
You will get a notice of your document verification usually within 2-3 business days.
If your application is approved, you will have to pay the revenue of Rs. 2000.00 for each NOC payable to MOE at Rastriya Banijya Bank. You may be sometimes asked for extra documents or information for verification.
Sometimes you might not find the subjects or schools you intend to study in the portal while applying for NOC. In this case, you need to make a subject request.
Make sure that you provide all the information asked while making a subject request. It may take 1 to 2 business days for the subject to be approved or else you might be asked for other information if missing.
Continue with your application once your subject is approved. You will see the approval notice on the notification tab of the portal once you login.
Though applied online, you must visit MOE, Scholarship wing at Keshar Mahal for hard copy.
What is the process to apply a NOC physically?
Applying and receiving NOC physically was the only way to get a NOC before July, 2020 until the government initiated the online application process for NOC. However, many students today still prefer physical application. Here is the stepwise process to apply the NOC physically
The first step to apply for a NOC is to gather all the required documents which are already mentioned above.
Fill the application form with all the details asked for. You can download the application form from the MOE website  

moe.gov.np

 or at MOE, Keshar Mahal itself. If you need an NOC for more than one subject, level or institutions, you should fill the separate application form for each of them.
Application form and document verification at Window 3
Pay the fees at Window 2
Submit your documents to Window 4 once the payment is made. You will get a token number.
Collect your NOC at Window 6
You are also required to pay a certain fee for NOC applied for each subject, level or institution. Make sure that you submit your application by 12 noon Sunday to Thursday and by 11:30 am Friday.
The queue is generally long and it may time in each window. Usually, you can get a NOC within a day (physically) if you have all the require documents and visited timely. This is what the application form looks like:
What is the cost of obtaining NOC in Nepal?
The MOE charges Rs. 2000.00 for each NOC as revenue. You will have to pay an additional Rs. 2000 if you want a NOC for another course, school or level. You can pay this fee at Window 2 if applying physically or deposit by bank transfer if applying online. If applying online, RBB is the beneficiary bank.
NOC Full Form: Where Can I Get It In Nepal?
NOC is issued by Ministry of Education (MOE), Scholarship Wing located at Keshar Mahal.
The details are as follows:
Scholarship Wing
Ministry of Education
Keshar Mahal, Kathmandu
Website: www.moe.gov.np
Email: info@moe.gov.np
Phone: 014418169
To obtain a copy of the NOC (No Objection Certificate) Full Form for Nepali students who wish to study abroad, you can follow the procedure outlined below:
Visit the Ministry of Education, Science, and Technology (MoEST) in Nepal. It is the government authority responsible for educational matters, including issuing NOCs for students studying abroad.
Locate the office nearest to your location. The MoEST has its central office in Kathmandu and regional offices in various districts throughout Nepal.
Gather the necessary documents:
A copy of your offer letter or admission confirmation from the educational institution abroad.
A letter of intent stating the purpose of studying abroad and the course you will be pursuing.
Your academic transcripts and certificates.
Your citizenship or passport.
Any other supporting documents as required by the MoEST.
Visit the selected office during working hours. It's advisable to contact the office or check their official website for specific office hours and any additional requirements.
Meet the officials at the office and request the NOC Full Form for studying abroad. They will provide you with the necessary forms and guide you through the application process.
Fill out the application form, providing accurate and complete information.
Attach the required documents along with the application form.
Pay any applicable fees, if required. The MoEST may charge a nominal fee for processing the NOC application.
Submit the completed application form, supporting documents, and fee payment to the designated authority.
After processing your application, the MoEST will issue the NOC Full Form, which you can use for your study abroad purposes.
It's important to note that government procedures may change over time.
Therefore, I recommend checking the official website of the Ministry of Education, Science, and Technology in Nepal or contacting their office directly for the most up-to-date information regarding the application process, required documents, and any additional requirements.
Frequently asked questions about NOC Nepal
---
Who needs NOC?
Students who want to study abroad need NOC.
Why do I need a NOC?
You need NOC to study abroad as it is a permission from government that you are allowed to study abroad and to pay the tuition fee to your intended college or university. It is also important for the currency exchange when you submit or take the payment o study abroad.
How can I apply for NOC?
NOC can be applied both physically and online.
How long does it take to get a NOC?
You will get it the same day if applied physically and if all the documents are complete. Applying online may take 1-2 business days.
How much does it cost for NOC?
The fee for NOC is Rs. 2000.
Can I study abroad without NOC?
No
Do I need a NOC even if I don't have to pay anything to foreign schools?
You might be asked for a NOC at immigration before departure. So, it is always advised to get a NOC if you are going for abroad studies.
Are there any additional documents needed for medical or nursing students?
You will also need to submit your professional license, certificates, eligibility certificates or pre-approvals as required if your previous study or further study needs registration from following organizations:
Nepal Medical Council, Nepal Nursing Council, Nepal Health Professional Council (NHPC), Nepal Pharmacy Council, Nepal Ayurveda Council, Nepal Engineering Council, Nepal Veterinary Council, Civil Aviation Authority of Nepal.
Which Courses need Pre Approval Needed from Medical Education Commission, Sanothimi Bhaktapur?
You will need Pre-Approval from Medical Education Commission If you are going to study following courses:
Public Health, Health Education, Medicine, Medical Microbiology, Diag. Health Lab, Diag. Radiography, Diag. Radiotherapy, Diag. Cytrology, Diag Hematology, Diag. Biochemistry, Diag. Virology, Nuclear Medicine, Ayurved, Homeopathy, Unani, Acupuncture, Physiotherapy, Community Base Rehabilitation, Prosthetic and Arthritic, Dental Assistant, Naturopathy, Yoga, Ophthalmology, Operation Theater and Allied Health Sciences, Clinical Psychology, Speech and Hearing, Forensic Medicine, Perfusion Technology, Anesthesia, Cardiology Tech., TCM AMT, Occupational Therapy, Renal Dialysis, Embryology, Nursing.