Visa Success Rate for Australia from Nepal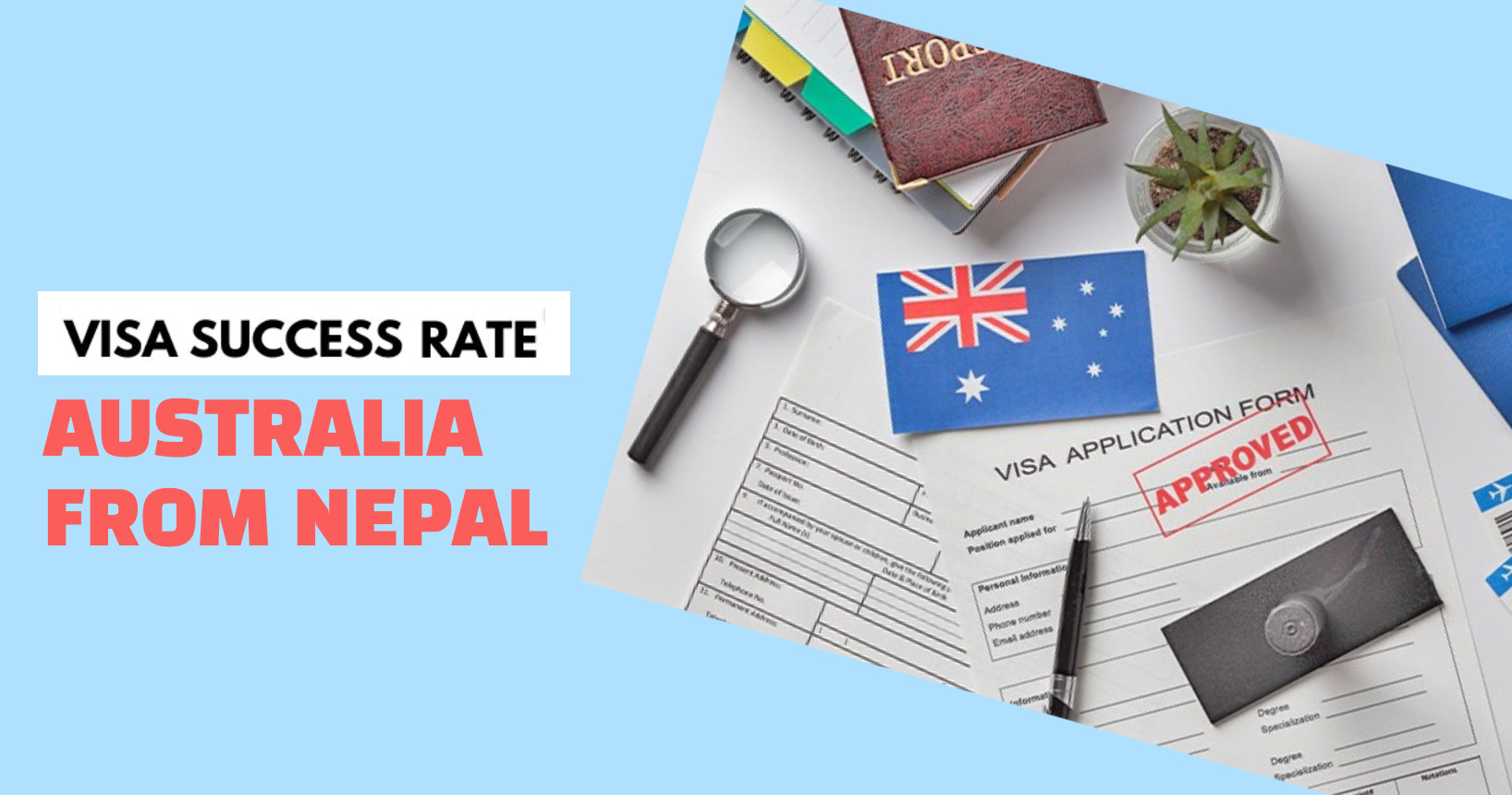 Australia is one of the top desired destinations for Nepalese looking to study, work or migrate abroad. With world-class education, high standards of living, cultural diversity, and abundant job opportunities, it's no wonder so many Nepalese consider applying for an Australian visa every year.
However, getting a visa approved is not always straightforward. According to the Australian Department of Home Affairs, the visa success rate for Nepalese applicants in 2021 was 71.1%. This means over 28% of applicants had their visa rejected.
So, what factors determine whether a Nepalese national will have their Australian visa approved or not? And what can you do to maximize your chances of success? This comprehensive guide examines the visa application process in Nepal, success rates for different visa categories, statistics, and tips to boost your prospects.
Visa Categories
---
There are various visa options available to Nepalese citizens looking to enter Australia temporarily or permanently. The main categories are:
1. Student Visa:
The Student Visa allows Nepalese students to live in Australia and study full-time at an accredited university, school, vocational training, or English language course. Applicants must provide evidence they have been accepted into a registered course, can support themselves financially, and have adequate English skills.
According to official statistics, 30,667 student visa success rate for Nepalese applicants in 2021 was granted a visa.
2. Skilled & Work Visas:
These visas are aimed at Nepalese citizens with skilled occupations wanting to live and work in Australia temporarily or permanently. The main types include:
3. Family & Partner Visas:
These visas allow Nepalese citizens to migrate to Australia if they have an eligible sponsor who is a family member or partner:
Partner Visa 309/100

– For married or de facto partners of Australian citizens or permanent residents. Success rate of 90.5% for Nepalese in 2021.

Child Visa 101

– For dependent children of Australian citizens, permanent residents, or eligible New Zealand citizens. Success rate of 100% for Nepalese in 2021.
Parent Visa 103 – For parents of Australian citizens, permanent residents, or eligible New Zealand citizens. Success rate of 88.9% for Nepalese in 2021.
4. Visitor & Tourist Visas:
These allow Nepalese citizens to enter Australia temporarily for tourism, business, medical treatment, or visiting family purposes:
Visitor Visa 600

– For short-term stays up to 3, 6, or 12 months. The success rate of 73.5% for Nepalese in 2021.

Sponsored Family Visitor Visa 679

– For family members sponsored by an Australian citizen or permanent resident for up to 3 months. Success rate of 100% for Nepalese in 2021-2022.

Medical Treatment Visa 602

– For medical tourists coming to Australia for treatment. Success rate of 100% for Nepalese in 2021.
Visa Application Procedure
---
Here are the main steps involved in applying for an Australian visa from Nepal:
1. Choose the Right Visa Category
Research thoroughly to identify the most suitable visa for your purpose, duration, and eligibility criteria. The Department of Home Affairs visa finder tool can help determine this.
2. Check Availability of Visa Places
Some visas, like the Skilled Independent 189, have a limit on the number of invitations issued per year. Check if places are available for your visa type and occupation.
3. Submit an Expression of Interest (EOI)
For skilled migration visas, submit an EOI detailing your qualifications, skills, experience, etc. You will be invited to apply if your EOI meets the eligibility criteria.
4. Submit Online Application
Once invited, submit a complete visa application online through ImmiAccount. Provide all required documentation. Pay the application fee.
5. Attend Biometrics Appointment
Visit an Australian Visa Application Centre in Nepal to provide fingerprints and photos.
6. Wait for Visa Decision
Processing times vary by visa type. Check your ImmiAccount regularly for application status updates.
7. Provide Additional Information if Requested
The case officer may ask for more documents or information from you while assessing the application. Respond promptly within the given timeframe.
8. Visa Grant or Refusal
You will be emailed once a decision is made on your visa. If granted, check visa conditions. If refused, submission of a new application or appeal may be an option.
Factors that affect visa success rate for Australia from Nepal
---
There are various factors that determine whether an Australian visa application from Nepal will be approved or refused. Key considerations include:
Genuine Temporary Entrant Criteria:
For temporary visas, applicants must convince the case officer they are genuine visitors with an incentive to return home after their authorized stay. Evidence includes:
Strong family, economic, and employment ties to Nepal
Sufficient funds to support entire stay in Australia
Enrollment in the course (for student visa)
Compliance with previous visas
Skills Assessment:
Skilled visa applicants must get a positive assessment of their qualifications and work experience from the relevant skills assessment authority.
Points Score:
Skilled visa subclasses require meeting a minimum points threshold based on factors like age, English ability, qualifications, employment background, etc. Higher points = a higher chance of success.
Sponsor Eligibility:
For sponsored visas, the Australian sponsor must meet income, character, and other requirements.
Work Experience:
At least three years of relevant work experience boosts prospects for skilled visa applicants. Australian work experience is highly regarded.
English Language Proficiency:
Proof of English skills through IELTS, PTE, or TOEFL tests is essential for most visas. The higher your test scores, the better your chances.
Financial Capacity:
Applicants must prove they have enough funds to cover living costs, tuition fees (for students), and return flights home.
Health & Character:
You must undergo medical checks and provide police clearance certificates to confirm you are of good health and character.
Accurate Application Information:
Providing false or misleading information leads to direct visa refusal. Double check the application for errors.
Migration Risk Assessment:
Some nationalities, like Nepalese, are subject to extra background checks, which lengthens processing but doesn't affect approval chances.
Visa Success Rate Statistics for Australia from Nepal
---
The Australian immigration department publishes annual statistics on visa grant and refusal rates for Nepalese applicants. Here are the latest figures as per the 2021 report:
Overall visa success rate: 71.1% granted vs 28.9% refused
Student visa success rate: 74.5% granted vs 25.5% refused
Skilled Independent visa 189 success rate: 63.4% granted vs 36.6% refused
Skilled Nominated visa 190 success rate: 73.4% granted vs 26.6% refused
Temporary Skill Shortage visa 482 success rate: 81.5% granted vs 18.5% refused
Working Holiday visa 417 success rate: 97.4% granted vs 2.6% refused
Visitor visa 600 success rate: 73.5% granted vs 26.5% refused
As evidenced, success rates can vary significantly based on the type of Australian visa applied for from Nepal. The highest approval is for working holiday and family-sponsored visas, while skilled permanent visas tend to have lower success compared to temporary visas.
Tips to improve the visa success rate for Australia from Nepal
---
Here are some tips to boost your chances of Australian visa approval as a Nepalese applicant:
Target the Right Visa Category:
Consider which visa category you have the best chance of qualifying for based on your profile, circumstances, and aspirations.
Check Visa Eligibility Thoroughly:
Use the visa finder tool and document checklist to confirm you meet all the requirements before applying.
Choose the Right ANZSCO Code:
For skilled visas, pick the most relevant occupation that matches your qualifications and work history. Getting ANZSCO codes wrong can negatively impact success.
Get Skills Assessment Done:
A positive skills assessment from the relevant authority substantially improves skilled visa prospects.
Improve English Scores:
Invest time and money into achieving high English test scores (IELTS 7+ or equivalent) if required for your visa class. This demonstrates functional English skills.
Research the Visa Process:
Read up thoroughly on the application process, documents needed, costs, and processing times so there are no surprises.
Complete Application Accurately:
Provide detailed, accurate, and consistent information in your application. Double-check for errors. Include all necessary supporting documents.
Demonstrate Financial Capacity:
Provide credible evidence of sufficient funds through bank statements, loan approvals, fixed deposits, etc.
Show Genuine Links to Nepal:
Prove you have strong economic, social, and family ties to Nepal as part of the genuine temporary entrant requirement.
In conclusion, Australian visa approval rates from a high-risk country like Nepal can vary significantly based on factors like visa category, English ability, work experience, and application completeness.
Applicants should research thoroughly, target the right visa, follow procedures correctly, and demonstrate strong ties to their home country. Using an agent also helps strengthen the application. Taking these steps will maximize your prospects of obtaining a successful Australian visa.
Dreaming of Studying

in Australia? Take the First Step with a FREE Consultation!