Affidavit of Support for a Student Visa | Composing an Affidavit of Financial Support for Student Visa Application
Posted by

Categories

Blog

Date

October 12, 2020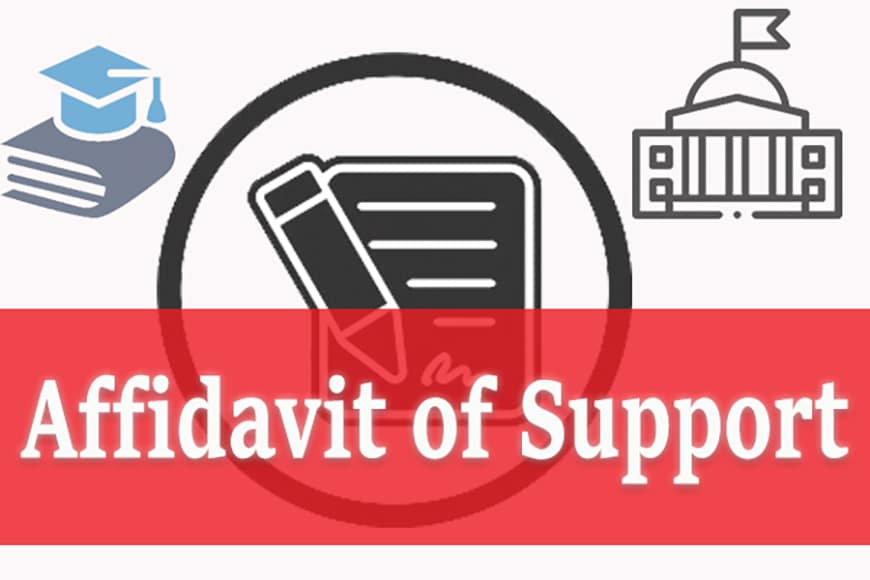 Details on Affidavit of Support
What does 'Affidavit' mean?
Aaffidavit refers to a written promise. It is an official document where the sponsor (also known as an affiant states fact and swears them to be true and accurate. It is signed under oath and is usually witnessed by an official, for example a notary public.
Also read; SOP for Accounting (Statement Of Purpose For Accounting)
For what purposes Affidavit of Support is generally used?
An affidavit of support is submitted to the university and visa office/consulates to assure the officers that the sponsors have enough funds to support the applicants.
A person filing a petition for a relative (Family-based Green Card), applicants need to submit an Affidavit of Support to the US Government. The specific form is known as I-134.
Some universities in the United States also require international students to submit this form for the I-20 purpose; however, majority of the universities have their own forms. Some still offer flexibility to the students submit the affidavit of support in their own ways. An affidavit of support is also known as a Letter of Sponsorship/Letter of Financial Guarantee/Certificate of Financial Responsibility.
You can submit an Affidavit of Support to any of the visa offices, for example, Canadian High Commission, Australian High Commissions, United Kingdom Home Office, etc.) as long as you have sponsors to support you financially.
What should you understand about an Affidavit of Support as a student?
An Affidavit of Support is a contract signed and declared by an individual to guarantee the minimum amount of financial support required by a student to pay for tuition fees, living expenses, insurance, books and supplies for the length of their studies.
An Affidavit of Support/ Sponsorship Letter is required to be documented with the supporting financial evidence such as bank savings, income sources, etc.
An individual who guarantees the financial support is termed as a sponsor and a student can have multiple sponsors. 
Sponsors are usually parents or family members or close relatives or others who will provide the financial support. They may provide you with complete or partial sponsorship, but your total financial support must be well above the estimated expenses.
Please note that parents of the students have the strongest hold on declaring the Affidavit of Support if supported with enough source of funds. 
Students can also submit the evidence of funds that are in their own names. In this case, they are not required to submit the Affidavit of Support signed by their sponsors.
What should an Affidavit of Support/ Sponsorship Letter include?
Name and address of a sponsor
Name and Address of the student to whom the funds are provided
Relationship between a sponsor and a student
Declaration of amount, duration and purpose of sponsorship
Signed by a sponsor
Please be advised to enclose financial documentary evidence such as bank savings, income sources, etc. It would be best if you could get it attested by a notary public.
Also read; What is a Work Experience Letter?
View Samples:
To,
Canadian High Commission
New Delhi, India

AFFIDAVIT OF SUPPORT

Respected Sir/Madam,

We, Mr. ………..(father) and Mrs. …………… (mother) hereby would like to pledge that we
are the sponsors of Ms./ Mr. ……………, and are responsible for all of his/her expenses (tuition fees, accommodation, boarding charges and others) during his/her study period in Canada.

We are well aware of the expenses that will incur during his/her study of (Program Name)  at ( University Name) whose program commences from ( Intake Start Date to End Date).

The estimated yearly expense is approximately CAD ………… which includes
his/her tuition fees, accommodation, personal spending, room and board etc.

We would like to assure you that we are financially sound to support Ms./ Mr. …………. with his/her expenses. We have enclosed all the documents supporting our financial status. Our total annual income is approx. CAD ………….

We have enclosed all our relevant documents to support his/ her visa application.
Ms./Mr. …………….. is holding passport number ……….. and his/ her date of birth is …………………..

Sincerely Yours,

(Signature)………………………………….. …………(Signature)………………………
Mr. ——————————- Mrs. —————————-
(Father) (Mother)

(Notary Seal/Stamp)
You may also want to read: Letter of Recommendation