7 Tips to Improve Your TOEFL iBT Scores
Posted by

Categories

Blog

Date

October 9, 2020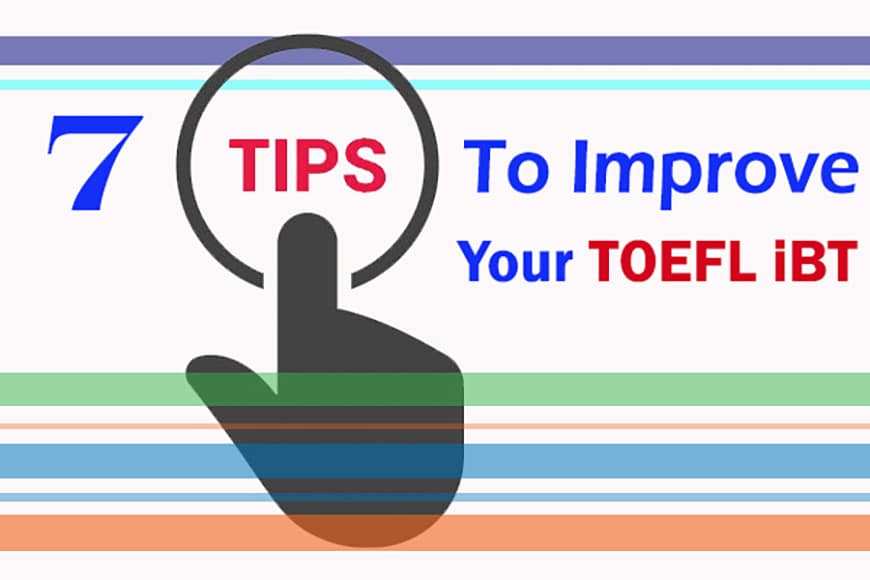 Given the gravity of the pandemic, students aspiring to pursue their education abroad has been tough owing to closure of physical classes with a real instructor. Hence the necessity to go for virtual classes to prepare for TOEFL (Test of English as a Foreign Language) has been crucial.
Students are concerned about where to go for taking virtual classes. Edwise Foundation has come with providing virtual preparation classes for TOEFL candidates, where the students get to learn in a lively environment, interact with a tutor via video or messaging during and after classes to sort out their problems, if any.
For a lot of students, TOEFL might be a difficult test to crack for reasons such as the test being internet-based, the changes made since August 2019 and with no updated and revised materials to practice has led many students to choose other options like IELTS or Duolingo English Test. However, the test can be easily aced with appropriate guidance and training. Certain key points need to be considered while preparing for the TOEFL test.
The TOEFL test consists of Reading, Listening, Speaking and Writing which takes about THREE hours to complete. The Reading section takes 54 minutes if you get THREE passages and 72 minutes if you get an additional passage, among which one is experimental and it doesn't account for your score.
The Listening section takes 41 minutes if you get 28 questions to answer or 57 minutes if you get 39 questions to answer. The Speaking section is completed in 17 minutes where you need to answer 4 questions. You need to use microphone to record your voice.
The Writing section contains TWO questions, where the first one is an integrated task; you need to read a short passage, listen to a lecture on the same topic and write a response to the given question in 20 minutes and type between 150 to 225 words. The second question is an independent essay, where you got to type your response in 30 minutes and should consist at least 300 words.
How Can You Improve Your TOEFL iBT Scores?
Tips 1: How to Improve TOEFL iBT Scores
When it comes to working out the reading section of the test, you are under time pressure in the first place, you need to maintain tranquility. At the beginning, you don't see the questions, so read the opening and closing sentences of each paragraph to generalize and envisage what the passage deals with.
Once you scroll to the end of the passage and click NEXT or CONTINUE button, you can see the question as well as the passage on the screen.
For an instance, if the passage is related to child psychology and you aren't a student of psychology, you obviously would panic.
Yet, as you go through the first and last sentence of each paragraph, you can get a fair idea that the passage might deal with present day children's psychology, and psychology of the writer when he/she was a child.
Now you could use your personal experience of your own childhood mentality to that of present day children psychology.
Tips 2: How to Improve TOEFL iBT Scores
Incase you have a hard time deciding answer to a question, just skip it and move on. You can come back and decide the answer once you are done dealing with all the passages provided you have time at your disposal.
Remember that the questions are in serial order and also there's an arrow given at the end of the question as to which paragraph you need to refer to to get the answer.
In case no indication is given, you need to remember which paragraph you looked for to find answer to the previous question and read sentences after that .
For example, you got question 2 answer from the second paragraph 3rd sentence and question number 4 has no indication as to which paragraph you need to refer to . Here, you need to read sentences from 4th sentence of second paragraph.
Tips 3: How to Improve TOEFL iBT Scores
One particular question that bothers most of the students is SUMMARIZING THE MAIN IDEAS. For this, you need to locate which paragraph is the given sentence taken from.
Then you need to read basically the first and last sentence of the following paragraphs since the main idea of a paragraph is given a the beginning or at the end of the paragraph. Beware of synonyms.
Tips 4: How to Improve TOEFL iBT Scores
For listening section, you need to take notes as you listen to the conversation or the lecture. Focus on the flow of speech. When you notice a change in voice, or you hear a contrast word used or hear an example given, you need to be alert there as your answer is there.
Simply put, pay attention to intonation and stress. Usually, a word is stressed when it's important or even repeated which indicates the answer you are looking for is located in that particular sentence. Also, focus on shorting details following a statement.
Tips 5: How to Improve TOEFL iBT Scores
For writing section, the lecture might oppose the ideas mentioned in the reading passage- integrated task. When you read the passage ( 3 minutes is alloted to reading the passage) , read the first and last sentence of each paragraph, note the key points like the subject being discussed and the verb used in the context since you need to listen to for the same subject in the lecture.
The verb might oppose the verb in the reading. This means you need to explain how the ideas in the lecture oppose the ideas in the reading. Use of transitions such as " however, although etc" are necessary. Primarily, the response you have to give in integrated task should have 4 paragraphs namely introduction, body 1, body 2, body3.
Since the question asks you to summarize the lecture casting doubt on the ideas of the passage, it's not necessary to write a conclusion statement since what you have done in your response is a summary and there's no summary of a summary.
However, two of the body paragraphs should contain examples either taken from reading or the lecture. It's crucial to understand that personal opinions and personal pronouns aren't entertained in task 1 as the sources of information are reading passage and a lecture.
The only words you use are "lecture, professor or lecturer" for the ideas from lecture and "passage, or author" for the ideas from reading.
For example, The passage states that…………. The lecture contradicts this idea by discussing that…
An independent task requires you to provide your personal view, what you think about the issue given in the question. Both tasks require to to be grammatically accurate and show that you can write a variety of sentences such as simple, compound and complex structure accurately.
You need to show that you have good vocabulary power by using synonyms in stead of repeating the same word. Lots of synonyms and more complex structure use will take your score up.
It's important that you have at least 30 word/minute typing speed so that you complete the tasks in time and have ample time to make corrections like subject-verb agreement, use of singular- plural, use of count- uncountable nouns, short forms, vocabulary etc.
Tips 6: How to Improve TOEFL iBT Scores
For speaking, out of the FOUR questions, the 1st one is independent, where you are given a choice between two or three options to choose from, or an agree/ disagree, or advantage / disadvantage .
You need to take a stand and explain with reasons and examples to support your choice in 45 seconds.
Eg. What are the advantages and disadvantages of staying from the family? Explain your answer with reasons and examples.
Questions 2, 3 and 4 are integrated. In question 2, you need to read a passage generally a notice or a plan and then listen to a conversation between a male and female.
Then you are asked to express the man's or woman's opinion in your response that should last for 60 seconds. You need to summarize the passage and then state the reasons given by the man ( if the question asks you to state man's opinion) or woman's opinion.
In question 3, you need to read a passage and listen to a lecture on the same topic. Then you need to respond to the given question by stating what the passage ideas are and how lecture gives examples to support the ideas. Your response should lasts for 60 seconds.
In question 4, you need to listen to a lecture on a topic. Then the question asks you to summarize the lecture in your own words. Your response should last for 60 seconds.
Tips 7: How to Improve TOEFL iBT Scores
It's necessary to take notes in questions 2 , 3 and 4. Since the passage will disappear after the reading time is over and the conversation or the lecture can't be repeated or replayed. If you miss any ideas, you are out of luck.
Additionally, get yourself into the habit of listening to a variety of recordings that you can come across, read articles, journals, keep a habit of speaking and or using English on a regular basis if you want to ace the test with a good score.