Duolingo – An alternative to TOEFL and IELTS
Posted by

Categories

Blog

Date

October 6, 2020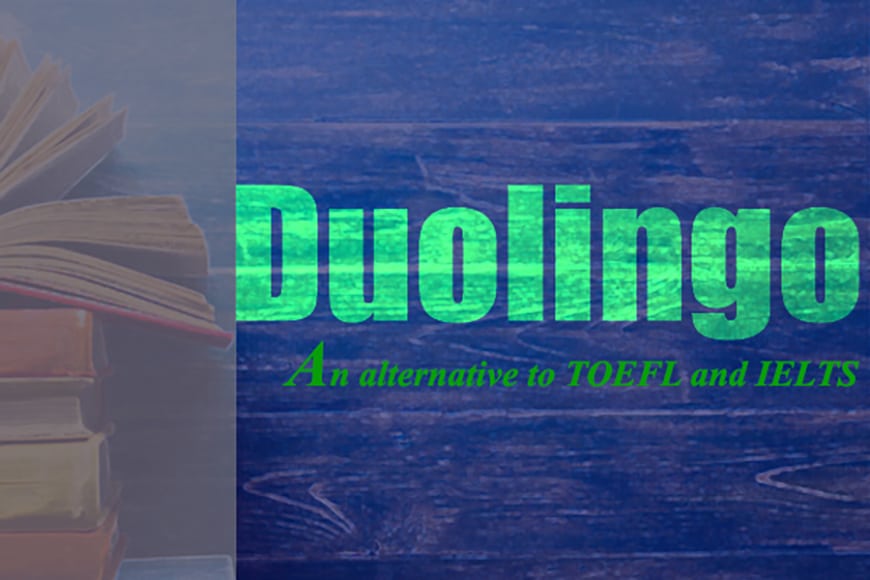 With spread of Covid-19 and test centers being closed Duolingo has been the savior for students intending to study abroad. With language proficiency test being a mandatory component of international student application, students have opted to go for Duolingo and have benefited immensely.
What is Duolingo?
Duolingo is a language learning platform and is the most downloaded education app with over 300 million users using it and its popularity has skyrocketed recently.
It is said to be the best app available for learning a new language which can be downloaded for free. It comes in different versions to suit different devises you might be using (desktop or mobile).
Is Duolingo something new?
No, Duolingo has been in existence since November of 2011. However, it has recently become more popular because of the pandemic.
Is Duolingo specifically an English proficiency test?
Duolingo is a learning app in which you can learn 35+ languages including English.
Why is Duolingo so popular?
There are various reasons why Duolingo is so popular, let's discuss few reasons.
Duolingo is free to download: With lots of International students panicking because of the closure of test centers which administer different language proficiency tests like IELTS, TOEFL, and PTE, Duolingo has become a great option for students as they could simply download it for free and prepare themselves.
Duolingo is accepted by the universities: Over 2,000+ Academic institutions accept Duolingo for a language proficiency and that is a good number of universities when you consider the fact that you have been stuck in your place and are uncertain about how things are going to be in the near future.
Test could be taken anywhere: Unlike most of the English proficiency tests, Duolingo can be taken from the comfort of your home. It does not matter if the test centers are closed, take the test whenever you want and from wherever you want.
On top of that, you don't even have to worry about if the dates are available, you can finalize the test date as per your convenience. You can choose to sit for the date early in the morning or late at night after everyone goes to bed. With Duolingo, you get the flexibility you want.
Materials and teaching method: Duolingo offers skill tree of lessons that use listening exercises, flash cards and multiple-choice questions making learning fun.
Fast results: Another reason of the popularity of Duolingo could be the time it takes for publishing the result of the test. After you complete your test you only need to wait for 48 hours to get your result. That definitely is a tempting factor for students to take Duolingo as most other tests take almost a fortnight for publishing the result.
Affordable: Along with being an app that is free to download both from app store and google play, it also is very affordable when it comes to taking the test. It costs $49 to sit for the test which surely is tempting for international students from the developing countries.
Duration of the test:
You can finish the test in 1 hour. To begin with you will need to set up which might take you about 5 minutes to a maximum. Then, you will be doing the Adaptive Test which will last for 45 minutes. And, at the end you will be having a Video Interview that will last 10 minutes.
Format of the test:
Duolingo English Test has 4 sections – Speaking, Listening, Reading and Writing. Other sections are tested at the beginning and then the speaking test takes place in the last 10 minutes. An applicant can retake the test only two times in a month.
Duration of validity :
Scores obtained in Duolingo English Test is valid for two years. This is the exact same duration that TOEFL and IELTS are valid for.
What's needed while taking the test:
There are few things that you need to ensure you have while sitting for the test from the comfort of your home. The list is as below:
Government ID in English: An ID issued by the Government like passport
Well-lit room: As the test is online and the only way to ensure that you are the test taker for Duolingo is by verifying your face with your ID. Hence, you need to make sure that the room is well lit, and you are clearly visible. You surely won't want your test score to be cancelled because of poor visibility.
Quiet environment: You will be sitting for the test and might get distracted by the noise in the surrounding and you definitely won't be able to concentrate so make sure the room you are in is quiet and you will not be disturbed. If you have kids at home then it's better for you to schedule your test when they are away or asleep.
Internet connection: Make sure you can rely on your internet specially if you are from a developing country like Nepal. If possible, check with your internet provider beforehand just to avoid any hassles that could cost you the test.
A computer: The most important this is the computer. But there are certain things that you need to make sure your computer has.
A Browser that supports the test for ex: Chrome.
A front facing camera, it could be in built or external.
Microphone and speaker are other things that you need to have. Again, it could be inbuilt, but I would suggest using a headphone