7 Tips to Improve Your IELTS Score in 2024
Posted by

Categories

Blog

Date

September 27, 2020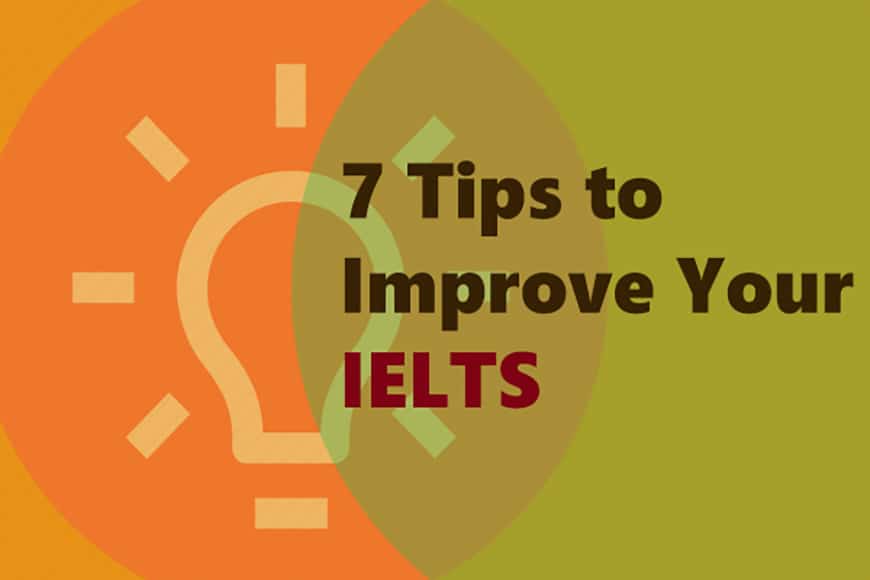 7 Tips to Improve Your IELTS Score in 2024
looks to be a piece of cake to many candidates, yet they find it to be a hard nut to crack when it comes to actually cracking the test to get the desired score.
This can shatter their dream of pursuing their higher education abroad. There are some candidates, who are persistent and devote their time to handle the test effectively, while others simply quit thinking it's not their cup of tea. Hence, the necessity to get to a preparation class is obvious.
Here are seven ways to improve your IELTS score
1. Practice at the right time
In order to improve your IELTS score one must have patience without which a candidate can't think broadly. It's best to practice when one is in a placid mood as one can't concentrate if stressed, tired, worried or if one is in a foul mood.
For example, when you do something like playing your favorite game, you are excited, devoted and you will obviously do your best. The same applies to practicing for the test.
2. Be an extensive reader
One needs to be studious. This implies that the student needs to read a variety of books and consider how the ideas are constructed and presented. These eases handling the reading test as well as improve Writing Skills.
If one is into regular reading books by western writers in particular, such a candidate finds cracking Reading Section comfortable to tackle.
Reading books on Social Science, Management, Science, etc. can help a candidate in handling the three passages at ease.
For example, if you are a student from Science Stream, you might find passages related to Management Stream tough to tackle.
However, if you have been through books related to Management, you have a fair idea of the subject which can assist you in solving passages related to the Management.
3. Write Passionately
Make it a mandatory habit to write on a regular basis on any subject/topic you like. For instance, the topics could be something like a journal or what you did over the day, your experience, to name a few.
But then try writing a variety of sentences like simple, compound, complex both in active and passive forms.
It's crucial that you write accurate grammar, display that you can write synonyms instead of repeating words. This develops your writing skills significantly. If possible, let someone knowledgeable correct it.
4. Listen as much as possible
In order to improve listening skills, one must listen to English programs like BBC, VOA, Australian Radio, etc. online.
This way, you will become familiar with accents like American, British and Australian as these are the common accents used in the listening audios.
It's advised that the audio you are listening to shouldn't be repeated since repeating audio for better understanding can be counterproductive in the sense that you feel the urge to repeat the audio even in the real test.
5. Get exposed to as many materials as possible
Regular exposure to listening materials implies that the candidate can improve their spoken part as well. While listening to English, one has to listen to how the words are pronounced, the flow of the voice like tone, stress and intonation so that one is able to identify the key point.
Since a candidate needs to answer the listening questions while listening, one may get stuck as to whether this or that is the answer, it's at this stage tone, stress come handy in deciding the right answer.
Therefore, it's good to listen by repeating the audio in the initial stage to understand the way important words or ideas are stressed by the speaker.
Yet when one is used to native speaker's way of stressing the key idea, candidates find it lot easier to tackle questions easily.
Remember that it's best not to replay the audio once one is accustomed to the notion of tone and stress in English language.
For example, in a sentence like "The boy was hit by a speeding car yesterday, on Monday the 5th of September. The speaker would stress on the word yesterday as 'Yesterday' which suggests that your answer is yesterday or its synonyms.
Q. The boy met with an accident.
A. Monday B. 5th of September C. Recently
6. Hold conversations in English
Use English in your everyday conversation so that fluency is maintained and you don't have to fumble for words while speaking. Often is the case with Nepali students that they enjoy a blend of Nepali and English when speaking in English since they are not into using English on a regular basis.
Hence, however well they present their ideas during the speaking test, they are bound to get a lower score. Additionally, pacing and fluency needs to be maintained during speaking.
While practicing, it's best to go slow and rather than uttering a sentence in a single breath, it's advisable to break a sentence into 2 parts or 3 or even 4 parts and speak.
For Example, instead of saying "I am fond of all seasons as they have their own importance, I long for winter the most." In a single breath. It's more effective to say "I am fond of // all seasons// as they have their // own importance. // //I long for // winter// the most. //
7. Use a Timer
Above all, keep a timer and practice. Try completing the task at hand well ahead of time especially in reading and writing so that you have ample time left to make corrections in writing, and time to go back to those questions in reading that you think might have been incorrect or that you are unsure of the answers.
For Writing section, once you have completed the tasks, check for grammatical errors, vocabulary and spellings for instance.
For the Reading section in particular, it's advised to tackle each passage in 15 minutes and not 20 minutes while practicing as this develops quick reading habit. This way, a candidate would be focused on a sentence meaning rather than word meaning.
It's; however, crucial that candidates need to understand the question and looking for grammatical structure of the question sentence can help you decide what word like do you need to use a noun or verb or adjective or adverb to complete the sentence.
Dreaming of Studying Abroad? Take the First Step with a FREE Consultation!