Undergraduate Scholarships in the USA
Posted by

Categories

Blog

Date

September 5, 2020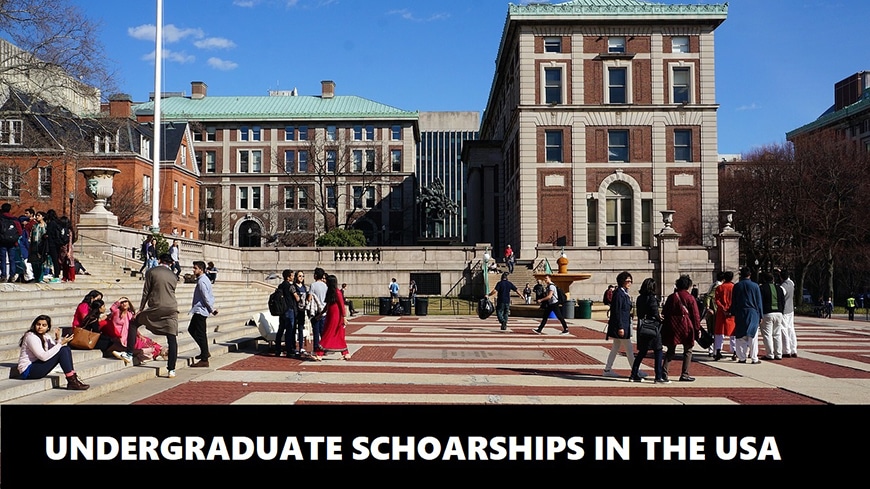 What is a scholarship?
A scholarship is a financial reward offered to a student. It basically lowers the cost of attending the particular university or college by means of the reduced tuition fees, housing exemptions, and so on.
How is a scholarship different from an assistantship?
Both serve the same purpose from a student's perspective, which is to reduce the cost of attending.
The major difference between these terms is that a student is expected to do something in return for an assistantship such as assist the faculty with a research, take classes or assist university staff with general administrative works whereas the students who receive scholarships are not generally expected to do anything in return.
However, some scholarships may require community service or volunteer works. Assistantships are usually offered to Master's and Doctorate students.
What are the types of scholarships?
Some of the scholarships include, but not limited to:
Merit-based Scholarships
Need-based Scholarship
Federal Grants
State Grants
Honors Scholarship
You Are Welcome Here Scholarships (For international Freshmen)
Cultural Sharing or Diversity Scholarship
Departmental Scholarships
External or Private Scholarships, and many more
What types of scholarships are available for international students?
International students can qualify for every scholarship that does not require an applicant to be a citizen of the United States.
Can international students get a full scholarship? How?
Yes. International students can get full scholarships. Some international students end up receiving even full-ride that covers not just the tuition but living expenses as well.
The requirements for international students to qualify for a full scholarship depend on a number of things. For example: if you are applying for a merit-based scholarship, you will need to have extremely strong academic records and high test scores in SAT/ACT and TOEFL/IELTS.
You also need to meet the deadline by applying early, submit an appealing personal statement/essay and strong letters of recommendations. Also, if you are applying for a need-based scholarship then you will have to have a very strong personal statement which clearly states the need you have.
When should you apply for scholarship?
Dates differ as per the scholarship you are applying for. Some might have a very early deadline while some may not, some might need a separate application while others may not. The dates are mentioned in the official websites of the university.
How can you improve your chances of receiving scholarships?
There are a few things you can do to improve your chances of receiving scholarships:
Apply Early
Do proper research on which could be the right scholarship for you to target.
Submit extra-curricular activities
Work hard on tests to score high
Start working on your personal statement early
Have some experience in the field of your study
Take help from experts, not from relatives
Is Co-op a scholarship?
No, a co-op is not a scholarship. It is more like an internship, but the difference is a co-op is usually a part of the curriculum and is mandatory for the students to take it whereas an internship is a choice.
Should international students focus more on scholarships then on internships and co-ops?
The best answer to this question could be international students should focus on all these opportunities. Scholarships help you to reduce your cost of attendance which definitely makes life easier for you as an international student.
Internships and co-ops open doors for you to explore the real working scenario and help you grow both as a person and as a professional.
Co-op may not be available for every program and is more offered under programs like engineering whereas internships could be available for most of the programs but you have to be smart and keep looking for it by staying in constant communication with the career development center and faculty members.
You need to understand that internships and co-ops are the first step you take towards a successful career.
Can scholarship increase your visa chances? If you don't receive a scholarship, can you still get the visa?
It may and it may not. There is no formal document that states that visa chances are improved with a higher amount of scholarship as we have come across applicants who have received full funding or assistantships and yet they were denied their visa.
Also, there are thousands of international students who join the universities in the USA without any scholarship at all and face no problem with the visa.
All you need to prove the visa officer as an international student is that you do have the ability to pay or afford your studies in the United States.
Let's take this simple example. An applicant has been offered admission from a university that has a very low tuition fee but has no scholarship, let's say $9,000/year and another applicant has been offered admission that has a tuition fee of $40,000 and has received 60% scholarship; in this case the student who has no scholarship pays $7,000 less than the student who has received 60% scholarship making the one with no scholarship a stronger applicant assuming that both have the similar financial condition.
However, if the one paying $7,000 more has a credible family income that is $15,000 more than the one paying the lower amount than the one paying more becomes a stronger candidate as his family earns more as well.
Are scholarships for one time or are they renewable?
This depends solely on the type of the scholarship. There are types of scholarship, both "One timer" as well as "Renewable". For the renewable scholarships, the student will need to maintain certain grades and credit hours per semester.
Can you lose scholarship if it is offered for the entire duration of the study?
Yes. If you fail to maintain the minimum requirement that you are required to in order to retain the scholarship, you lose the scholarship. You are required to maintain a certain GPA every semester.
Can you afford your studies in the USA without a scholarship?
This depends upon the financial strength of your family. There are students who have been able to afford the cost of studying in USA without receiving any form of scholarship. However, it could be too big of a burden for most Nepalese students' families.
Can you apply for external scholarships?
Yes. International students can apply for external scholarships. As a matter of fact, there are hundreds of international students who apply for and receive external scholarships every year in the United States.
What is a departmental scholarship? Is it available for undergraduate students?
A departmental scholarship is the scholarship offered by the specific department. It is usually offered after students achieve a certain high GPA during their first semester/year or show immense interests in different research and other activities going on in the department.
Dreaming of USA

? Take the First Step with a FREE

Consultation!