Work Experience Letter Requirement for MBA vs. MS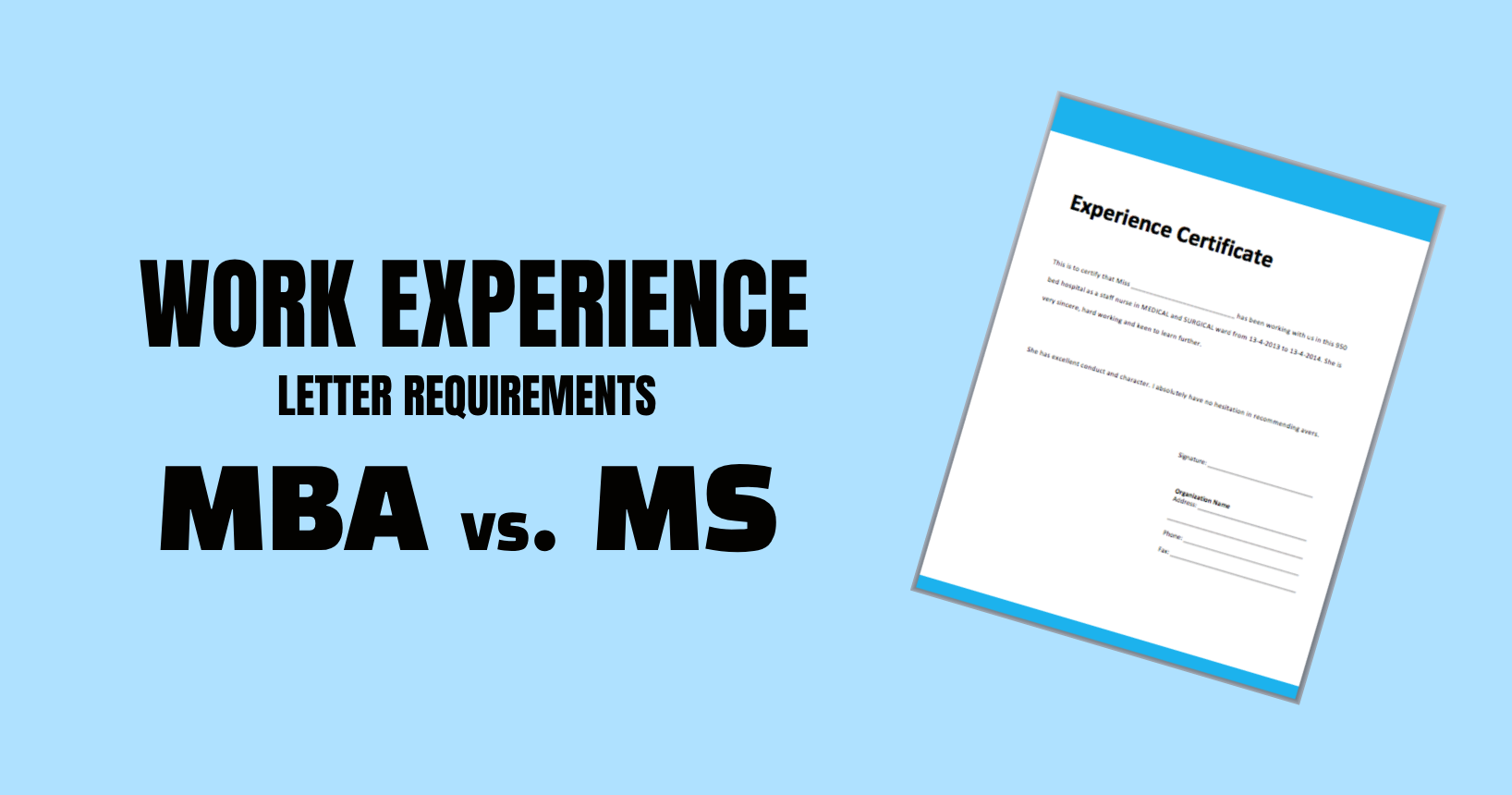 Work experience letters hold significance for MBA and MS applications alike, serving as validation of professional background. However, the work experience requirements diverge markedly between MBA and MS programs in expected duration, level of responsibility, sources of recommenders, and content of recommendation letters.
Applicants must fully grasp these differences to craft customized work experience letters suited for each degree path.
Duration and Nature of Work Experience
---
MBA Requirements
MBA programs universally require 2-6 years of full-time professional work experience, with top-ranked schools expecting averages of 4-5 years. The rationale is that MBA curriculums involve intensive case-based learning, applying business concepts to real-world scenarios.
Applicants need sufficient experience in impactful roles to contribute context and perspectives.
The experience should demonstrate progression into strategic positions with business leadership responsibilities and achievements. This includes managing multifunctional teams, projects, budgets, and operations, as well as contributing to core business outcomes. Tactical roles focused on specific individual tasks unlikely to provide needed maturity.
MS Requirements
MS programs are comparatively flexible regarding work experience requirements. Many STEM MS degrees are satisfied with 6-12-month internships or 1-2 years in entry-level jobs, showing basic familiarity with the field's tools, workflows, and practices. Handling minor responsibilities suffices for admission purposes.
Some MS programs may waive work experience requirements altogether if applicants demonstrate exceptional academic preparation through high GPAs, test scores, research initiatives, or publications. However, work experience remains useful for contextualizing the degree. Top applicants often have 2-3 years of technical experience.
Key Differences
In summary, MBA work experience should demonstrate business leadership, managerial and strategic skills. MS work experience simply needs to establish fundamental domain familiarity and technical competence. MBA applicants need impactful accomplishments in quantifiable business roles, while MS applicants can highlight academic achievements along with basic technical familiarity.
Sources of Recommendation Letters
---
MBA Recommenders
Given the focus on managerial and leadership experience, top MBA programs require recommendation letters from current or former bosses, executives, and mentors who have closely supervised the applicant in professional settings and can substantiate their business achievements.
Letters from long-term clients, key business partners, or board members also carry weight in providing external perspectives on the applicant's leadership abilities, strategic contributions, and overall business acumen demonstrated through the working relationship.
MS Recommenders
MS programs often accept and prefer academic recommendations from professors, research guides, or program heads who can knowledgeably validate the applicant's academic competencies, technical grounding, and scientific aptitude.
While letters from work supervisors are also accepted, they are not necessarily required if academic recommenders can evaluate the applicant's skills and preparation. Recommenders who have overseen extracurricular activities and can assess relevant skills can also be suitable.
Key Differences
MBA work letters must offer detailed assessments of professional leadership and business impact from organizational superiors. MS work letters only need to affirm basic technical competence and do not necessarily require manager viewpoints.
Content of Recommendation Letters
---
MBA Letters
For MBA applicants, the work letters should provide in-depth qualitative evaluations of their professional performance and business impact. There should be specific anecdotes and metrics highlighting the applicant's leadership accomplishments, strategic thinking, management capabilities, and quantifiable contributions to the organization.
Examples may include achieving cost savings through supply chain innovations, devising marketing campaigns that boost sales, streamlining processes through digital transformations, or providing critical strategic insights that influence decisions and performance. Statistics, percentages, and results data to substantiate claims carry weight.
MS Letters
In MS letters, elaborate details quantifying leadership impact and business gains are less relevant. Letters should summarize the applicant's technical tools and systems worked on; analytical approaches applied, research methods or computational skills leveraged, and specific domain knowledge gained through the work experiences.
Academic recommenders can validate relevant coursework, research initiatives, lab techniques, scientific publications, and other demonstrations of academic excellence and scientific aptitude. The focus is on confirming overall technical abilities and competencies rather than managerial examples.
Key Differences
MBA letters should vividly depict managership experience with data-driven business success stories. MS letters need only validate fundamental technical skills and field familiarity. Measurable organizational impact carries less importance.
Work Experience Across Top Programs
---
1. Leading MBA Programs
Harvard requires 2+ years of experience with averages of 4-6 years in strategic roles demonstrating leadership and measurable impact.
Stanford wants around 4-6 years of progressively responsible experience, showing the ability to influence business performance and demonstrate leadership potential.
Wharton evaluates candidates holistically but typically expects 3-5 years of management experience driving strong alignment with business objectives.
2. Leading MS Programs
MIT has flexible work experience requirements that can be waived for academic excellence. 1-2 years of technical experience is typical for strong applicants. Workloads are higher for executive-style MS programs.
UC Berkeley seeks 6 months to 2 years of experience, depending on MS focus. Technical roles displaying analytical competencies are valued. Experience may be offset by academic rigor.
Carnegie Mellon values both academic excellence and 1-2 years of relevant work experience in technology fields. Research can substitute for direct industry experience.
Application Tips
MBA applicants should carefully select recommenders who can discuss tangible details and metrics demonstrating managerial excellence, leadership behaviors, and quantifiable business impact.
MS applicants should choose recommenders familiar with their academic and research achievements along with technical skills and general competencies gained through work experiences or labs.
Conclusion
While MBA and MS programs both mandate work experience letters, the expected duration, sources, and content differ remarkably. MBA letters must potently demonstrate meaningful leadership and strategic impact in business roles. MS letters only need to affirm fundamental technical abilities within the field. Applicants must tailor work letters accordingly.
Dreaming of Studying Abroad

? Take the First Step with a FREE Consultation!