Total Cost to Study in Canada From Nepal in 2024/2025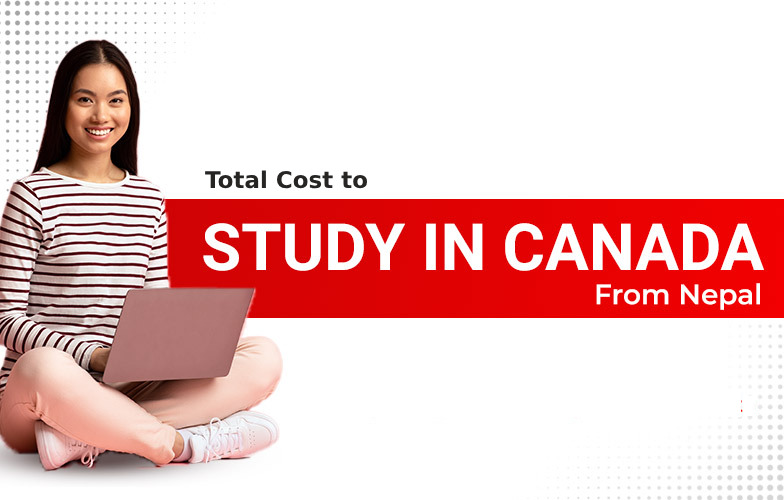 Studying abroad is an exciting opportunity for many students, but it also requires careful financial planning. For Nepali students considering studying in Canada, it is important to understand all the costs involved from start to finish.
By evaluating tuition fees, living expenses, application costs, travel and other miscellaneous expenses, students can determine the total estimated cost for their time in Canada.
Also read; Guide To Studying in Canada for Nepalese Students
Tuition Fees in Canada
Arguably the biggest expense for international students is tuition. Tuition fees in Canada vary depending on the type of school, program of study, and whether you study at the undergraduate or graduate level.
For undergraduate programs, international students can expect to pay an average of CAD $20,000 to $30,000 per year for tuition.
However, this can range from around CAD $15,000 to $45,000 depending on the school and program. High demand programs like engineering, business, and computer science tend to be more expensive. Public universities offer more affordable tuition rates compared to private institutions.
For graduate school, tuition fees range between CAD $13,000 to $20,000 annually, but this depends on factors like whether the program is research-based, course-based, or has co-op options. Professional programs like MBAs are considerably more expensive, averaging around CAD $30,000 to $40,000 per year.
Also read; What are the Short Courses in Canada for international students
Overall, you can budget CAD $80,000 to $120,000 for a 4-year undergraduate degree and $13,000 to $80,000 for a 1 to 2-year master's degree when estimating the total tuition fees.
Living Expenses for Students
In addition to tuition, students need to budget for living expenses like housing, food, transportation, health insurance and other daily costs.
Housing tends to be the biggest expense, especially in larger cities like Toronto and Vancouver, where rent averages CAD $800 to $1200 monthly for student accommodation. Other cities like Montreal tend to be more affordable at around CAD $500 to $700 on average.
Food costs can range anywhere from CAD $300 to $500 monthly depending on your eating habits. A student meal plan at the university cafeteria averages around CAD $4000 to $5000 per year. Getting a transit pass and using public transportation can cost between CAD $70 to $150 monthly depending on the city.
Other living costs like a phone plan, internet, recreation, supplies, and unexpected expenses can add another $300 to $500 monthly.
Overall, it is prudent to budget at least CAD $12,000 to $18,000 for annual living costs. This means a minimum of $48,000 for a 4-year degree, but this amount may be higher in expensive cities.
Application costs for studying in Canada
Students will incur some upfront costs when applying to Canadian universities, mainly:
Application/Administrative fees: CAD $100 to $200 per application
English proficiency test: CAD $200 to $300 for IELTS or TOEFL
Transcript evaluation: Around CAD $200
Immigration fees: CAD $150 study permit application fee, $85 biometrics fee
Translation fees: Around CAD $75 per document if needed
Altogether, applicants can expect to spend around $1000 to $1500 when applying to Canadian universities. Sending multiple applications will increase these costs.
Travel expenses in Canada for students
Nepali students will need to factor in travel costs to get to and from Canada at the start and end of their stay. A return flight from Nepal to Canada can cost:
Kathmandu to Toronto: CAD $1200 to $1800
Kathmandu to Vancouver: CAD $1400 to $2000
Depending on when tickets are purchased, taxes/fees, and stopovers, actual costs may be higher.
Students may also incur travel costs during university breaks to visit family or tour other parts of Canada/North America. Budget around $300 to $600 for return flights between Canadian cities or to the USA.
In total, the initial flight to Canada plus potential trips home or around North America can add $1500 to $3000 in travel expenses over the entire degree.
Health Insurance for students
International students must be covered by health insurance while studying in Canada. Most universities have a mandatory health plan for students that provides basic coverage for hospital/medical visits and costs between CAD $500 to $1000 per year. Students can also buy additional private insurance for improved coverage.
Other Costs
Some other common costs for international students include:
Books and supplies: Around CAD $800 per year
Co-op or internship fees: Can range from CAD $500 to $2500 if the program requires work placements
Winter clothing and outerwear: Around CAD $300 to $500 in first year
Mobile phone plan: Around CAD $50 per month
Furniture/household items: Around CAD $1000 to $2000 if living off-campus
Bank fees: Vary based on account type and usage
Depending on lifestyle and program, students may need to spend $2000 to $5000 on these extras during their degree. Using university libraries, buying used textbooks, and minimal furniture can help cut these costs.
Potential Scholarships and Financial Aid in Canada for international students
The good news is there are many Canadian scholarships and bursaries available that specifically target international students from countries like Nepal. These can provide between $500 to $10,000 in tuition or living expense funding. While highly competitive, even small amounts reduce the financial burden.
Scholarships are awarded primarily based on academic excellence, but also community involvement, leadership skills, volunteer work and research ability. Applying for relevant scholarships from the university, external government bodies, and private institutions is necessary.
Student loans are also an option, either from Canadian banks or Nepali lending agencies. These need to be repaid with interest but allow financing your education when savings are insufficient.
Part-time Work and Co-op Income
International students on a study permit can work up to 20 hours per week off-campus during semesters and full-time during winter/summer breaks. Campus jobs tend to pay CAD $15 to $20 per hour, allowing students to earn around CAD $600 to $1000 monthly.
Paid co-op terms or internships related to your program of study also provide an income of around CAD $2000 to $3500 per month. However, these are not guaranteed and depend on performance.
Earnings from part-time and co-op work help partially offset tuition and living costs. But full reliance on part-time income is risky for finances.
Saving Money
Despite the high costs, there are ways to save money while studying in Canada:
Find affordable off-campus housing with roommates
Purchase a transit pass and avoid driving
Cook meals at home and limit eating out
Buy second-hand furniture, clothes and electronics
Use student discounts for travel, events, shops/services
Join clubs, go to free campus events for entertainment
Avoid impulse purchases and create a budget
With careful planning, students can lower their overall expenses by around CAD $5000 per year through cost-saving habits.
Estimated Total Cost for Degree
Given all these expenses, here is an estimated total cost to study in Canada from Nepal for common programs:
4-year undergraduate degree:

Tuition fees: $80,000 to $120,000
Living expenses: $48,000 to $72,000
Other costs: $6000 to $15,000
Total cost: Around CAD $135,000 to $210,000
2-year master's degree:

Tuition fees: $26,000 to $40,000
Living expenses: $24,000 to $36,000
Other costs: $3000 to $7000
Total cost: Around CAD $55,000 to $85,000
This gives Nepali students an approximate idea of the total cost for a full degree in Canada. Individual budgets and costs may vary. Proper planning is key to making studying in Canada affordable and avoiding financial struggles.
Total cost of studying in Canada for Nepalese students- Conclusion
Canada provides immense opportunities for international students to gain quality education and permanent residence. However, the financial investment to study in Canada from Nepal is considerable. By planning ahead, researching costs, and finding ways to save money, students can make their Canadian education dream achievable.
The long-term career benefits and access to an advanced economy like Canada ultimately outweigh the costs for many ambitious Nepali students seeking a global education experience.
Dreaming of Canada

? Take the First Step with a FREE Consultation!