Canada Study Visa Processing For Nepalese Students in 2023 |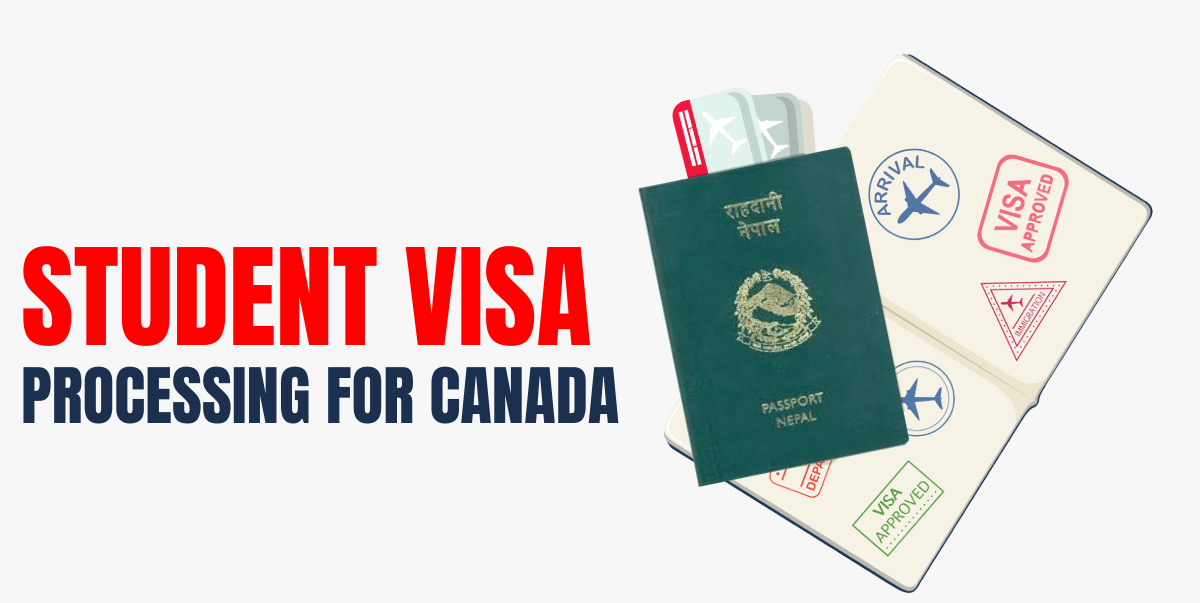 If you're a Nepali student planning to study in Canada, there are several important things you should know about the process of getting Study Permit commonly known as a Study Visa for Canada.
Canada Student Visa Process
We have tried to explain the student visa process in a simplified way so that you get a clear understanding. Please visit this link to know about Step by Step Process to Study in Canada.
Canada Study Visa Processing Time
The processing time for Canada Study Permit commonly known as a student visa from Nepal depends on several factors such as the number of applications and the time of year.
If there is huge number of applicants the processing time usually will be longer and also the time of the year plays some roles in delay; for example, if you file your application in holiday season like Christmas or New Year, then your application processing time may increase.
However, it's important to note that these processing times are subject to change. We encourage you to always check the official Immigration, Refugees and Citizenship of Canada (IRCC) website for the latest information on processing times. We recommend that you apply for your Study Permit well in advance of your intended start of studies to avoid any unforeseen issues.
Canada Study Visa Processing Cost
There are several costs associated while you are applying for Study Permit. For example, you will have to pay CAD $150 as application fee and CAD $85 as biometrics fee. You will have other additional fees like medical examination fees, documents translation and certification fees etc.
Also keep in mind that there may be other costs associated with studying in Canada, such as Tuition Fees, Living Expenses, Health Insurance, Transportation Expenses, etc.
Canada Study Visa Success Rate
The success rate for Canadian Study Permit depends on many factors such as your academics, financial documents, Letter of Explanation and other circumstances of the applicant. It is difficult to give an exact success rate, as success rates changes over time and varies by person, country and region.
Canada Study Visa SoP Sample
Letter of Explanation (LoE) often referred to as Statement of Purpose (SoP) or Letter of Intent (LoI) is an important document while you apply for Study permit in Canada. Please visit this link to know more about LoE/ SoP for Canada Study Permit.
Documents required for Canada Study Visa
You can go through this link to know about required documents to study in Canada from Nepal.
Eligibility criteria for a Canadian study visa
To be eligible for a Canadian Study Visa (Study Permit), you generally need a letter of acceptance from a Designated Learning Institution (DLI), proof of your financial ability, a valid passport, proof of tuition fee payment, language proficiency, good health, and a clean criminal record. Requirements may vary, so check the official website or contact us for the most accurate information.
Validity of a Canadian Study Visa
The Canadian Study Visa, known as a Study Permit, is generally valid for the duration of your program of study, plus an additional 90 days.
Is medical insurance necessary for students studying in Canada?
Medical insurance is necessary for students studying in Canada to cover healthcare expenses and ensure access to necessary medical services without facing significant financial burden.
Is an interview required for a Canadian study visa application?
In general, an interview is not required for a Canadian Study visa (Study Permit) application. However, it may be requested by the immigration officer if seemed necessary based on your application and specific circumstances.
Can I travel outside Canada while I'm there on a study visa?
Yes, you can travel outside Canada while on a Study visa as long as your study permit remains valid and you have the necessary travel documents.
What is the difference between a study permit and a visa in Canada?
A Canadian study visa will authorize you to enter into Canada and a Study permit will allow you to stay in in Canada. So, even if you possess a valid student visa the immigration officer at border has the power to refuse entry into Canada.
Can I renew my Canadian study visa while I'm in Canada?
Yes, you can renew your Canadian study visa while you are in Canada. Just make sure to apply before your current visa expires and follow the application process
Edwise Foundation is a specialized educational advising agency dedicated to offering an affordable, high quality test preparation and accurate advising services for students seeking to study in Canada. The consultants at Edwise Foundation are well trained, experienced and hold the professional qualifications like CCEA.