US Study Visa Processing – Things To Know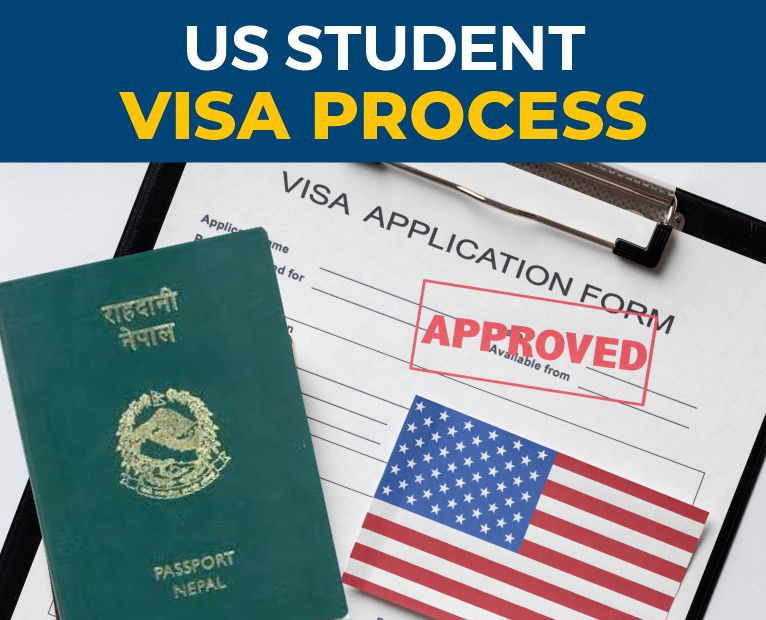 How long is the study visa processing time for the US?
When the visa is issued to a student, it generally takes at least 24 hours to 48 hours before you can collect the passport at the designated location. When the passport is ready to be picked up at the selected location, you will receive an email that your passport is "Ready for Pick Up"
How long is the visa processing time after biometrics?
In Nepal, biometrics is completed right before the interview starts. So, there is no wait time like in other countries.
How much does it cost for a visa appointment?
To be able to get a visa interview appointment, an applicant has to pay $185 for the appointment fee after filling out the DS-160 form and also pay a $350 SEVIS fee. 
What is the visa application process like?
After you receive your I-20, you will need to fill out a Non-immigrant Application form or DS 160 form using not more than six months old passport size photographs.
You will need a payment receipt for the DS-160 form and a SEVIS fee payment receipt. The payments can be made either with an international debit or credit card or at Nepal Investment Mega Bank branch or online using connectIPS e-Payment System. You can then create a profile at www.ustraveldocs.com to take the interview date at an available day. 
What is the success or failure rate in getting a US study visa?
The chances to secure a visa is totally dependent on the student's ability to convince the visa officer that one has genuine reasons to study, secured finances as well as strong intents to return. Getting a visa should not be considered like a lottery or slot system. 
What is included in a SoP for a US application?
In general, a Statement of Purpose (SoP) is an essay with following parts: Introduction (tells about your motivation and your plans briefly), Body (tells about how your past education and work experience have prepared you for the proposed master's program), and Conclusion (summarizing and establishing yourself as a suitable candidate).
What documents are required to be eligible for a US study visa interview?
To take a US study visa interview, you will need to fill out a Non-immigrant Application form or DS 160 form using not more than six months old passport size photographs.
You will need a payment receipt for the DS-160 form, a SEVIS fee payment receipt, your I-20, your transcripts, and your passport which has at least six more months remaining from the program start date. Additionally, you may also be asked for your standardized test scores. 
How long is a USA study visa valid?
It depends on the length of the program of your studies.
Is Medical Insurance necessary for students in the USA?
Yes, it is mandatory and is generally provided by the enrolled university upon enrollment for the classes.
Is an interview required for a US study visa application?
Yes, it is required for first time students. A returning student may however, also apply to have the interview waived when applying for a visa as a returning student, given some conditions are met. The interview waiver conditions can be found at the link below: 
https://www.ustraveldocs.com/np/np-niv-visarenew.asp
Can I travel outside the USA while I'm on a student visa?
Definitely. Students often do so during their summer break sessions. You will have to get approval from your international student's office and get your I-20 signed on the second page. You will be needing this when returning back to the US. 
Can I renew my USA study visa while I'm in the USA?
The US student visa can only be renewed at a US Embassy or a Consular Office outside of the USA. The student may continue to stay in the US even after the visa expires on the passport as long as the student maintains F1 status and takes the classes as required. If the student leaves the US during this time, he/she will have to renew it before entering back into the US. 
Are there USA visa consultants in Kathmandu?
There are many and they provide different quality of services. If you are looking for reliable, professional, internationally certified and trusted consultants to get accurate and personalized counseling services, then Edwise Foundation is one of the leading US Education Consulting firms in the valley since 2005.