Step by Step Process to Study in Canada.
Posted by

Categories

Blog

Date

December 9, 2020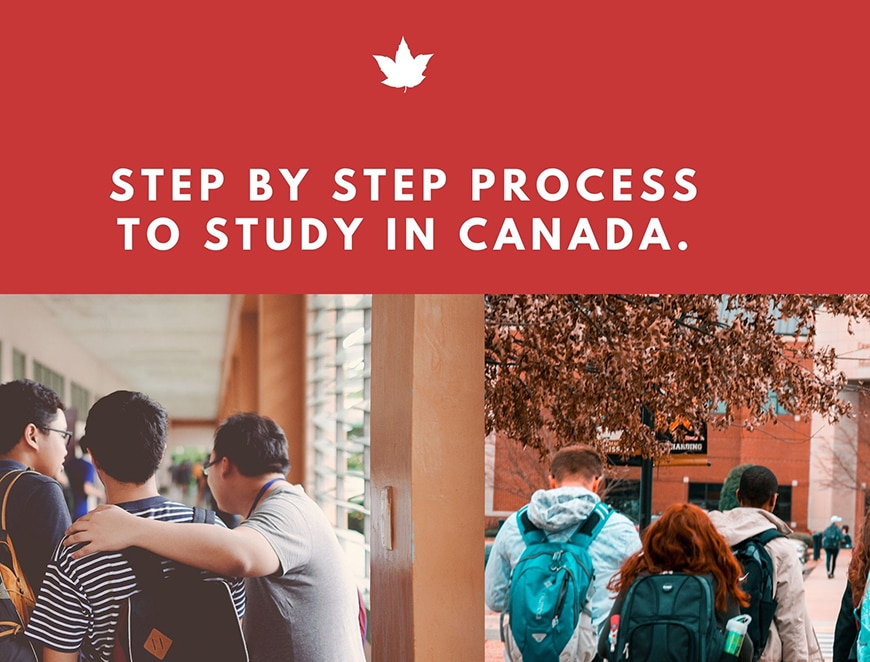 If you are planning to study in Canada, you have visited the right place for the right information. After reading this content, you will know a lot about studying in Canada, especially the process.
We have tried to explain the process in a simplified way so that you get a clear understanding. You can always reach us for details, guidance and support.
Here are the steps for processing to study in Canada:
Gather the information
This is the first step you take once you think of studying in Canada. This step includes knowing about the country, education system, requirements for both admission and visa, cost etc. Initial counseling from experts or your own research are two best ways for this step.
English proficiency test and other test scores
Once you have done your own research or gone through the initial counselling, you will get the rough picture of your eligibility. However, you are still left with the important requirement i.e., English language proficiency test and other test scores.
Take your English proficiency test which is mandatory and any other tests like GRE or GMAT if required. There are many English proficiency tests like IELTS, TOEFL and PTE but IELTS is considered as the most popular and widely accepted one. We do offer classes for IELTS, TOEFL and PTE.
Apply to universities/colleges:
After you get your test scores and determine your eligibility, you are now ready to apply to universities or colleges for admission. Choosing the right program and school is not always easy. This is one of the crucial steps where guidance from the experts may be required and we are always with you.
You need the following documents to apply for admission:
Academic transcripts (official transcripts may be required sometimes)
IELTS score
Other test scores (if required)
Passport
SoP (required mostly for graduate studies)
Work experience (required mostly for graduate studies)
Letter of Recommendation (required mostly for graduate studies)
Application fee
Reasons for application rejection
It is not a new thing for the universities/colleges to reject the application for admission. There are many reasons a student should know behind the rejection of the application. Some of them include:
Applicant doesn't meet the minimum requirement
Submitting an incomplete application
Not choosing the right match program
Competitive pool of application
High number of applicants in ratio to the available spots
Applying after the deadline
Offer letter
The universities/ colleges review your application and make decisions on your admission. You will be issued an offer letter if the school you applied to accepts you. It generally takes 3-4 weeks for an offer letter after application submission.
However, the time frame may be longer or shorter depending upon the flow of applications and other factors. The offer letter consists of the details like name and address of the applicants and institution, student number, institution code, program of study, start date, tuition fees, other associated fees, amount to be deposited etc.
Financial arrangement and fee payment
Financial arrangement for fee payment is the further step after you receive an offer letter. Education loan or bank balance of at least 4 months is required as a financial arrangement to pay the tuition fee. However, we recommend education loan which is more credible to the High Commission.
The amount of education loan or bank balance should at least cover the tuition fees and living expenses of the student for a year. Once you make a tuition fee payment mentioned in the offer letter from your arrangement, you will receive a Letter of Acceptance.
Letter of Acceptance is the mandatory document required by IRCC to apply for Study Permit. Receiving an LoA means you are now admitted to the school you applied. It consists of the same details as in offer letter.
Visa application
You can apply for a visa after you receive your Letter of Acceptance. You can submit either paper or online application. IRCC recommends applying online as is also believed to take less time for processing. It usually takes 8-9 weeks for the decision to be made on your visa earlier but now the processing time is not certain due to COVID-19.
Make sure you have all the documents ready before you apply for a visa. Preparing complete and correct documents is extremely important as a slight mistake in this step can result to visa denial. Seek guidance even if you are not sure regarding any of the paperwork or the visa application process. Here is the list of documents need to apply for visa:
Passport
Letter of Acceptance
Academic transcripts
IELTS score
Application forms
Photographs (follow the IRCC guidelines)
Police Clearance Certificate
Letter of Explanation
Financial documents (education loan papers/bank balance statement, annual income verification, source of income documents, property valuation report, tax clearance, etc.)
Relationship Verification Certificate
Biometrics and Medical Documents
You will receive a biometrics instruction letter after you apply for a visa. Get it done from the nearest VFS (we have only one in Nepal). You may also be asked for a medical checkup. You are required to get your medical done from the clinics listed by IRCC.
Decision
High commission makes a decision upon reviewing your documents. Your visa will either be accepted for or denied. However, do not be surprised if they ask for more supporting documents or even for an interview. Passport submission request is made to stamp a visa if you are approved your study permit application.
You will also get a Letter of Introduction along with a visa. You will only get your study permit at the port of entry to Canada when you provide your visa and Letter of Introduction along with other documents asked by the visa officer.
What NEXT?
Cheers if your visa is granted. Start packing your bags and get ready for the journey. For those whose visas are denied may re-apply if they can work on the reasons for denials. If not, you may ask for a refund for the payment you made as a tuition fee.
Make sure you read the refund policies mentioned in the offer letter or website of the school you choose to apply before fee payment. We advise you to seek a guidance from experts if you don't have complete ideas about any of the steps above. Remember, we are always with you.
About Edwise Foundation
At Edwise, you will get a complete guidance from the first step of the process to post visa. Our expert and experienced foreign graduate counselors can guide you to make your processing hassle free and share the real time experience of studying in North America as well.
Edwise Foundation is the first AIRC certified consultancy of Nepal and has the history of more than 6000 success history since 2005. We don't do miracles but do the things right way.