What are the Short Courses in Canada for International Students
Posted by

Categories

Blog

Date

June 11, 2020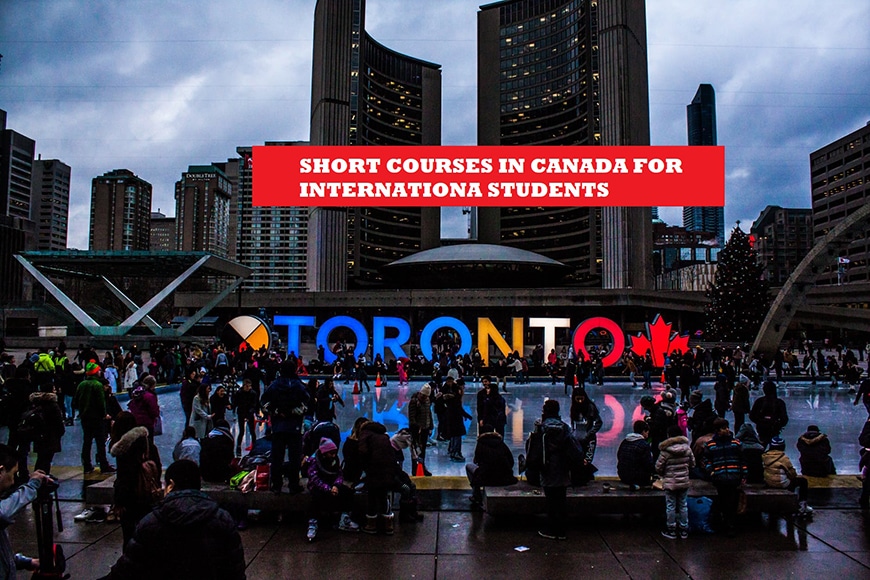 What should you know about Short Courses in Canada for international students?
Earning a Bachelors, Masters or Doctorate degree is a common goal of students who plan to study abroad from Nepal because those are the most popular options students have seen in Nepal.
Vocational or short courses are not widely offered by most of our universities and colleges in Nepal.
There are only few courses in Nepal which have been able to attract students which are non-degree/short courses like Diploma in Nursing, Lab Technician, JTA are few to name but are you aware that many institutions abroad offer short courses which are important for today's job market?
Lets' discuss the short courses offered in Canada which will help you get the insight on those types of courses, their significance, pros and cons and many more.
As we all know Canada boasts itself as the country with one of the best education systems in the world and most of us have not been able to deny it.
Canada has equally emphasized on both degree offering courses as well as non-degree offering short courses. Short courses are getting popular these days due to the duration of the study, cost, job-oriented curriculum and less stringent entrance criteria.
These short courses offered in Canada are job-oriented and involve more practical learning and training. Most of the short courses offered in Canada do not promise degree. Associate degree, Diploma and Certificate are some of the short courses popular in Canada.
What is an Associate Course?
Associate degree is an undergraduate degree which a student undertakes after high school or GED. This level of qualification lies between High School and a Bachelor's degree and the duration of Associate degree is usually 2 years of study.
Associate degrees consume less time and cost compared to Bachelor's degree and are best for those occupation group who needs some college degree in their academic background.
Not all but most schools in Canada may allow students to pursue Bachelor's degree if they have completed Associate degree. Associate degrees are usually considered 60 credit hours of study which you may continue to study to complete bachelor's degree.
What is a Diploma Course?
Diploma is a post-secondary short course which are specially designed for job-oriented skills. Diploma emphasizes on practical and industry specific skill-based learning rather than the comprehensive all-round learning like in degree.
Diploma courses are usually 2 years in length, but you shouldn't be surprised if you find Diploma courses of 1 year. Canada offers Diploma in both undergraduate and graduate level.
Diploma offered in undergraduate is commonly termed as College Diploma or Advanced Diploma whereas Diploma offered in graduate level is called Graduate Diploma or Post-graduate Diploma.
You need to have completed high school or GED to join college Diploma and Bachelor's Degree or College Diploma to join Post-graduate Diploma. Upon successful completion of Diploma, you can either enroll for a degree course or directly jump to a job market.
Also read; Best consultancy in Kathmandu for Canada
What is a Certificate Course?
Certificate level is like Diploma in many aspects including practical education, skill-based curriculum etc. Generally, Certificate programs are shorter compared to Diploma. Certificate programs are usually short, career-focused, and will prepare you for a specific job role.
In Canada, most Certificate programs are matter of some months to a year. There are also few schools which offer Certificate programs of two years. Certificate programs are often considered as additional training for those who have already completed Diploma or a Degree.
Alike Diploma, Certificate is also offered in both undergraduate as well as post-graduate level. Studying Graduate Certificate in Canada may require College Diploma or University Degree. Certificate course in accounting can be of one-year duration but it provides you with the necessary skills to make a career in accounting.
How are Short courses related to Post-Graduation Work Permit Program (PGWPP)
There are some rumors in the market relating short courses to PGWPP which might make students difficult to decide whether to study these short courses or not. It is not true that there are different rules of PGWPP for degree and short programs.
If the duration of your course is 2 years or more, you may get 3 years of PGWP. Similarly, if the duration of your course is more than 8 months but less than 2 years, you may get PGWP equal to the length of your course.
Keep in mind that you will not be eligible for PGWPP if your course is less than 8 months and the same rule applies to both degree seeking as well as short courses studying international students.
Is it worth studying these short courses in Canada?
As already mentioned above, these short courses are specially job-oriented and prepare you to develop the special skills required for the particular industry or job.
Moreover, the admission requirements are not as high and as degree programs. Short courses are time and cost saving as it is said that these courses are generally cheaper than the degree.
These short courses can also be a good option if you want to change your career. However, recruiters may sometimes prefer degree over these short courses but if you already have a degree and then going for short courses like Diploma and Certificates will surely add a value.
The worthiness of studying these short courses also depends upon your plan after completion of studies, your interests and many other factors. If you plan to stay and work in Canada, these short courses may be fruitful to find the job easily.
Only studying these short courses may not be helpful sometimes if you plan to work in the job market of Nepal where degree is considered important to secure a good position in job market. Studying Graduate Diploma or Certificate may be sometimes required to get admission for Masters in Canada.
For example, not all universities in Canada accepts 3 years Bachelor's degree for direct Masters. In this case, studying Post-graduate Diploma makes you eligible to study Master's in Canada.
As a consultant, we would recommend a student to prefer any kind of courses with duration of 2 years or more. This would give you an opportunity of 3 years of PGWP which would be important to gain more work experience and enhance your skills.
Does applying for Short Courses impact your Study Permit chances?
Well, there is no any rule that applying for Study Permit with short courses impact your study permit. The only thing is applying to study College Diploma in Canada hasn't yet become a popular practice in Nepal but Post-graduate Diploma and Certificate programs are getting more popular these days.
Your choice of studying degree or these short courses won't be the main reason of your study permit rejection, but sometimes consultants create this kind of rumors to hide their weaknesses that are the main reason of rejection.
However, you should not ignore a fact that your course of study should always be in progression. For example, you may not apply for a College Diploma after your Bachelor's degree, instead go for a Post-graduate Diploma or Post-graduate Certificate.
Do you have any questions regarding abroad studies? You can ask any questions relating to the application process, universities, majors, costs, funding (scholarship, TA/RA), F-1 interview, etc. Please note that we can work with any universities for you as long as you fit in well with respect to your academic interests and financial capacity. Just fill-up the form below and we will get back to you with the details. Thank you
Dreaming of Canada? Take the First Step with a FREE Consultation!