9 Things You Should Know Before Applying for Universities in Canada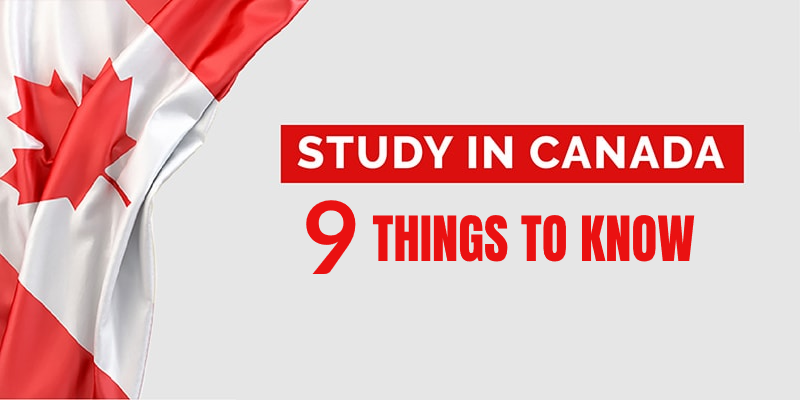 If you are looking for continuing your higher education in a foreign country, then Canada can be among your choices. Canada is the second largest country in the world by land area.
It is a multicultural country and one of the most preferred destinations among international students. But, before applying to a university in Canada there are numerous things that you need to be mindful of. Before finalizing your decision to study in Canada, there are a few things you need to know:
Rankings
According to Overall Best Countries Ranking by www.usnews.com Canada is ranked as number 1 country in the world in 2021 in terms of educational attainment, life expectancy, national income and general quality of life, among other things.
It is also the safest place to live and is considered best place to live for immigrants from around the world. In Canada you can experience a high standard of living and study in world ranked universities with best teaching quality.
30 Canadian Universities are ranked among the top 300 Universities in the world which makes the Canadian higher education among best in the world.
The Cost of Study
Canadian education is affordable, and Canada boasts itself for having some of the lowest tuition fees in universities when compared to other English-speaking countries. However, the cost of study will depend on the university and course you choose to study.
Common courses like Arts, Humanities etc. will be slightly cheaper than the courses like Science and Engineering. However, MBA programs may be quite expensive in Canada like other countries. The average tuition fees are:
| | |
| --- | --- |
| Type of Program | Average annual tuition fees per year (CAD) |
| Undergraduate | $13,000 – $20,000 |
| Postgraduate | $17,000 – $25,000 |
| Doctoral | $7,000 – $15,000 |
| MBA | $30,000 – $40,000 |
Finding the right College
Finding a right course and college for your further study is never an easy task. You need to consider several things before coming to a conclusion. You also need to remember that reputed universities are not necessarily going to be a better for you.
Consider choosing university which provides quality education, has better review of your selected program and is affordable for you. Also, you always need to choose colleges which are listed in the Designated Learning Institute (DLI) list to get a study permit in Canada. A designated learning institution is a school approved by a provincial or territorial government to host international students.
Scholarships
While studying in Canada is affordable than many countries, it will be even more affordable if you get some scholarships. And the best part is there are many scholarships available for international students in Canada. Below are different types of scholarships available to international students in Canada:
Merit based Scholarship:
Many universities and colleges in Canada provide international student with these types of scholarships which are based on their previous academic result. Student's having high grades, achievements in sports, arts etc. are considered for these types of scholarships.
Government funded Scholarships:
Every year Canadian government provides various types of scholarships to international students to study in Canada to both undergraduate and graduate students.
Some of these scholarships may also cover all your tuition fees and provide you additional allowances. You can visit www.educanada.ca to know more about the available scholarships and the requirements.
Scholarships by University/College:
Almost all of the universities and colleges in Canada provide students with some kind of scholarships or bursaries. The requirements may be varied between the institutions; thus you always need to check with the education provider before enrolling.
Private Funded Scholarships:
Many private organizations and donors who are based in Canada provide scholarships to international students.
But, usually these types of scholarships are targeted to a certain area of study and may not be available to most common courses. Thus, always check with your education provider if you may be eligible for these types of scholarships.
Intakes
There are three intakes for international students in Canada which are Fall intake, Winter Intake and Summer Intake. Fall intake is the primary intake and starts in September where universities offer all the courses.
The secondary intake is Winter intake which starts in January, and you can also get a large number of courses in this intake. Whereas, the summer intake which starts in May will have less number of courses available and not all universities offer the courses.
Meet the visa requirements
After you are accepted to study at a Designated Learning Institute (DLI) in a Canada you need to obtain a Study Permit to go to the country and start your study. You will need to submit following documents to apply for Study permit:
Academic Certificates
Test Scores
Letter of Explanation
Passport
Proof of funds (bank balance or bank loan, source of income and property)
Relationship verification certificate with sponsors
Police report
Medical report (if required)
Supporting documents (if any)
Student Work Right
As an international student in Canada, you can work up to 20 hours per week on or off campus and can work full time during scheduled break.
You don't need to apply for separate work permit if you are on a student visa at a designated learning institute(DLI). Working while you are studying will help you earn some bucks to support your expenses in Canada.
You can also gain valuable work experience along with meeting new people and make connections which can eventually help you in your career ahead.
Climate
Yes, you've heard it right! Canada is cold. But, not all parts of Canada are cold and it has diverse climate. Canada is a huge country and part of its territory includes the North Pole, thus the northern part of Canada is very cold which can get up to -40 degree Celsius and it is a very less populated area.
While the southern part has moderate temperature where we can see 4 seasons round the year and most of the people live in this part of Canada.
Post-Graduation Work Permit
International students who complete their higher studies in Canada are eligible for the Post-Graduation Work Permit (PGWP) in Canada to gain valuable Canadian work experience after they complete their studies.
However, the duration of PGWP depends upon the duration of your completed program and the length of PGWP ranges from minimum 8 months to maximum of 3 years.
| | |
| --- | --- |
| Duration of the program | Eligible PGWP Duration |
| Less than 8 months | Not eligible |
| 8 months to 2 Years | up to same length as the program |
| 2 years and longer | up to 3 years |
Also read; Finding the best consultancy for Canada