Study in USA vs. Study in Canada
Posted by

Categories

Blog

Date

May 4, 2020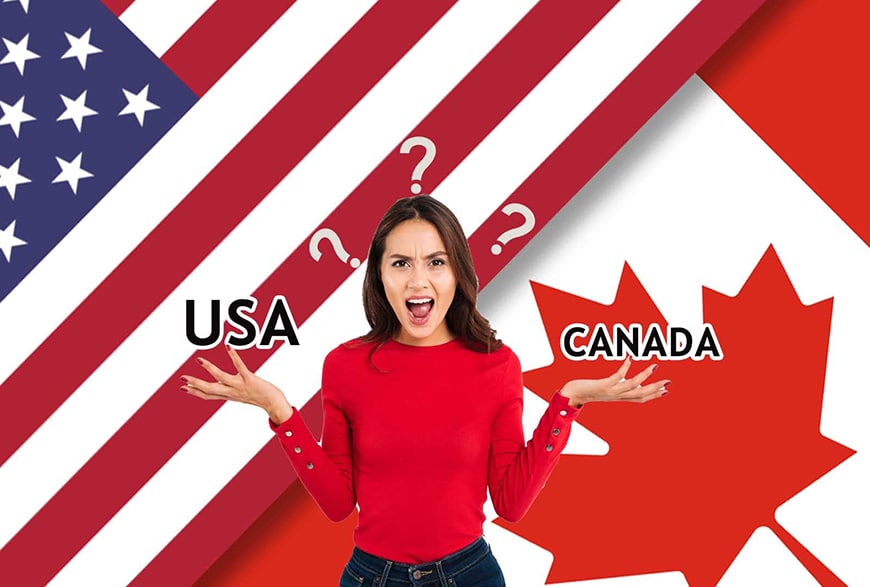 Higher education in both the United States and Canada is considered to be the best in the world but we often meet with the students who are confused as to which country to choose. Let's take a look at the key differences from the perspectives of Nepalese students.
➜ Generally, both the U.S. universities and Canadian universities require students to submit SAT (for Undergraduate) and GRE/GMAT (for Graduate) besides the English Proficiency Tests (TOEFL/IELTS/SAT); however, Canadian universities put more stock into your GPA and TOEFL/IELS than SAT/GRE/GMAT.
The number of Canadian universities requiring the standardized tests (SAT, GRE, GMAT) is much lower than the U.S. universities.
➜ As an undergraduate student, the average annual tuition cost in the US is approximately US $33,000 whereas it costs approximately US $ 23,000 annually in Canada.
A major attraction in the US is international students can compete for financial support in the form of scholarships and grants.
The average graduate tuition cost in the U.S. is $ 25,000 where the graduate education in Canada is $13,000.00. Students can apply for out-of-state waivers, assistantships and fellowships in the U.S. Universities.
Based on what we have seen; it is very difficult for students to secure financial positions in Canadian universities.
➜ International students can work for 20 hours a week off-campus in Canada, but they can work only on-campus in the United States.
➜ The INTERVIEW is the key at the US Consulate whereas Canadian High Commission emphasizes proper paper works.
➜ It is easier to get a Permanent Residence in Canada than in the US. Some of the Canadian degrees have an option to apply for a Post-Graduation Work Permit which allows you to work in Canada after graduation.
It will also qualify you to apply for permanent residency in Canada through different programs. However, the Green Card in the U.S. is more complicated in terms of duration and the process.
To sum up, education in USA offers excellent and varied education/career options in a very diverse environment with some sort of financial aid and education in Canada is relatively cheaper with easier immigration policies in terms of permanent residency.
Advisors at Edwise can help you identify which country better serves your academic and career interests in respect to your academic and financial profiles. You can schedule an appointment at this link https://www.edwisefoundation.com/appointment/
Also read; Best consultancy in Nepal for Canada