Top 10 Reasons to Study in USA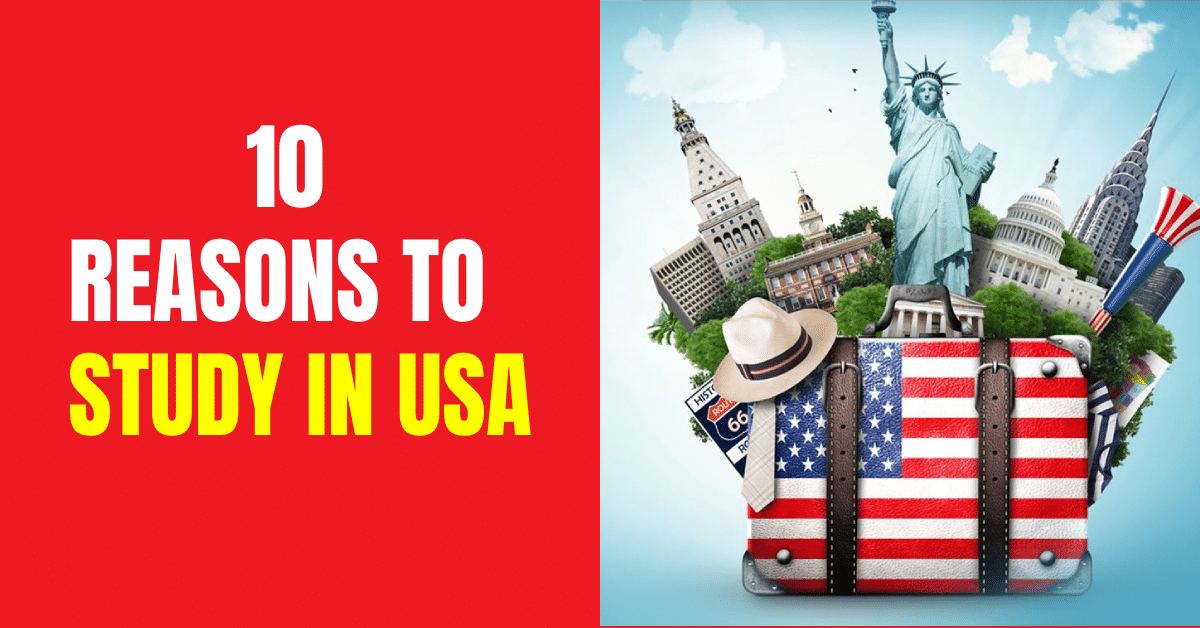 When we think of studying abroad for higher education, the first destination that springs to our mind is USA.
More than a million students from all across the world apply to study in the USA every year and international students contribute about 50 billion USD to the US economy which is why international students are a big part of the United States of America.
The numbers have been steadily increasing which show why US has been the best destination for international students.
Here we will talk about 10 reasons to study in USA from Nepal, but the fact is there are numerous reasons why students choose to study in USA.
Outstanding Quality of Education
If more than a million students choose to study in the USA, it means the quality of education offered by US Universities is top notch.
The US universities have always been ranked in the top when it comes to quality and rightly so. The US universities offer the latest courses, use the latest teaching methods and techniques, and use the best equipment to teach their students.
Also, the classes are taught by the best professors with years of experience, and they include students in different activities as much as possible.
One more thing is the inclusion of general education courses in the curriculum at the undergraduate which prepares students to excel in life both personally and professionally.
Affordable Cost of Attendance
USA has over 6000 institutions offering higher education, which simply means there are hundreds of options that will fit your budget.
I don't mean all schools are affordable but there are some universities which are affordable one way or the other.
In some states, the cost of living is low and if you are to share your apartment with friends and maintain a low cost of living then you can manage to live for something around $300 to $400 per month.
Hence, the cost of attending a good university in the USA could go down to as low as below $10,000.00 -$15,000.00 per year even if you don't receive a full scholarship or a very high amount of scholarship or other forms of financial support.
Scholarship Opportunities
Scholarships are a major part of a student's life which US universities understand this. There are numerous generous scholarships available in the US universities which could range from a few thousand dollars to full ride.
Almost every student in the US tend to get some sort of scholarships. Some scholarships cover a certain part or full of their tuition, some cover a certain part of their living expenses, some are based on merit, and some are based on need of the individual students.
Some students can also qualify of honors scholarships while some students qualify to pay only the in-state tuition. There are scholarships based on the major a student intends to study which is offered by the individual department.
Graduate students can also get assistantships (teaching or research). Moreover, international students can also apply for external scholarship which could again be of great help while pursuing a degree in USA.
Job Opportunities
International students are legally allowed to work on campus. An international student can work for 20 hours a week on campus while the school in session and usually the university has plenty of places where an international student can work.
There are plenty of internship opportunities, mostly during the summer and a lot of international students take benefits of the internships.
If you are doing an internship during the summer, you can work fulltime but if you are doing an internship when you are also going to college then you are allowed to work only for 20 hours a week just like any other on-campus jobs.
Students under STEM designated programs in some universities enjoy working under the Co-op program which is something that is a part of the curriculum and usually the universities support you in finding jobs for you.
Co-ops are basically paid internships which allow you to work in the area of your studies and the biggest benefit of this is you graduate with at least 1 year worth of work experience which comes handy in terms of you landing a job after graduation.
Post-study Work Opportunities
Unlike other destinations like Canada or Australia, USA does not offer something called Post- Study Work Permit. However, a student can work under OPT (Optional Practical Training) and CPT (Curricular Practical Training).
If your field of study is a STEM-designated one, you can work for additional 2 years typically after your graduate. Please note that regardless of your major, you can work for 1 year under OPT.
Under both OPT &CPT, students are entitled to work full time which can strengthen their resumes while helping them make some money at the same time.
Safe Place to live in
Campuses in USA are safe and have very few cases of casualty. International students and their parents could sleep well knowing the fact that every campus has campus security and student's safety is not at all compromised in the US universities.
Overall, living in USA is very safe but like anywhere else in the world you will need to be mindful of your surroundings and what you do from your side to stay as safe as possible.
Crime is in every country specially if we are talking about big cities but if you remain thoughtful, you should be completely fine. Laws are strict in USA which definitely helps in keeping the crime rate low.
Vibrant Life
College life in USA is an amazing experience because of the life you have as a student. You don't just study but live your life to the fullest.
Thanks to the vibrant community in and around the campus! It doesn't have to be a big city for having a vibrant life as an international student.
There is something happening every day on campus and around campus, no matter what the occasion is or even if there is no occasion, celebration is part of the student life in the United States.
 Welcoming Nature
USA is called the land of immigrants as majority of the residents' ancestors in USA have migrated from some other countries. The US welcomes approximately a million international students every year and this itself is the evidence that US is a welcoming country for international students.
Moreover, Americans are very warm and welcoming in nature and there are plenty of host families who help international students feel comfortable when they land in the US.
They keep the students at their homes and make them a part of their own family and may invite them home on many occasions.
Also, the staff on campus do everything possible to help students and learn about their culture and because of which almost all universities have cultural nights where students are encouraged to make their traditional dish from their home countries and share about their cultures.
Recognition of the Degree
A degree from the US universities is highly valued all across the world. With a US degree you can move to any country in the world and will not have to worry about if the degree is going to be recognized or not.
With the number of universities and colleges in USA, you will always find an option that fits you well.  As they highly believe in offering the highest accredited degrees possible, your qualification will be recognized globally.
Most of the companies in the world prefer US graduates as they believe that the US education instills in them all the skills they need.
Travel while you Study
USA is a truly beautiful country and there are tons of places you can travel. No matter what you are interested in while traveling, you will find something for yourself.
May it be skyscrapers, natural beauty of national parks, mountains, culture, or anything you can think of. With 50 states in USA known for something different, you will enjoy traveling in the US.
Places like Times Square, Grand Canyons, Niagara Falls, Yellow Stone National Park, and many more just to name a few are the attraction for millions of tourists.