Financial Aids for Nepali Students in the UK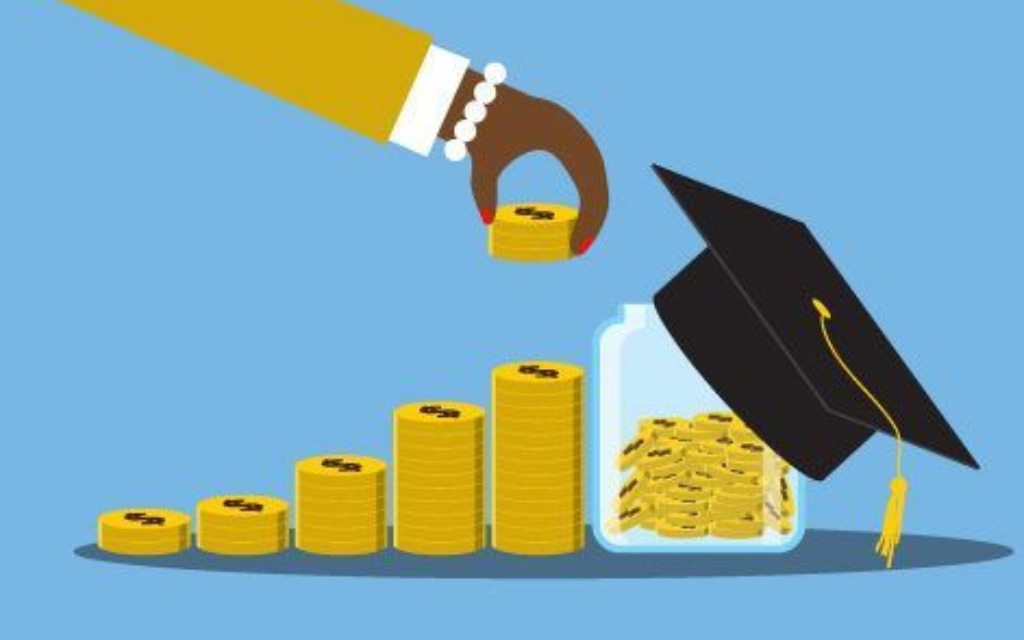 Studying in a foreign land can be tough yet the experience that comes with it is worthwhile the hassle.
Different things need to be considered, such as adaptation to a new study approach and a different work culture; you have to learn to cooperate with people from the various backgrounds from throughout the world.
One of the most worrying factors about studying in the UK from Nepal could be the tuition fees and the low value of our currency in the exchange rate index.
However, scholarships can provide a nice breathing space for students who are willing to come out of their comfort zone and take a step towards their career.
Below are some of the scholarships that Nepali students are eligible for; have a look at them so that you can cushion your first step towards your career:
GREAT Scholarships
This scholarship in association with the British Council provides up to £10,000 for students willing to undertake their Postgraduate Studies.
A separate application form needs to be submitted which should answer mainly 3 questions – about the course, your goals for future and your financial situation. The seats are limited and you should check the university's website about the deadlines.
Universities which are providing this scholarship for Nepali students are; University of York, University of Northampton, University of Manchester, University of Essex, University of Edinburgh, University of East Anglia, Teesside University and Cranfield University.
Chevening Scholarships:
This scholarship is for study of any one-year taught Postgraduate Course in any university in the UK. It covers everything (including your return tickets).
You need to prove your ambition, leadership qualities and need to have a strong academic background. There are deadlines for this scholarship, so it is advised to check it before applying for it.
It takes a minimum of 8 months for processing of this scholarship.
International Ambassador Scholarships:
The value of this scholarship is for up to £5000. Students receiving this scholarship will be liable to feature in events conducted by the university, its promotional materials, and provide voluntary services.
University of West London is among some of the universities providing this scholarship.
Academic Excellence Scholarships:
The amount of scholarship offered for students depends upon the University.The value of scholarships is generally £2,000 for merit and £3,000 for excellence.
The definition of merit and excellence is defined by the university, meaning you will have to check into the university's website for grades/GPA requirement.
Location-based Scholarships:
Some universities provide scholarship to students from developing countries. The value is usually around £1000 to £1500.
In order to be eligible for this scholarship, all you need to be is a citizen of that developing country (in this case Nepal).
Early Bird Scholarships:
This scholarship is for those students that accept the offer well before the course starts. The deadline and the amount of discount that you can claim are varying according to the university.
Oxford Brookes University is one of the providers that provides this scholarship for students accepting their offer before mid of April (for a course with start date of September). The value it offers is £2000.
Sports Scholarships:
International students are eligible to apply for it; the sports that are considered should be a sport that falls under British Universities and Colleges Sport (BUCS).
The value is generally from £3000 to £5000. Coventry university is one of the universities that provides this scholarship for international students.
Early Payment Discounts:
You will receive a discount from the university if you pay the full tuition fees for the year. Some universities provide discounts in terms of percentage while some do a fixed amount.
Along with this, students undertaking a sandwich course (course with a placement year), will have a huge discount in the placement year – usually students pay approximately from null to £2500 on their placement year.
A brief overview of the UK education System:
The education system in the UK is divided into four main parts:

primary education,
secondary education,
further education and
higher education.
Children in the UK have to legally attend primary and secondary education which runs from about 5 years old until the student is 16 years old.
UK qualifications are respected and recognized by employers and academics worldwide. Students can find thousands of UK courses
English language courses may be studied at any age, on their own or alongside their other studies.
Students aged 16 and under, go to Schools and boarding schools.
Further education is for students aged 16 and over. This includes:

Academic courses, which help them prepare for higher education (e.g. A-levels and the IB). They aim to develop analytical skills, critical thinking and knowledge.
Vocational courses, which are career-focused and give professional training (e.g. BTECs and NVQs). They give the skills and qualifications needed for a successful career.

Higher education is for students aged 18 and over (17 in Scotland). There are two stages of higher education

Undergraduate qualifications, which include bachelors' degrees, foundation degrees, HNDs and more.
Postgraduate qualifications, which include masters' degrees, PhDs, MBAs and more. This level is for students who have already completed their undergraduate studies, and want to gain a higher qualification.

Education in England, Scotland, Wales and Northern Ireland
In the UK, there are different education systems for England, Northern Ireland, Scotland and Wales.
In England, legislative responsibility for education lies with the UK Parliament at Westminster.
For Scotland, Wales and Northern Ireland, responsibility for education law and guidance has been devolved to the Scottish Parliament and the Welsh and Northern Irish Assemblies.
In general, these four systems are very similar and offer many of the same courses and qualifications.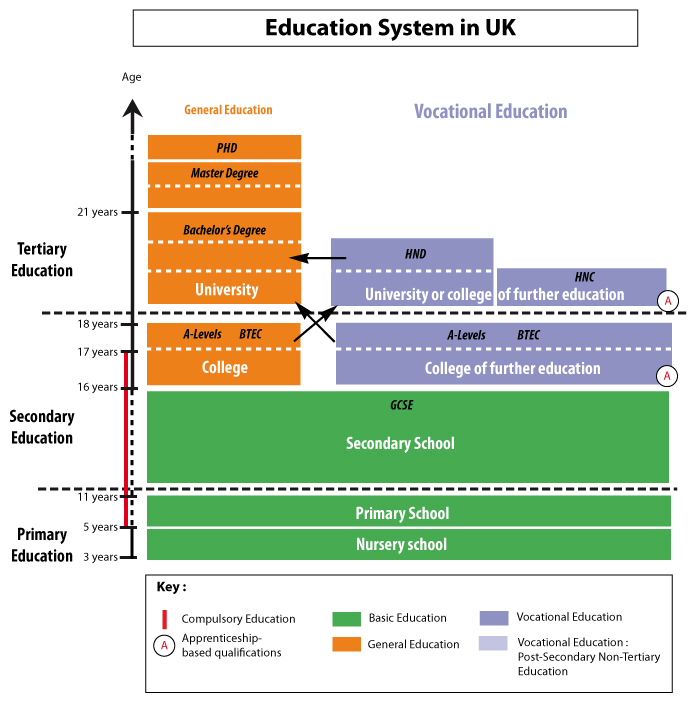 What should students expect after graduating from the UK:
Student can continue studying or find a job, stay in the UK or return home
Getting Ready to depart -Finishing your UK course can be exciting, but it can also be an emotional and hectic time. On the one hand, your time is taken up with exams and coursework. On the other hand, you need to start preparing for your future – perhaps applying for a job or for further study. And meanwhile, you need to think about packing up your belongings and saying goodbye to your UK friends.
Going on to further studies or research – Coming to the end of your course means thinking about what to do next. One option is further study or research.
Further study – There are many possibilities for further study. For example, you could go on to:

further education
higher education: undergraduate (e.g. a bachelor's degree)
higher education: postgraduate (e.g. a master's, a doctorate/PhD)
a professional qualification course (e.g. training to be a chartered accountant or engineer).

Entering a Career – There are lots of options available to international students who want to stay and work in the UK after their studies. Below are the three most common visa schemes available to international students:
Tier 1 (Graduate Entrepreneur), Tier 2 (General) and Tier 5 (Temporary Worker).
Starting your own business – If you have a Tier 4 visa to study in the UK the requirements to switch to a Tier 1 Graduate Entrepreneur Visa are not overly complex.
You can be sponsored by a college or university which is on the list of authorized endorsing bodies or check if UKTI (UK Trade and Investment) is accepting applications.
Dreaming of Studying in

Australia? Take the First Step with a FREE Consultation!