Top 5 Universities to study in the UK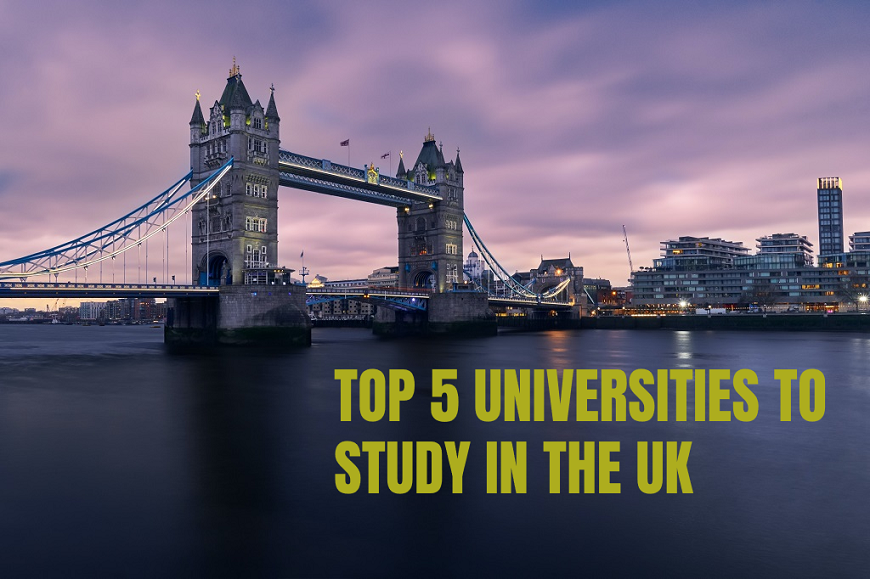 Selection of the universities to study your higher education can be a tough choice. There are many factors that need to be considered such as tuition fees, rankings, quality of teaching, location, employability, resources available and many more.
In this article, we will be discussing some of the universities that have a nice outlook, not only in terms of rankings but also that are affordable to international students.
Oxford Brookes University:
The Oxford based University is one of the fastest growing universities in the UK. It is the only UK university that is ranked in top 50 Universities under 50 years old. It ranks 2nd in the UK for teaching and is ranked amongst the world's top universities in 13 subject areas, including Accounting and Finance, Computer Science, Economics, Hospitality, Law, and International Relations.
The university is also highly ranked in terms of employability as it provides service such as integrated career guidance. Besides, there are provisions of scholarships for deserving students, and the tuition fees are reasonably lower compared to the quality of education you receive.
Coventry University:
The gold TEF ranked university is ranked highly across various subjects. According to Guardian University Guide (2020), the Coventry University is ranked 3rd for Hospitality, Event Management and Tourism, 3rd for Mechanical Engineering, 4th for Nursing and Midwifery, 5th for Architecture, and 8th for Journalism, Publishing and Public Relations.
The university is ranked under top 50 universities in the UK. On top of that, the tuition fees are affordable, and Nepalese students can claim location based and sports scholarships.
Loughborough University:
It is the top University in the midlands and has been awarded "University of the Year" by WhatUni in 2018. Its ranked 7th in the UK (Guardian University Guide, 2021), and 231st in the world (QS world ranking, 2021).
The gold rated university has provisions of placement years and also foundation courses for those students who do not meet the direct entry criteria. Although a bit expensive than other universities in this list, the employability of the university is exceptional.
Average salary 15 months post-graduation is £29,000 per year (Graduate Outcome Survey. 2018). Students with exceptional school or college grades (or predicted grades) can be eligible for scholarship worth up to 25% of the tuition fees.
De Montfort University:
The Leicester based university has a tremendous outlook as it is ranked amongst the 150 best young universities in the world (Times Higher Education, 2020).
It is ranked number one for graduate employability, and number 3 for teaching excellence (Times Higher education, 2020).
Along with having a very affordable tuition fee, De Montfort University also provides high achievers scholarships. Students with 75% and above can be eligible for £5,000 scholarships while students with 80% and above can claim a full fee waiver. Application needs to be made for scholarships.
Hertfordshire University:
The modern global society is experiencing huge growth in the field of computer science. Graduates of data science, cyber security, game design, animation and other tend to be on the higher end of the salary bar.
Now here comes the value of University of Herefordshire; In the Rookie Awards in 2019, Hertfordshire was ranked best in the UK and 2nd in the world for 'Top Visual Effects School', 3rd in 'Immersive Media – Game Design and Development for Production Excellence', and 5th in 'Top 2D Animation Schools for Production Excellence'.
Moreover, the university is the best in the UK for 'Top Animation Schools', 'Top Visual Effects Schools', and 'Top Game Design Schools'.
Cost of Studying in UK for International Students
The United Kingdom (UK) is formed of 4 countries – England, Scotland, Wales and Northern Ireland. Each of these countries have different cities with different Universities and tuition fees, and different cost of living expenses. UK is quite an expensive destination if you are looking to study; however, with right information, you could be saving quite some money which could perhaps help you planning your next move.
Elements of cost of studying in UK
There are various factors that contribute to the total cost of studying in the UK from Nepal – the major cost for a student is the tuition fee followed by cost of accommodation, transportation, utility bills, educational materials, food and entertainment expenses. Since UK is a student friendly nation, if planned properly, students can save considerable amount of money.
Tuition fees: It is the main expense for any international students. Generally, humanities, arts and education courses are cheaper compared to engineering, medicine, business and computing courses. The most expensive business course is MBA. The entry requirements for pathway and pre-masters are relatively lower than those of Undergraduate and Postgraduate courses respectively. The average cost of course are as follows:
| | | | |
| --- | --- | --- | --- |
| S.N | Study program | Average Fees/year | Lowest fees/year |
| 1 | Foundation/Pathway | £8,000-£10,000 | £8,000 |
| 2 | Undergraduate | £12,000 | £10,500 |
| 3 | Pre-Master's | £9,000-£12,000 | £7,000 |
| 4 | Postgraduate | £15,097 | £11,500 |
The fees for pathway and pre-master's courses in the table above are for 1 year. There are other pathway programs with length of course less than 6 months which specially focuses only on development of English language (Pre-sessional English courses). The tuition fees for some courses are more expensive depending upon the University and the course selected (Engineering and computing pathways are more expensive).
Other Expenses:
| | |
| --- | --- |
| Accommodation | £ 300-500 per month |
| Food | £ 100-150 per month |
| Utilities Bills | £50-75 per month |
| Mobile Phone Bills | £15-30 per month |
| Travel | £30-50 per month |
| Health Surcharge | £400 and above (depends on course length) |
| Other miscellaneous expenses | £40-50 per months |