How to Write a Personal Statement to Apply to UK Universities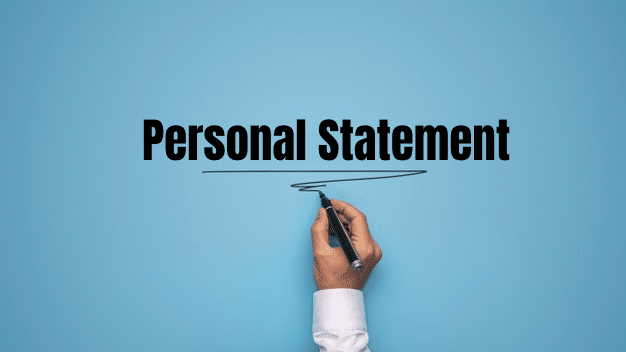 Personal Statement for UK
Before writing a personal statement, you will need to understand how important a personal statement actually is. In a research conducted among 300,000 candidates by UCAS, a personal statement seemed to be the most important factor for universities to decide on choosing a particular student.
It is a chance to demonstrate why you'd like to study a particular course or subject, and illustrate your skills and experience you possess.
In case of international students (from non-native English-speaking countries), your English language proficiency also needs to be emphasised on along with why you'd like to an international student, rather than studying in your own country.
Related Content: How To Study In The UK From Nepal
In this article we are discussing what and how to include, and what to avoid while developing a personal statement.
Structure of a personal statement
Try to be excited and positive while writing an opening paragraph; you would like to make your reader connected to the essay, and a punchy opening paragraph helps your reader get hooked in. A boring, unexcited and uninformed (about the course) opening paragraph doesn't help.
You can put in references from where you got interested in the particular course; however, do avoid cliches such as "I always wanted to be a doctor" – literally everyone does that (and it doesn't help you standout). Also make sure you really understand the course you are willing to pursue. Use both your head and heart – make it personal but relevant.
This is the section where you put in all the evidences to prove your interest in the particular course. Evidences could be your academic qualifications, projects, experience and outside reading.
Along with that, put in the skills that you possess; transferrable skills such as leadership, communication or essay writing can be included (but make sure to illustrate how you acquired these skills). These factors help you stand out among the crowd.
Being an international student, you will also need to illustrate your English language proficiency – Include your IELTS tests scores, and any other things that have helped you improve your English language skills.
Also, talk about why you'd like to be an international student, rather than studying in your own country. Make comparisons between other study destinations such as USA, Australia, or Canada, and demonstrate why you chose the UK for your higher education.
This section demands a personal touch of your writing skills. Try to make it personal and demonstrate how you can achieve your career goal by studying in a particular university.
Show them that you are unique and how this degree adds a value to your academic as well as professional growth.
Other things to include in your Personal Statement
Include something that made you miss school such as physical or mental health conditions, or caring for a family member.
You can talk about the financial hardship you have had and how it impacted your grades. Also include qualification gained from non-different qualifications, skills or experience (military training, social works, teacher trainings, etc).
What to Avoid in a Personal Statement
'Verbal diarrhoea' – no one wants to read things about you that are not relevant to the course you wish to pursue; keep focus and make your skills, experience and examples that are relevant to intended course of studies.
Showing off – Don't be arrogant; you want to keep your essay as excited and positive as possible. Of course, you can back yourself using relevant examples (that's called good showing off).
Flowery language – Don't use too complex language; the reader needs to understand what you are trying to convey. Stick to plain English language but do remember to check for spellings and use proper grammatical structures.
Plagiarism – Avoid copying other materials at all cost. 'Copycatch' is a software used by universities to check for plagiarism.
While writing a personal statement, you may be stuck at some point. At that time, ask your friends and families for help (sometimes they know you better).
Personal statements take lots of corrections, so, don't worry if you have had to redraft your essay on multiple occasions. Make sure you make your friends and families proofread it as there may be mistakes that you might have missed.
Let us help you with all your abroad study needs. Contact us today