6 Myths about Studying in the UK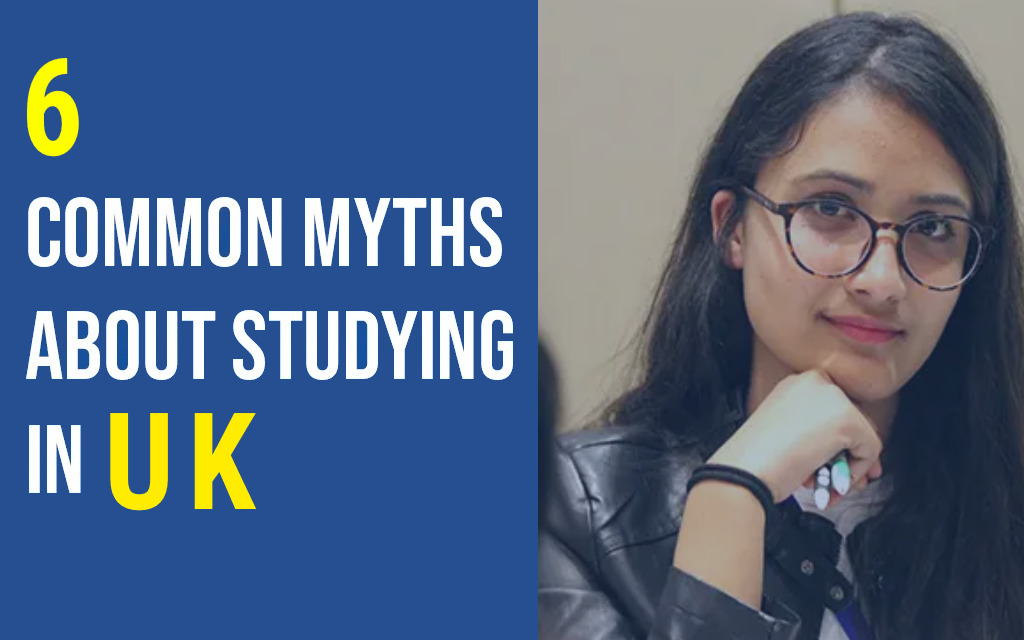 Myth 1

– You can go to any university without IELTS
There are certain universities who will accept Nepalese students with good English Score in their grade 12.
However not all universities will accept students without IELTS. It is always advisable to do your IELTS before you plan to study in the UK from Nepal.
Myth 2

– Finding job is difficult
Although it's true that UK universities don't guarantee a job after graduation, it solely depends on a student's calibre to find a suitable job after graduation.
There are lot of part time job opportunities while studying. There is no certainty of employment with a degree regardless of whether you study in the UK or some other parts of the world.
However, UK universities do have career and placement offices that help students find a job. The chances of you finding a job are high as employment rates are relatively better in the UK compares to other countries.
Also, the QS Global Survey indicates that universities in the UK produce employable graduates after their degree. This means that many students are able to find a job right after their graduation.
Myth 3

– Living expenses are high.
Students living expenses depend on their lifestyles. If a student is more social and likes to eat out in high-end places and shops at expensive malls, their bills will run high.
However, they can save up a lot if they budget their expenses and take advantage of the student discounts available across the UK.
There many students discounts available and student card will allow them to save money on everything, from stationary to professional equipment and even luxury items and also travel.
To save money on groceries, students can shop at discount food stores located around the UK.
Myth 4

– UK university and colleges fee are high
Studying in the UK is relatively cheaper compared to many countries but this is one of the common myths about studying and living in the UK.
Many people think studying and living in UK is expensive because of the misconception of the value of the UK currency which is higher compared to other currencies.
The reality is that if a student plans the right way, studying in the UK won't cost a fortune. The overall academic expense solely depends on the city, university, course, and programme they choose.
Aspiring students need to do some research to find an affordable university and location.
For example, if a student chooses a Russell Group university, it will be more expensive than other educational institutes.
There are plenty of UK universities and colleges that provide the same quality of education at a lower fee.
Furthermore, many universities will provide financial aid opportunities to the international students in the form of scholarships and bursaries.
Depending on eligibility, international students can apply for need- and merit-based scholarships.
Myth 5

– Weather is Terrible
Many students hear that weather and climate in UK is terrible so it's better to understand the place you'll likely be spending two to four years of your life while studying.
While the UK is now known for having sunny weather all year long, but that doesn't mean it's muggy and rainy all year long. Students will be able to experience all four seasons, from very cold winters to breezy autumns.
Also, the weather and climate are different depending on where you live in the UK.
Myth 6

– Getting Visa is difficult
There is no visa guarantee to any students in any country. There are various factors that play into getting visa approvals including each applicant's application such as intention to study, economic ties and previous immigration history.
However, if all conditions met the process is lot easier for international students as the UK government is introducing a new student visa that will not only allow students to study in the UK but also stay for post-graduation through graduate Immigration route to find work in the UK.
Visa information for students applying to the UK
If you are an international student intend to study in the UK for more than 6 months, you need to apply for student visa before you enter in the UK.
Also refer to the UKVI student visa policy guidance which lets you know the exact requirement for student visa application.
One can apply for a student visa only after receiving Conformation of Acceptance for Studies (CAS) number. The earliest you can apply is six months before your course start date. If you are applying from inside the UK than its three months.
Students must apply online for visa and pay fee which is £ 348 (additional same amount for each dependent applicant).
Arrange Biometric Resident Permit (BRP) collection address. You need to provide the address where you want to pick your BRP when you arrive in the UK. Alternatively, you can give your university address.
Pay Health Surcharge: Applicant must pay health surcharge which cost £470 per year. This surcharge will be collected at the time of visa application and must pay in full.
Point Based System: (Total Points 70):
To be eligible for a student visa, an applicant must satisfy the immigration rules of Point-Based Systems. This requires you to score 70 points. Explained below;
50 Points for Confirmation of Acceptance for Studies (CAS)
10 Points for Financial Requirement
10 Points for English Language Proficiency
After making visa application United Kingdom Visa and Immigration (UKVI) will go through your application and make a decision.
The time framework may be between 2 to 8 weeks but sometime it may take longer depending on the volume of application they receive.
Supportive Documents for Visa Application:
Student visa application form
CAS
Demand Draft
Passport
Copy of all academic documents
Work Experience Letter (If Any)
Proof of fee payment
Proof of funds (Bank Documents)
Financial Documents:
28 days old fund or Education Loan from any A class Banks of Nepal (1year Tuition Fee+9 Months Living Cost (Living cost inside London £1,334.00 and out side London £1023.00 per month.) or Educational Loan in the name of student
For Example:
Tuition fees: £13,000
Initial payment (required by most universities to accept the offer): £3,000
Remaining tuition fee: £13,000 – £ 3,000 = £10,000
Cost of living (let's take a London University for example): £1,334 X 9 = £12,006
Require amount in the bank statement = Remaining tuition fees + Cost of Living
=£10,000+£12,006=£22,006 for 28 days
TB Test Certificate from IOM
Other Financial documents if any. (Property Valuation, Annual Income, Tax Clearance)
Relationship Certificate
Birth Certificate
Letter from Sponsor
Getting a PR in UK after studies- How easy it is?
It's a tuff call to answer it Yes or No. There is an opportunity of settlement after graduation in UK.
After completing course in UK university student sare eligible to apply for Post Study Work visa for 2 years. Student can apply for Tier 2 visa after they compete their studies if they find a Tier 2 Sponsor.
If the student is unable to find a sponsor, they can apply for Graduate Route. During this time there is an option to switch your visa to Tier 2 work permit.
If you stay in this category for minimum of 5 years than you will qualify for Indefinite Leave to Remain (ILR). 1 year in ILR qualify for a British passport.