Cost of Studying in UK for International Students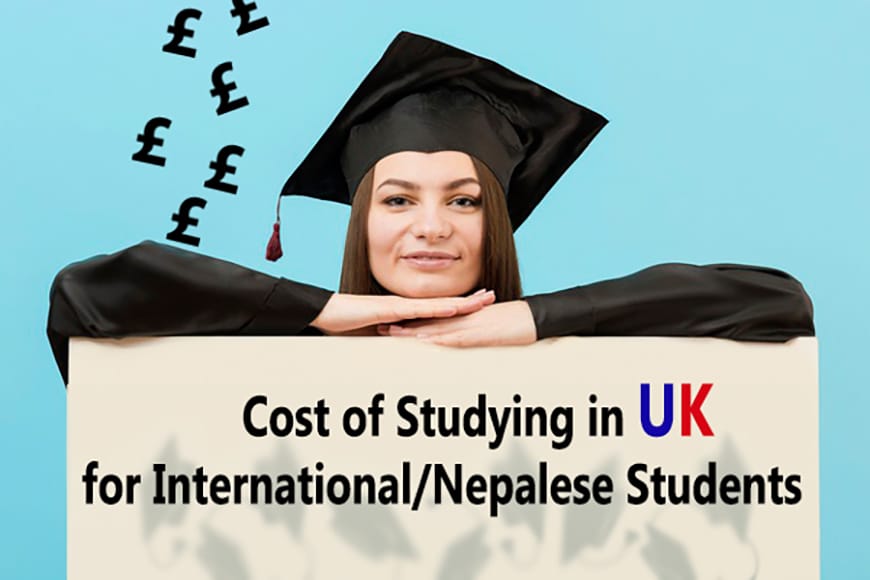 The United Kingdom (UK) is formed of 4 countries – England, Scotland, Wales and Northern Ireland. Each of these countries have different cities with different universities and tuition fees, and different cost of living expenses.
UK is an expensive destination if you are looking to study, however, with right information, you could be saving quite some money which could perhaps help you planning your next move.
Elements of Cost of Studying in UK
There are various factors that contribute to the total cost of studying in the UK – the major cost for a student is the tuition fees followed by cost of accommodation, transportation, utility bills, educational materials, food and entertainment expenses.
Since UK is a student friendly nation, if planned properly, students can save considerable amount of money.
Tuition fees: It is the main expense for any international students. Generally, humanities, arts and education courses are cheaper compared to engineering, medicine, business and computing courses. The most expensive business course is MBA.
The entry requirements for pathway and pre-master's are relatively lower than those of undergraduate and postgraduate courses respectively. The average cost of course are as follows:
| | | | |
| --- | --- | --- | --- |
| S.N | Study program | Average Fees/year | Lowest fees/year |
| 1 | Foundation/Pathway | £8,000-£10,000 | £8,000 |
| 2 | Undergraduate | £12,000 | £10,500 |
| 3 | Pre-Master's | £9,000-£12,000 | £7,000 |
| 4 | Postgraduate | £15,000 | £11,500 |
The fees for pathway and pre-master's courses in the table above are for 1 year. There are other pathway programs with length of course less than 6 months which specially focus only on development of English language (Pre-sessional English courses).
Also read; Undergraduate Course in UK
The tuition fees for some courses are more expensive depending upon the university and the courses selected (Engineering and Computing Pathways are more expensive).
Accommodation expenses for international students in UK:
Accommodation expenses include cost of rent, electricity, water, gas, internet, security deposits, tv license and council taxes. Accommodation could be provided by the university or alternatively one can accommodate in private flats.
Usually, students tend to live in university accommodation for a year and switch to private accommodation in the following year. University accommodations are limited so it is advised that students secure the accommodation as soon as possible (otherwise you will have to evaluate options for private accommodation).
Also read; Study in the UK Guide For International Students
Rent (London):
The average rent expenses for 1-bedroom apartment is £767 per month in London. Usually, private accommodations ask for a security deposit which is refundable at the end of the contract.
Usually, students and workers in London share their flats (2- or 3-bedroom apartments), which could reduce their cost of rent by a significant amount i.e., £300 to £350 per month.
Rent (outside London):
With the average amount of rent paid in London, one can find a 1-bedroom property in Bristol, 2-bedroom property in Liverpool, 3-bedroom property in Bristol and a 4-bedroom property in Birmingham. Private accommodations on a sharing basis can reduce the amount of your individual rent and you would be paying under £200.
Water expenses:
The bills of water cost you £30/month on average with some cities having this price under £20/month. The tap water available in the UK is drinkable, which means you do not have to pay extra for drinking water whether it be in your house or in a pub.
Electricity and gas expenses:
These expenses are based on how much energy is consumed and its unit of measure is kWh. The average cost of electricity is £14.37 kWh while the average cost of gas is £3.80 kWh. On an average you would be spending £58/month on electricity and £56/month on gas expenses. 
Consuming energy in a certain pattern saves you as much as half the money as the price of electricity depends on the time of the day. It is recommended you use equipment that consumes huge energy (such as boilers, washing machines, induction cookers, irons etc.) at night as the cost of energy is almost half than the rest of the day.
Internet expenses:
On an average the cost of internet per month in UK is £30.
Security deposits:
This is common among private accommodation and the tenant has to pay about a month's rent as an initial deposit. If you use an agent to find an accommodation, you may be liable to the commission for the agent.
TV license:
If you own a tv, you would need to pay the TV license. The cost of TV license is about £12-£13 per month.
Council Tax:
Since UK is a student friendly country, students do not need to pay for their council tax. If all your flat mates are students you do not need to pay the council tax; however, if some of the flat mates are non-students, you will still be exempted of the council tax but your mates will need to pay their share of the tax.
Transportation:
Public transportation in the UK is very developed and is possible to commute to almost any parts of the city. On an average a person spends about £120 per month on public transportation. However, students are entitled for a 30% discount on weekly and monthly travel pass which mean you could be spending as less as £84 per month, which includes trains, tubes and bus rides. 
If you opt for only bus weekly pass, you could be spending less than £40 per month (keep in mind the roads in UK are small and congestions on the road network are quite common) but you would be spending more time commuting.
Also read; Study in the UK – A Step By Step Guide
Educational Materials and Entertainment:
Average books and stationery expenses in the UK is about £21/month. The cost of gyms and leisure center is £20/month on average. 
The average cost of entertainment and socializing is £120/ month. However, as a student you would only be free on weekends and will most likely be occupied by your part time work (20 hours/week) which means you would have less time socializing.
Mobile bills: Mobile bills start as low as £5/month and on an average, you would be spending £15/month for a carrier with reasonable scheme. With internet facilities available in most parts of Nepal, you could save money by contacting your family members via internet (WhatsApp, Viber or messenger) instead of the traditional calling cards. Popular carriers include Vodafone, virgin, giffgaff and tesco mobile.
Visa Application and UCAS Fees: The visa application charge for UK is £348 and the cost of applying (via UCAS) is £20 for 1 course and £26 for up to 5 courses.
National health Service (NHS): You will have to pay £300/year for NHS. The benefits of NHS outweigh the cost of this service. Hospitals and GPs are free for everyone (except for dental related diseases).
The 20 hour/week job that you undertake should cover your living expenses if you plan your expenses ahead. For example, using heavy energy consuming electricity items at night, sharing your 2/3-bedroom apartment, booking your long-distance travel 12 week prior, using your 18+ oyster travel card (30% discount) for short travel, applying for National Union of students (NUS) cards etc. can save a hefty sum of money.
Students are eligible to work full time during their term breaks. You will need to provide a letter from the university to your employer. Night shifts pay are premium, which is about £2 more than the regular pay and you do not need to pay taxes for work for 20 hours/week regardless of the hourly pay rate.
Dreaming of Studying in the UK? Take the First Step with a FREE Consultation!