Post – Graduate Certificate/Diploma in Canada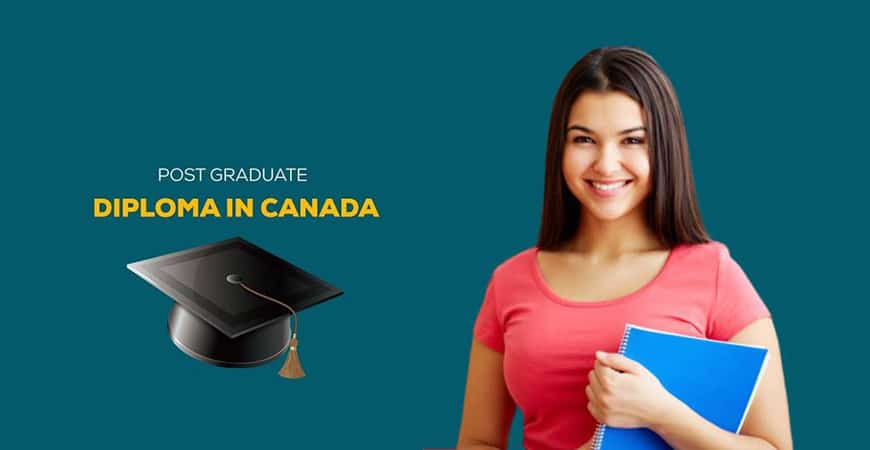 What is a Post-Graduate Diploma in Canada?
PG Diploma stands for post-graduate diploma which is generally 1 to 2 years of study after your Bachelor's Degree which holds the same academic level of Master's degree but not equivalent to it.
Sometimes a term post graduate certificate might confuse you but these are almost same thing. These are the programs which help you get a specialized knowledge about the field of your study. PG Diploma/certificate is popular among international students who have completed their Bachelor's Degree.
Also read; Canada Student Visa Process
Admission for direct Masters might be more competitive and expensive; you can opt for PG Diploma. It also prepares a good base for your Masters. Moreover, these courses are more focused to prepare students for the job market with rigorous skill-based education and training.
What is the difference between Post-Graduate Diploma and a Master's Degree?
Though PG Diploma/Certificate and Masters stands at the same academic level, they widely differ from each other. Master's Degrees are generally longer in duration than PG Diploma/Certificates.
Master's Degrees in Canada are usually of 2 years whereas PG Diploma/Certificates are generally of 8 months to 1 year.
However, some PG Diploma programs may be longer than a year. Besides some exceptions, tuition fees for Master's program in Canada are generally higher than those of the PG Diplomas.
Experts think that Master's Degrees are more focused academically whereas PG Diplomas are more focused to develop practical skills to quickly launch yourself in the job market.
Also read; Step by Step Process to Study in Canada.
PG Diplomas are helpful if you want to change your career as a professional in a different field. Similarly, the course load and the entry requirements to study PG Diplomas are generally less than Master's Degress.
Also read; What are the Short Courses in Canada for international students
Meeting the admission requirements for Master's Degree and securing an admission may not always be easy. In this case, PG Diplomas could be a better option.
What is a Pathway program in Canada and how can student benefit from it?
Pathway program prepares students for the main program of studies. Pathway programs bridge the progression of the students to the degree program even if they fail to meet the requirement to study degrees directly.
Students may choose pathway programs if they do not meet the requirement for the direct entry in the desired program including English proficiency or if they want to develop a strong base of the program before diving deeper into university.
In Canada, colleges like ICM and FIC offer pathway programs as UTP Stage I and II for undergraduate students. UTP stage II is equivalent to the 1st year of the Bachelor Degree.
Upon successful completion of UTP stage II, student can jump to 2nd year of the Bachelor's Degree. Similarly, Pre Master's program is the common pathway program for Graduate Studies.
Pathway programs are very helpful to boost the confidence and the learning skills of the students. The classes in the pathway programs are started at an introductory level and class environment is more eased and relaxed than that of the university.
Sometimes international students from country like ours who are used to learning in small school settings might find it hard or get lost in the big universities. Pathway programs are also beneficial to make students comfortable and adapt in the new atmosphere of the foreign universities.
Also read; Study in Canada Guide for Nepalese Students
Why Pursue a Post Graduate Diploma in Canada?
There are several key benefits for Nepalese students in pursuing a post-graduate diploma in Canada:
Gain specialized, in-demand skills for the job market in just 1-2 years through focused programs
Diploma programs are more career-oriented with practical knowledge, co-ops, and labs compared to general degrees
Pathway into advanced master's degree programs in Canada or other countries after gaining work experience
Opportunities for co-op terms and hands-on work experience during the diploma program
Option of extended post-study work permit after graduation
Learn cutting-edge curriculum aligned with industry needs from expert faculty
Experience a diverse student community and a safe, welcoming multicultural environment
Advantages of international exposure and the brand value of a Canadian Diploma
Gain credentials and skills to launch global careers in technology, business, design, healthcare, and other fields.
Eligibility Criteria for Post-Graduate Diploma Programs in Canada
The typical eligibility criteria for international students to apply for Post Graduate diploma programs in Canada are:
Completion of a bachelor's degree or equivalent credential in relevant field of study
Minimum GPA of 2.5 on a 4-point scale or 60% aggregate marks in graduation
Proof of English language proficiency through IELTS/PTE/TOEFL scores or equivalents
The minimum IELTS score required is often 6.5 overall, with no band below 6.0 (Note: This requirement varies according to the university and programs)
Statement of Intent demonstrating motivation to study the diploma program
Resume listing educational background, work experience, and achievements
Relevant portfolio (for programs in design, media, arts, animation, etc.)
Some programs may require 1-2 years of related work experience
The eligibility criteria may vary by college and program. Students should thoroughly check the requirements mentioned on the program website before applying.
Meeting only minimum criteria does not guarantee admission as colleges conduct competitive evaluations of many factors like academics, test scores, communication skills, experience, and overall potential. Students can strengthen their profiles with high grades, strong English skills, quality work experience, and well-written essays.
Also read; LoE/ SoP for Canada Study Permit
Types of Post-Graduate Diploma Programs in Canada
Several types of postgraduate diploma programs are offered by Canadian colleges and technical institutes. Some key types include:
Business Administration Diplomas – Cover core business functions like marketing, accounting, HR, project management, operations, supply chain, business law, and more. Help gain business analyst, manager, and consultant roles.
Engineering Diplomas – Specialized diplomas for various engineering fields like computer, mechanical, electrical, civil, chemical, industrial, aerospace, and mining. Enhance design and technical skills.
IT Diplomas – Focus on software development, data science, cyber security, cloud computing, game design, and other high-demand technology skills. Lead to IT project manager, programmer, and technologist jobs.
Healthcare Diplomas – Programs for pharmacy technicians, medical lab technicians, elderly care, community health workers, and more specialized allied healthcare roles.
Hospitality & Tourism Diplomas – Cover hotel, restaurant, and tourism operations, conventions, culinary skills, and tourism marketing. Help gain supervisor and manager jobs.
Media & Communications Diplomas – Specialize in graphic design, UX/UI design, digital marketing, journalism, public relations, technical writing, and video production.
Art & Design Diplomas – Programs in graphic design, interior design, photography, fashion design and marketing, exhibition design, and more. Pursue creative careers.
Construction/Trades Diplomas – Prepare for careers like carpentry, plumbing, electrical technician, welder, heating and air conditioning technician, industrial mechanic, and more.
General Studies Diplomas – Interdisciplinary programs allowing customization across diverse subjects. Help decide on focus areas.
Postgraduate diplomas in Canada are typically 1-2 years with a focused curriculum and practical learning through labs, simulations, co-ops, and real-world projects. Many programs also partner with the industry for mentorship and job opportunities.
List of Major Colleges That Offer Post Graduate Diploma Programs in Canada
Here are some top colleges across Canada offering high-quality post-graduate diploma programs in diverse fields:
Lambton College
George Brown College
Seneca College
Fleming College
St. Lawrence College
British Columbia Institute of Technology
Fanshawe College
Centennial College
Durham College
Niagara College
Humber College
Southern Alberta Institute of Technology
Northern Alberta Institute of Technology
Red River College
Conestoga College
Sheridan College
St. Clair College
College of the North Atlantic
Langara College
Kwantlen Polytechnic University
These colleges have excellent faculty, cutting-edge facilities, industry partnerships, and career support services for international students. Students should research programs offered at specific colleges as per their interests and career goals.
Also read; How to Get a Job in Canada as a Nepali Student
How to Pick the Right Post-Graduate Diploma Program in Canada
Here are some tips for Nepalese students to choose the right postgraduate diploma program in Canada:
Determine field of interest and career goals. Evaluate programs related to IT, business, hospitality, engineering, etc.
Research the curriculum, training facilities, teaching methods, and industry partners. Programs with co-ops and real-world projects are advantageous.
Check program accreditation, faculty qualifications, campus facilities, and services. Reviews by current students provide insights.
Ensure the 1-2 year course duration suits your timeline and costs are affordable. Consider living expenses also.
Analyze the job prospects, immigration pathways, and post-study work rights after completing the program.
Preferred locations like Toronto, Vancouver, and Montreal have more options. Evaluate each city's lifestyle, diversity, safety, and jobs.
Apply to multiple appropriate programs across colleges to increase the chances of admission. Meet application timelines.
Talk to alumni and current students about their study and work experiences. Their insights are valuable.
Choosing the right diploma program that matches interests, budgets, and career aspirations is key to getting a return on investment from studying in Canada.
7 Best Post Graduate Diploma Courses in Canada for Nepalese Students
Canada is one of the top study-abroad destinations for Nepalese students looking to pursue postgraduate diploma courses. With world-class universities, a diverse culture, a high quality of life, and post-study work opportunities, Canada offers an excellent environment for Nepalese students to gain specialized skills and global exposure. Here are 7 of the best postgraduate diploma courses in Canada for Nepalese students:
Post Graduate Diploma in Computer Science – Seneca College
With rapid technological growth, a postgraduate diploma in computer science from Seneca College prepares Nepalese students for high-paying jobs in IT. The 1-year intensive program focuses on software engineering, database management, data analytics, and networking. Students can specialize in machine learning, cloud computing, game development, and mobile app development. Seneca has strong industry connections that lead to co-op and career opportunities.
Post Graduate Diploma in Business Administration – George Brown College
This 1-year program provides foundational business skills in accounting, marketing, human resources, operations, and project management. Students gain practical understanding of core business functions through case studies and business simulations. Graduates can pursue managerial roles in various industries or further study in MBA. George Brown's diploma helps Nepalese students transition into business analysts, marketing coordinators, HR specialists, and other professional roles.
Post Graduate Diploma in Engineering – University of Victoria
Nepalese engineers can upgrade their design and technical skills in various engineering specializations like mechanical, electrical, civil, software, and geomatics engineering through this 1 to 2-year diploma program at the University of Victoria. Students get access to advanced laboratories and undertake industry-applied projects. This enables professional engineering licensing and globally mobile careers.
Post Graduate Diploma in Project Management – British Columbia Institute of Technology
Develop key skills like budgeting, risk analysis, team leadership, procurement, and project execution through BCIT's diploma program in project management. The course also covers Agile methodologies, lean systems, and project simulation using PM software. Graduates can work as project coordinators, managers, schedulers, and more.
Postgraduate Diploma in Hospitality Management – Niagara College
With Nepal's booming tourism industry, this 1-year advanced diploma equips Nepalese students with hospitality skills at Niagara College's state-of-the-art facilities and real work experience through co-op terms. Students gain knowledge of guest services, hotel operations, event management, culinary skills, and more. Graduates are ready for supervisory and leadership roles in hotels, restaurants, and tourism.
Post Graduate Diploma in Information Technology – Centennial College
Specialize in fields like cyber security, data analytics, cloud computing, software testing, and game development through Centennial College's hands-on diploma program in IT. Students get access to latest tools and practical knowledge by working on real industry projects. This leads to careers such as software developer, web programmer, database architect, and IT project manager.
Post Graduate Diploma in Health Care – George Brown College
This 1-year program helps Nepalese students gain advanced health care knowledge and clinical skills for roles such as pharmacy technician, medical lab technician, and elderly care through clinical placements. The curriculum covers relevant concepts like pharmacology, medical testing, health regulations, senior care, and more. Graduates can work in pharmacies, clinics, hospitals, care homes, etc.
FAQs on Post-Graduate Diplomas in Canada for Nepalese Students
How much does studying for a graduate diploma in Canada cost?
Tuition fees for postgraduate diplomas in Canada generally range from CAD 15,000 to CAD 30,000 per year. Total costs, including accommodation and living expenses, are CAD 25,000 to CAD 45,000 annually.
What are the post-study work options after a diploma in Canada?
International students can work for up to 3 years after graduation through the Post-Graduation Work Permit Program. They get practical Canadian work experience to advance their careers.
What is the cost of living in Canada for students?
Students require around CAD 12,000-20,000 per year to cover living costs like accommodation, food, phone bills, transport, and other expenses. Part-time work helps cover costs.
How long does it take to complete a post-graduate diploma in Canada?
Most postgraduate diplomas for international students in Canada are 1 to 2 years in duration with an accelerated curriculum, co-op terms, and hands-on training. Some general studies programs maybe 16 months.
What are the English language requirements for diploma programs in Canada?
Proof of English proficiency like IELTS scores of 6.5 overall and no less than 6.0 in each band is required in most cases. Some programs may need higher IELTS like 7.0 overall with minimum scores in each section. It is better to consult individual Universities and their program requirements.
Should I choose a college or university for a post-graduate diploma in Canada?
Colleges are better for practical, career-focused programs with co-ops while universities focus more on academic learning. Evaluate program curriculum, costs, and campus facilities before deciding.
How competitive are admissions for diploma programs in Canada?
Admissions are competitive based on academic scores, English test results, work experience, essays, and other criteria. Students should apply to multiple programs with strong profiles.
Studying for a postgraduate diploma in Canada will open up incredible opportunities for Nepalese students. Research programs thoroughly, submit outstanding applications, and take steps to fulfill your Canadian education dreams.
Dreaming of Studying in Canada? Take the First Step with a FREE Consultation!