Things to know about Australia-Australia study guide for Nepalese students
Posted by

Categories

Blog

Date

August 13, 2020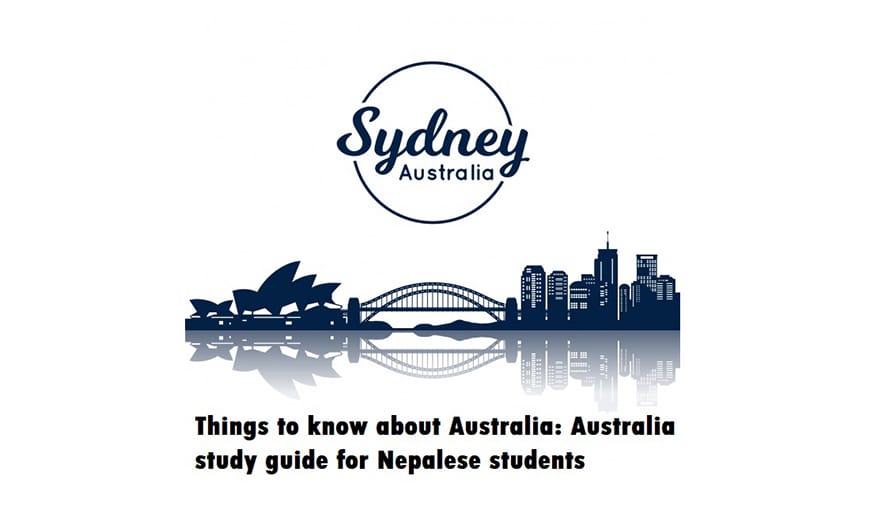 Things to know about Australia: Australia study guide for Nepalese students
Population of Australia
Australia, a continent more of a country, with approximately about 7.7 million square kilometers is home to a resident population of more than 25.6 million (Australian Bureau of Statistics).
Climate in Australia
Apart from recorded extreme temperatures in Australia, 53°C at Cloncurry (Queensland) in 1889 and -23°C at Charlotte Pass (NSW) in 1994, the country has relatively warm of a climate. The average temperature of major cities of the country as provided by Australian Bureau of Statistics is as following:
| | | | | |
| --- | --- | --- | --- | --- |
| AUSTRALIAN CITY | Summer Max (°C) | Summer Min (°C) | Winter Max (°C) | Winter Min (°C) |
| Sydney (NSW) | 26.1 | 19.4 | 17.2 | 8.6 |
| Melbourne (Vic) | 25.8 | 15.4 | 13.9 | 6.8 |
| Darwin (NT) | 31.8 | 24.8 | 30.7 | 19.4 |
| Canberra (ACT) | 27.7 | 13.3 | 11.5 | -0.1 |
| Hobart (Tas) | 21.8 | 12.5 | 12.2 | 4.7 |
| Perth (WA) | 31.9 | 17.2 | 17.9 | 8.4 |
| Brisbane (Qld) | 29.2 | 21.2 | 20.6 | 9.5 |
| Adelaide (SA) | 28.7 | 16.8 | 15.2 | 7.4 |
|   |   |   |   |   |
(TABLE COPIED FROM PIER Training Book)
🟦 Economy
Australia is one of the top nations in terms of economy. The country is in its 28th consecutive year of economic growth with no recession from 1992 to 2018. The economy is world's 14th largest and rated AAA by all three global rating agencies.
Australia has been in height of success in the field of energy and resources, agriculture, education and tourism and financial services industries. The country is not only the largest producer of gold, iron ore and uranium but also a major global producer of agricultural commodities.
Australia is world's third most popular destination for international students and in present scenario most preferred country for higher education for Nepalese students.
The country has revenue of $7,457,002,000 from fee paying overseas students alone hence, international students play a major role in the country's revenue generation.
Source: www.austrade.gov.au
Source: www.aph.gov.au
🟦 Top 10 Universities of Australia
QS Topuniversities.com ranks top ten universities for 2021 as following:
1. Australia National University
Times Higher Education (THE) 2020 rank – 2
ANU is also ranked as world's top 100 universities by THE
2. University of Sydney
3. University of Melbourne
THE 2020 ranking -1
Listed under World's top 100 universities by THE
4. University of New South Wales (THE 2020 ranking – 5)
Listed under World's top 100 universities by THE
5. University of Queensland (THE 2020 ranking – 4)
Listed under World's top 100 universities by THE
6. Monash University (THE 2020 ranking – 6)
Listed under World's top 100 universities by THE
7. University of Western Australia
8. University of Adelaide
9. University of Technology Sydney (THE 2020 ranking – 11)
Listed under World's top 100 universities by THE
10. University of Wollongong
Also, Queensland University of Technology is ranked as 9th by THE and University of Canberra as 10th.
According to the APH, out of 28,233 total student enrollment in higher education, 19306 were in NSW.
Source: www.aph.gov.au
Source: www.topuniversities.com
🟦 Top 10 universities preferred by Nepalese students
In year 2020 by the month of April, Australia has 62,8279 international students (source: www.internationaleducation.gov.au) with 49,690 (a staggering 8% of total international students' enrollment in the country) Nepalese students enrolled mostly in major cities Sydney, Melbourne, Brisbane, Canberra, Perth, Adelaide, Darwin and Hobart and the top 10 most preferred universities by Nepalese students are as following:
Federation University
Victoria University
Charles Sturt University
University of Wollongong
University of Sunshine Coast
Southern Cross University
La Trobe University
Curtin University
Edith Cowan University
Central Queensland University
🟦Benefits of studying in Australia for Nepalese Students
According to the Department of Education International Student Survey (2018), international students have reported close to 90% satisfaction score for their living and study experiences in Australia.
The country is known for being very safe for international students and the strict rules and regulations that the universities and other education providers must follow makes the country sound for the international students.
Top majors chosen by Nepali students in Australia
IT
Business
Nursing
Engineering
Accounting
Hospitality
Science
Annual Fees
In Australia, annual Tuition fees for international students depends on type of university and course they choose. In average annual tuition fees are:
Diploma – AUD 15000 to AUD 35000.
Bachelor degree – AUD 18000 to AUD 40000
Master's degree – AUD 20000 to AUD 40000
University and Visa Application Process
A student needs to follow the following steps for the application process:
Step 1: University and Course Selection
Step 2: Application for conditional offer letter
Step 3: Conditional offer letter received
Step 4: Arranging documents according to GTE requirements and conditions in offer letter.
Step 5: Forwarding the documents to university for GTE Assessment.
Step 6: Appearing the GTE interview if required.
Step 7: GTE approval received.
Step 8: Issuing No Objection Certificate from Ministry of Education and also can undertake medical examination
Step 9: Transferring mentioned tuition and OSHC fees to university for COE.
Step 11: Confirmation of Enrollment (COE) received.
Step 12: Online Visa Application
Step 13: Arranging Biometrics
Step 14: Visa decision (Granted/Denied)
Scholarships/Financial Support
There are numerous scholarships, grants and awards available in Australia for international students to support their study. Many Australian Institutions and government offer various scholarships which may be as low as AUD 1000 to 100 percentage of your tuition fees including living expenses and provide allowances.
Some major scholarships provided by the Australian government are Australia Awards Scholarship, Destination Australia Scholarships, Australian Government Research Training Program and more. Also, almost all the universities in Australia provides some kind of scholarship to international students depending on the eligibility.
On-campus job/Off-campus Job
One of the major reasons for Australia being one of the top destinations for international students is because of the part-time work opportunity they get to do. All the international students are allowed to work for 40 hours per fortnight during the study period and full-time during holidays.
These part-time work opportunity helps students cover some of the expenses and support them financially. A student can work both on-campus and off-campus and there are very limited restrictions on the type of work they can do. Also, Australia being a English speaking country it iseasy for a student to find the part-time work in Australia.
Post-Study Work in Australia
Any international student who has completed at least two years of academic study in Australia in a Bachelor's level study or higher will be eligible for the Post Study Work (PSW) visa.
The duration of PSW Visa ranges from 2 to 4 years depending on the place of study classified as regional or non-regional area. International students can work full-time during PSW and can gain professional work experience in Australia and save some dollars.
Please complete this form to talk to an Advisor at Edwise Foundation. You can ask any questions relating to the application process, universities, majors, costs, funding (scholarship, TA/RA), F-1 interview, etc. Please note that we can work with any universities for you as long as you fit in well in respect to your academic interests and financial capacity.