5 Pro Tips to Achieve High Scores in IELTS
Posted by

Categories

Blog

Date

March 13, 2021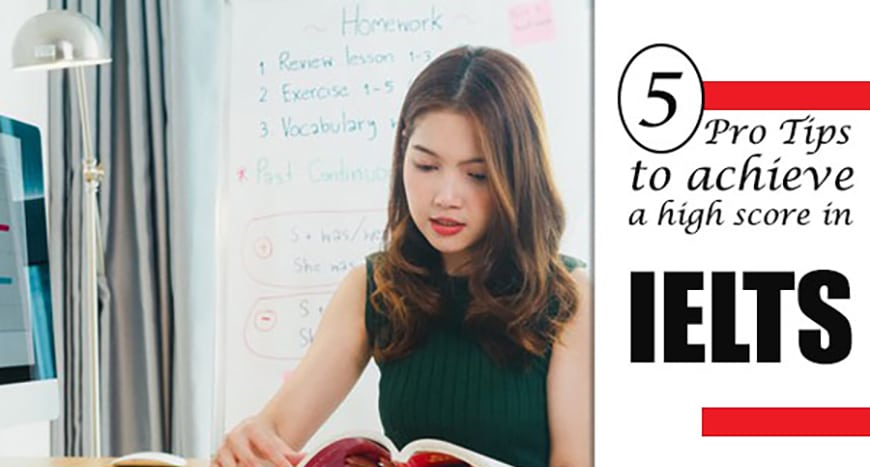 5 Pro Tips to Achieve High Scores in IELTS
Every candidate sitting for the IELTS test wishes to achieve a high score. Yet, the result may not be up to the expectation once they get their score report.
However, someone willing to take the IELTS test needs to adhere to certain factors before sitting for the actual test. Most of the candidates seem to be bothered with the Reading Module of the IELTS test although Listening, Writing and Speaking might look problematic to other candidates.
The following tips might come handy in order to achieve a high score in IELTS.
Tips 1: Speed up your reading skills
To obtain a high score on the Reading Module, a candidate needs to develop speed reading. This can be done by looking at the sentence meaning rather than looking at each individual word in the sentence.
Additionally, underlining Names, Dates, Places, Reason words like "because, owing to etc", Contrast words like "However, although etc", Addition words like "Moreover, Likewise, Additionally etc", Sequential words like "first, second or their synonyms etc", Adjectives and Adverbs, Examples (if any), and most importantly, do not forget that there can be synonyms of words because you may not find the same word(s)/phrase(s) as the ones you read in the question while you are trying to locate them in the passage.
You also need to use SKIM and SCAN technique simultaneously. You also need to be familiar with the question types in the Reading sections and sort out question types that you find easy or difficult to tackle.
As you work your way into the test, skip questions that might take you longer time to decide answers. You can come back to those skipped questions later and tackle them. You should understand what your weaknesses are and think how best you can overcome your weaknesses.
For instance, if you think deciding List of Headings is a hard nut to crack, then your weak area is List of Headings. Therefore, you need to work hard in this area more than those questions that you find easy to solve.
Practice without following the time limitation initially so that you can develop your understanding of the ways to tackle the questions (developing your own strategy to tackle the questions.)
Once you are used to the questions, start timing yourself, yet don't be kind to yourself once the stipulated time is up since you are never given additional time in the actual test.
Tips 2: Learn to write grammatically correct
To be able to get a high score on the Writing Module, you need to be able to write grammatically accurate sentences. In other words, your subject should agree with the verb, you need to use singular/plural and countable and uncountable nouns correctly.
You also should display that you can write simple, compound and complex sentences with accuracy. Yet, use more complex structures in your response to both tasks. Besides this, you need to use synonyms instead of repeating the same word/phrase.
Your Task Achievement (Task 1) and Task Response (Task 2) need to be fulfilled. Your ideas should be well-organised, that is use of cohesive devices such as "Likewise, Moreover, Nonetheless, Nevertheless, Not only…. but also….., owing to, due to, for instance etc" which enables the examiner to follow your ideas with ease.
Your handwriting should be legible in the sense that the word/letter should be clear and your written material should be neat and clean as well.
Tips 3: Learn to communicate effectively
For Speaking Module, you need to display that you can use English to communicate effectively and that you can develop ideas and present them such that the listener can follow you with ease.
Use English when you converse with your friends as often as you can so that you develop the habit of speaking in English and you don't need to mumble or fumble during the test.
Avoid using gap fillers like "You know, umm…, er… etc", correcting yourself all the time, repeating what you already said, pronouncing words wrongly, answering questions without understanding. Use synonyms, a variety of sentences, cohesive devices as this would imply that your score would certainly go up.
Tips 4: Develop the habit of listining
For Listening Module, you need to develop the habit of listening to a variety of native speakers like American, British, Australian so you become familiar with their accents.
During the test, you need to concentrate on the audio, the questions and write the answers while you listen. Therefore, in case you miss any answers or you are confused about what the answer is, just move on because at the end of each section, you are given about 30 seconds' time to recheck your answer.
You could utilise this time to write the answer of the missed question. You need to be careful in case the speaker changes the opinion.
Moreover, you need to consider if your answer word should be in singular or plural form which means that you need to focus on the question structure so that you are able to decide if your answer should be singular or plural form.
Tips 5: Read a variety of Books
Apart from practising IELTS materials, you need to read a variety of books on different subjects, read newspapers like "The guardian, New York times etc", listen to a variety of English conversations, talk shows as this familiarizes you with accents and you also learn to understand their way of presentation.
You also need to develop the habit of writing on a regular basis on issues that interest you. For instance, you read a beautiful story.
You could write about it in your own way pouring your ideas. This surely would enhance your creativity and inculcate the habit of writing.
Whenever you get someone who can speak English, just talk to them in English without worrying about the mistakes you might make while speaking, still what you need to understand is "To err is human."
You also need to practise IELTS tests from Cambridge volumes as well as other IELTS books that you could get hold of, or you could even look for free practise material online and take advantage of that.
Most crucial is once you are confident that you can get your dream score, go for the real test