EVERY THING YOU NEED TO KNOW ABOUT STUDYING IN USA FROM NEPAL
Which consultancy is best for the USA?
Moving to the USA for higher education is a multistep and complex process, where you need to be well informed about its education system, figure out the best-fit university for you in terms of your subject choice and financial capacity, and receive up-to-date support on securing a visa. 
Thus, it is vital for you to choose a qualified and credible educational consultancy in order to carefully plan and take necessary steps in the application process. With the experience since 2005, Edwise Foundation has been a trusted partner to thousands of students as we offer authentic and personalized educational counselling, high-quality test preparation, and scholarship assistance for deserving students. 
With certifications from international educational organizations like American International Recruitment Council (AIRC), we take pride about providing ethical and dedicated support to students in finding suitable universities, obtaining the best possible scholarship offers and preparing for visa interview. 
Our extensive expertise and personalized guidance make us the go-to partner for students to navigate through the complex application process and open doors to fulfill your dream to study in the USA.
How much GPA is required to study in the USA from Nepal?
In general, Nepalese students who want to study in the USA should attain a minimum GPA of 2.5 to 3.0 out of 4.0 in their high school or undergraduate studies. However, the specific GPA requirement depends on the university and program to be undertaken. We recommend that you have 3.0 GPA. 
How much money is required to study in the US for Nepali students?
The cost of studying in the US for Nepali students varies based on the university, location, and program of study. 
The table below gives you a range of annual tuition fees:
| | | |
| --- | --- | --- |
|   | Undergraduate | Graduate |
| Public University | 8,000 – 35,000 USD /year | 10,000 – 35,000 USD /year |
| Private University | 25,000 – 50,000 USD /year | 22,000 – 55,000 USD /year |
Besides, the annual living expense can vary somewhere between $10,000 to $15,000 depending upon the student's lifestyle. Many universities offer scholarships ranging from 10% of the tuition to 100% of the tuition and living expenses. You can apply for Graduate Assistantships at Master's and Doctorate Levels.
How much bank balance is required for a US student visa?
The required bank balance varies depending on the university and location. However, a sponsor should have a bank balance of the amount needed to cover the total of the student's annual tuition fee, ancillary fees, health insurance, and living expenses minus any scholarships provided to the student by the university.  
It is crucial to check the specific financial requirements of the chosen university and program to ensure an accurate bank balance.
What is the age limit for student visas in the USA?
There is no strict age limit for obtaining a student visa in the USA. However, applicants between 14 to 79 years require to attend consular interview while age brackets below or above this do not require an interview.
Study in USA with scholarship from Nepal
Several scholarships are available for Nepali students to study in the USA, such as:
What documents are required to study in the USA from Nepal?
Nepali students applying to study in the USA typically need the following documents:
A valid passport
Completed application form for the chosen university/program
Official academic transcripts and certificates
Proof of English language proficiency (TOEFL, IELTS, or PTE scores)
Financial documents (bank certificate/statements, sponsorship letter, etc.) to demonstrate the ability to cover tuition and living expenses
Statement of Purpose (SOP) outlining the student's goals and reasons for studying in the USA
Letters of recommendation from instructors or employers
Is the USA good for Nepali students?
Yes, the USA is an excellent destination for Nepali students as it offers world class education, internationally recognized degrees, diverse culture, and numerous opportunities for personal and professional growth. America is known as land of opportunities and this is also true for students from Nepal. 
Universities in the USA offer special assistance to international students and provide them with networking opportunities with experts in their field of study instilling in them a global perspective improving their employability all around the world. Therefore, it is unquestionably worth the time and money to study in the United States.
Is it easy to go to the USA to study?
Although getting into a top US school is not easy, with the right guidance, the process can be made simpler. The application procedure for Nepali students who wish to study in the USA can be challenging in many ways and necessitates careful planning and preparation. 
In addition to fulfilling the university's financial, academic, and English proficiency requirements, there are many intricate things to consider such as finding the right fit university for your chosen program and financial status and preparing for the visa interview, which need to be strategized properly to make your quest of studying in the USA a success.
What qualifies you to study in the USA?
In order to qualify for studying in the USA, Nepali students must meet the following criteria:
You must meet academic qualifications as required by the program and the university.
You must have the required score on the English proficiency test. (TOEFL iBT, IELTS, or PTE). Some universities require SAT, GRE and GMAT in addition to the English Proficiency scores.
You must have sufficient financial resources to demonstrate your capacity to fund tuition and living expenses.
A valid form I-20 issued by a US university or college.
Who can sponsor me to study in the USA?
Your financial sponsorship can come from the following sources. 
Family members
Employers, if your company is sponsoring your higher education
Private organizations or individuals
Scholarships from government or non-government organizations (NGOs)
US universities, offering scholarships
Best Affordable Universities in the USA for Nepalese Students
Some of the popular and affordable universities in the USA for Nepalese students are:
Southeast Missouri State University
Arkansas State University
University of Wisconsin Stout
University of Louisiana–Monroe
Southwest Minnesota State University
Northwest Missouri State University
South Dakota State University
St. Cloud State University
Youngstown State University
Minnesota State University Mankato
These universities offer relatively lower tuition fees and living costs making them popular among Nepalese students.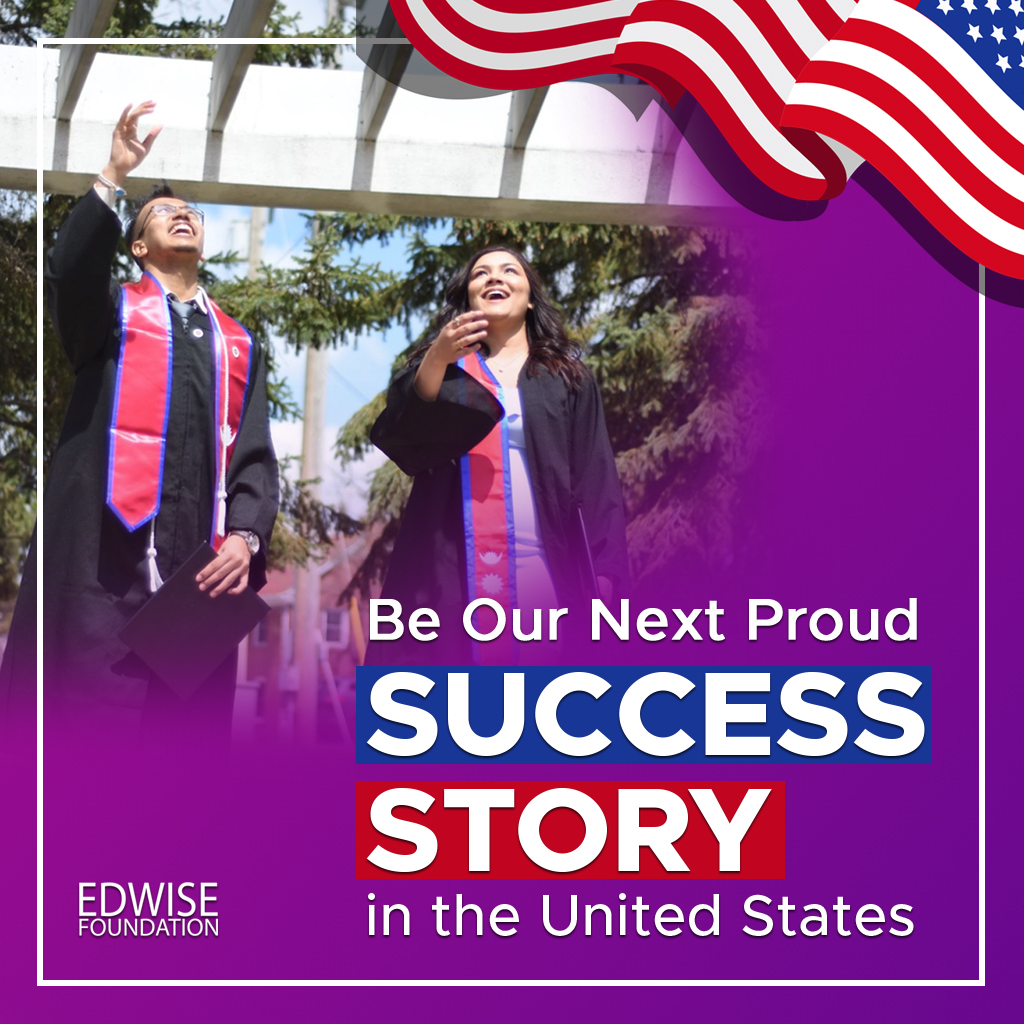 Get A Free Consultation For USA Studies
Study in USA FROM NEPAL
Our competent, well-trained and experienced consultants at Edwise Foundation have successfully assisted about 5,000 + students (as on Spring 2020) with their study plans and F-1 visas to the U.S. Higher Institutions.
Smart Assistance with F-1 Interview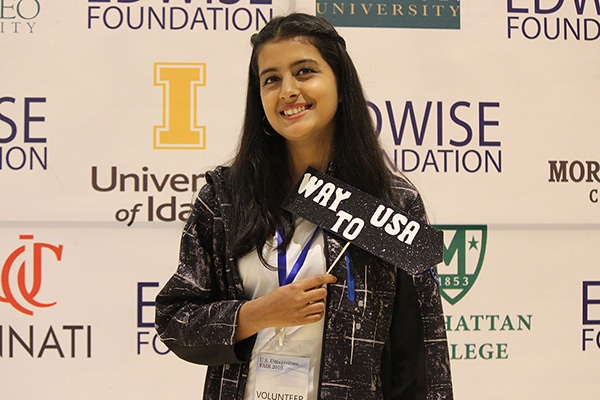 We don't teach you visa answers but offer practical insights into what the Visa Officers are looking for in you during the interview. We help you communicate the ideas organically, brush up your interpersonal skills and elevate your confidence level. The F-1 visa is indeed a reflection of how clear you are in terms of what you're going to be, how you are affording your education and what makes you depart to the U.S. 
The interview process seems to be touching upon everything you have accumulated so far, although students sometimes find it otherwise. Students need to take this simply as a conversation with the visa officer, not as a scholastic answer that they can give to their professors.
We advise students not to memorize or rehearse the answers but to talk to the officer originally. Attending the visa session at USEF can help you develop an understanding of how the process works.
We attend the education and immigration workshops in AIRC, NAFSA and in other platforms in the USA every year and go through the journals and other literature to better assist students with the visa process.
Key Consultants for U.S. Studies
Mr. B.M. Khadka serves as the Head of the Consulting Team. He holds a Master's in English Education and has been consulting since 2002. He attended attended more than two dozen of workshops and trainings in the United States and presented papers in different forums. He is a NAFSA Individual Member. 
He is well backed up by Mr. Abhishek Regmi, who studied at American University, Washington DC, and Mr. Suraj Tamrakar who studied at Louisiana Tech, LA along with Ms. Sarojani Basnet, who has been advising since 2007. Our consulting team possesses professional qualifications like USATC, TITI and others.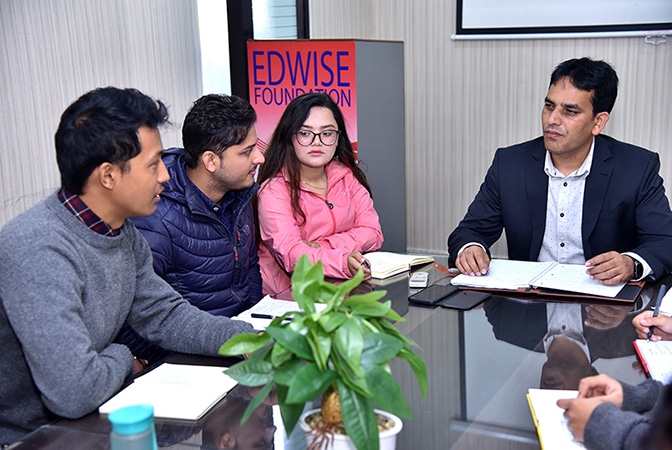 Consulting Expertise
We are well equipped with the expertise required to offer consulting services on US Higher Education.
Some of our expertise includes, but not limited to:
Suggestions to Nepalese Students
Suggestions to Nepalese Students seeking the U.S. Higher Education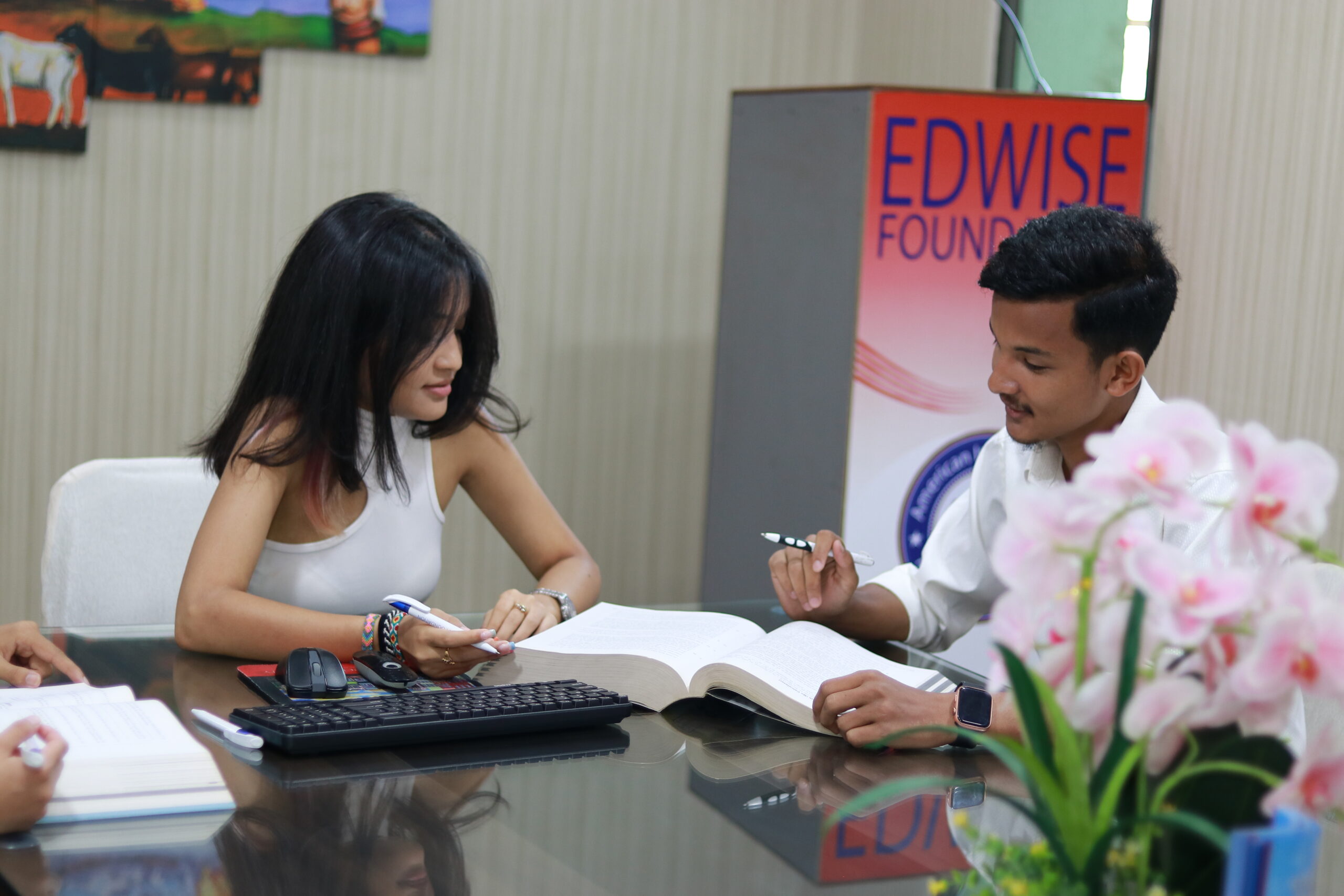 We would like our students to thoroughly research the universities in terms of their program strength, support activities and the costs. Please make sure you have concrete financial planning for the entire period of studies if you don't have significant financial support (Scholarships/Assistantship) from the universities. Off-campus jobs are illegal except for the ones endorsed by DSO after the 1st year.
GPA, SAT/ACT, and TOEFL/IELTS and Essay play a key role in admissions and scholarships at the undergraduate. We strongly advise you to apply early so that you can be considered for financial support from the U.S. universities.
Most of the top elite graduate programs require strong GRE/GMAT scores depending on the nature of the program, high IELTS/TOEFL score, Statement of Purpose, Letters of Recommendation and Resume. If you are looking for a research assistantship, we encourage you to apply early and find the Professor whose research interests align with yours.
During the application process, you can make a reference to social media, blogs, search engines, consultancies or any internet information, but it is crucial for you to make sure you're using the accurate source. You will need to thoroughly check the credentials of the consultancies, their success history, transparency of the service fees and the profiles of the consultants before you choose any. By law, Nepalese consultants don't need to have any professional credentials to offer consulting services.
Using EdUSA, the U.S. Government Agency is a great place for the ones who are smart enough to develop an understanding of the process using S abundant resources they house. We strongly advise students to use the EdUSA/USEF for transcript attestation, university information sessions, visa info sessions, and pre-departure sessions.
For a personalized consultation, you can consider working with Edwise Foundation where you get not the generic but the precise answers meeting your parameter. We have answers to WHERE, WHICH, WHAT, HOW, WHY assisting you with your decision-making process.
Our support with an F-1 interview is very unique. Based on what we have experienced over the past 15 years, we always try to help you talk to the Visa Officer persuasively, precisely and organically if you are truly intending to study, are prepared to afford the fees and are willing to return home.
If these sound like what you are looking for and wish to make your dream come true, please come talk to us for a 'free consultation'.
Giving your dreams a direction since 2005, the right way!
Features of U.S. Education
The USA, also known as the land of opportunity, is considered as the best destination for higher education by international students from all around the world. The States has the world's largest international student population which is more than a million. The diversity in schools shows proof of the welcoming nature of the USA for students from around the globe. The world-class universities, known for their best courses with various learning opportunities make this country tempting international students. Nepalese students are not an exception.
Excellent Academic Quality
The United States is known for having one of the world's most effective university systems with an outstanding number of programs in any given area. These programs are then quality monitored by various higher education accreditation bodies. At undergraduate and graduate level, students are provided with various learning opportunities including participation in research, internship, field visits, assistantships and more. Particularly, at the graduate level, students have various opportunities to work directly within their field of study. The quality of programs and career-oriented education systems make U.S. degrees well recognized throughout the world for their excellence.
Educational Opportunities
The United States is home to several thousands of colleges and universities, which means students, can choose what's best for them comparing cost, courses, quality, location and many more. It also means that U.S. has something for everyone. These higher education providers can sometimes offer better courses and curriculums in one particular field than others and it's all up to the students to understand what's best for them.
U.S. universities are known for being updated with technologies on their campuses. The universities provide latest technologies in classrooms, labs and other resources. Students in any field will have a taste of latest technologies in their related fields within the universities themselves.
Opportunities for Research, Teaching, and Training
International students are highly valued in the United States. This is one reason why students are given opportunities to work with their professors and department in researches, teaching, and training. Particularly in case of graduate students, they can get research assistantship, teaching assistantship or graduate assistantship where they will have great practical experiences handy for their career.
Although there are some requirements for completing courses, students have a wide variety of choices to meet such requirements. Most of the time, students can choose classes at their appropriate times and days as well. They have options to choose different professors for the same courses. A lot of courses required for graduation can have alternative options available as well.
Know the U.S. Education
Here are some reasons why we are the preferred institution among students seeking test preparation courses and consultation to study in U.S. and other top destinations.
What are the minimum requirements (academics and test scores) to study in the US?
US has over 6,000 colleges and universities to choose from; and the entry requirements vary accordingly. Some of the universities have high entry requirements (requires good grades, SAT/GMAT/GRE scores), whilst some of them have very low requirements. Generally, the IELTS requirements for most of the Bachelor's Degress is an overall of 6.0 IELTS, or a TOELF score of 60-78, however, you may find colleges or universities that accept an overall IELTS scores of 5.5 as well. We; however, recommend students to apply if their GPA/Percentages are over 2.80 GPA/65%, and IELTS scores of 6.0, because students with lower grades (and with no other non-academic achievements) will find it particularly difficult to justify their low grades during visa interview, and face rejection. Graduate students generally need to have 2.85 GPA, 6.5 IELTS/79 in iBT.
Can I transfer my credits to US universities?
Yes, you can. The transcripts are reviewed by the universities and may provide exemptions. However, you may lose some credits (which do not add up) which may lead to longer time to complete your course
Is it true that US Colleges and Universities accept only TOEFL scores?
No, this not true. This myth seems to be hovering in the minds of most of the applicants for quite some time. US colleges and universities accept IELTS or PTE as well. During the global pandemic, COVID-19, some universities have even been accepting Duolingo, which is an English language proficiency test, the test which can be taken from the comfort of your home.
What are SAT scores or GMAT/GRE scores?
SAT is required by most of the colleges and universities for admissions and scholarships into a Bachelor's degree. It includes Math and Evidence-based Reading and Writing. There are some colleges and universities that do not require SAT tests, but good SAT scores (over 1300) and very good academic scores (3.8 GPA) can help students to get full tuition or full ride scholarships.
GMAT stands for Graduate Management Admission Test, and GRE stands for Graduate Record Examinations. These are tests required by most of the universities for admissions into a graduate degree, which sets a common ground to analyze the applicants. GMAT is usually required for admissions into programs such as MBA or other business-related courses, whilst GRE is required for admissions for other graduate programs.
What is an I-20?
This is a document issued by a U.S. government-approved educational institution certifying that a student has been admitted to a full-time study program and has demonstrated sufficient financial resources to stay in the United States.
Can I be eligible for a Scholarship or Graduate Assistantship?
Scholarships in the US are offered on the basis of merit, need or other factors such as sports, ECA, diversity and so on. There are some universities or colleges that provide scholarships on achieving a certain SAT or GMAT/GRE scores (and even do not require an additional application). Some universities or colleges, however, require a separate application with an essay.
Graduate students can apply for Teaching or Research Assistantships. Generally, they need to submit applications separately. It is important that they contact their department or individual professors to see if there are any positions available.
What is a CPT Program?
CPT stands for Curricular Practical Training which allows F1 visa holders (international students) to gain practical work experience related to their major. The employment may be paid or unpaid which is delivered via internships or cooperative education
What is an OPT Program?
It is a period during which F-1 students who have been studying for more than 9 months or have completed their degrees are allowed by the US Government to work towards getting practical training or to complement their field of studies.
What is SEVIS?
SEVIS stands for Student and Exchange Visitor Information System. It is an Internet-based system that the U.S. government uses to maintain accurate and current information on non-immigrant students.
Can you work while studying in the USA?
You can work for up to 20 hours per week on campus in first year. Circumstances can change where you may be allowed to work off campus from the second year.

Useful Links for more resources on studying in USA from Nepal