Details about studying in USA from Nepal
Posted by

Categories

Blog

Date

June 11, 2020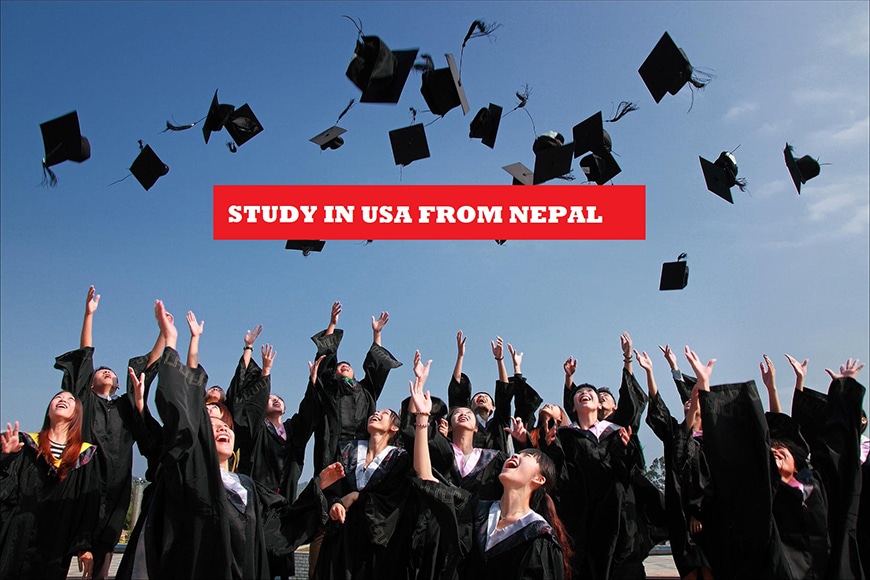 Studying in USA is a dream for hundreds of thousands of students globally and Nepal is no different. Students usually have hundreds of questions that they wish they knew the answer to. Here we are trying to answer few of those questions that could take the students a step closer to their dream and make it a reality.
We doubt if there is any specific answer to this question as there are over 4,500 educational institutions that students can choose from and cost varies accordingly.
In general, if a student is wanting to study in a good university with a descent scholarship given that the student has a good enough profile then the tuition could be anywhere from $10,000 to $15,000 a year. Living expenses differ as per the location and could range from somewhere from $8,000 to $15,000 per year.
Other fees such as books and supplies and health insurance should not be ignored either as they add up to the expenses. To sum it up, A student should be prepared to pay in and around $25,000 to $35,000 per year in total if the goal is to be in a good university.
How can I go to USA from Nepal?
There are numerous ways of going to USA but we at Edwise only talk about student visa (F1).
The specific requirements for students differ as per their level and intended program but the general process is usually the same.
A student will need to have his/her academic transcripts available with an acceptable grade. Then the student will need to achieve acceptable test scores in English language proficiency tests like IELTS or TOEFL or PTE and also in standardized test scores like SAT/GRE/GMAT (if needed).
Then the student must find a right University as per their academic and financial profiles. Once the student is sure of the university, you can now submit all the documents required by the university and program (usually for graduate students) by the application deadline.
If admitted, you will receive an I-20 which you can use to book an interview appointment. Before facing the interview, you need to make sure that you have paid the SEVIS fees and prepared well for the visa interview.
After you do well in your interview and receive a visa, book your flight tickets, do your shopping get in touch with the university and inform them about your travel plans. Enjoy your stay in USA as an International student! Happy learning!
How can I get scholarship from Nepal to USA?
Money matters, especially when $1 is over NPR 115 of our currency. The best way to minimize your cost of attending a university in USA is by getting higher amount of scholarship.
There are different scholarships Nepalese students can apply for ranging from Merit based to need based. Also, there are some scholarships given to international students to welcome them to the university.
The amount of scholarship ranges from a few thousand dollars to full ride. The requirement for different scholarships differs as per the university, the program and the kind of scholarships you are applying for.
For need-based scholarships, you will need to highlight that you need the scholarship more than others and will have to have a strong writing sample.
For merit-based scholarships, a student will need to have a very strong GPA, strong test scores (both language and standardized) and writing supplement.
For scholarships such as general international student scholarships, students will need to meet the admission criteria and the amount of scholarship will be based on the student profile and they will not even need to have an additional application for such scholarships.
Is it expensive to study in USA?
This solely depends on which country USA is compared with. If we are comparing USA with Nepal or a university in India then yes, it is absolutely expensive to study in USA. However, if USA is compared with countries such as UK, Canada or Australia then it is not too expensive to study in USA.
With availability of different scholarships studying in USA could be comparatively less expensive than most of the common destination for international students.
Another way of looking at it is what is expensive for the student. The cost of attending is in an average about 25,000 per year for a mid-range university with a mid-range profile.
So, this is very subjective and depends on both the academic and financial profile of the student.
How can I study in USA for free?
Studying in USA is a possibility but not for every student. Ask yourself "Why would the University be interested in having me with full funding?" or "What do I have to deserve full funding?"
If you have the answer to either of these questions, then you may start thinking of applying to study in USA for free:
For that you need the following:
Excellent Academic GPA
High Test scores in English Proficiency and SAT/GRE/GMAT
Strong Letters of Recommendation
Good Writing Sample/Application Essay/Statement of Purpose
For an assistantship: Research background, teaching background, work experience, published paper or research could come handy. Portfolio if your program requires
Error free application.
And most importantly, "The right School/University".
Which is the best country for a student visa?
This depends solely on what the student wants. Some students are looking for easier PR possibilities after they complete their studies for which Canada could be a great option.
Some want to go to a country where working off campus could be easier and has a strong Nepali Community, for which Australia could be the right option. Some want to get done with their studies quickly for which UK could be a better option.
However, if the student's main focus is on education then USA is the best option as there are top Universities which offer a wide range of scholarships and more flexible curriculum and research support.
Our competent, well-trained and experienced consultants at Edwise Foundation have successfully assisted about 5,000 + students (as on Spring 2020) with their study plans and F-1 visas to the U.S. Higher Institutions.  
Do you have any questions regarding abroad studies?  You can ask any questions relating to the application process, universities, majors, costs, funding (scholarship, TA/RA), F-1 interview, etc. Please note that we can work with any universities for you as long as you fit in well with respect to your academic interests and financial capacity. Just fill-up the form below and we will get back to you with the details. Thank you